Sara Kozumplik and Manolo Blahnik, exuding class at Manny's first ever four-star in spite of boogie moments during their waltz… © Lauren R Giannini Okay, so we're only one person and we can't be everywhere & do everything, but on Friday, we made a point of getting to the dressage arena to watch our friend Sara Kozumplik and Manolo Blahnik who was ready and eager for the cross-country, but a day early. Their score put them well down on the leaderboard standings, but ya wanna know something? That test might have been a disappointment to Sara and Brian Murphy and Lara, who's grooming her first Rolex – understandable after all the years of preparation to get here, but we felt very proud of Manny for not leaping out of the ring and thundering off to the XC. It's his first four-star and he's a bit of a sensitive, complex creature under the best of circumstances and the horse gods know what an electric atmosphere Rolex tends to be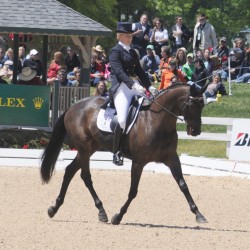 Read more at the source: Rolex Kentucky: Where The Action Is!
Article excerpt posted on Sidelinesnews.com from LaurenGallops.
Double D Trailers Info