JustWorld International's STRUT Fashion Show makes for a stylishly good time High season in Wellington means so many (many many many) events, and so little time. There's still a whole three weeks to go, and it's already hard to keep one's head above water. But during the first weekend in March, rest assured that On the Line tried. In the midst of the madness, I stopped in for a little fun at the JustWorld International STRUT Fashion Show at WEF on Saturday night. After Nations Cup night, before the big Sunday grand prix, and right after Paul O'Shea cleared a whopping Puissance wall, a dozen or so well-known riders took over the transformed Wellington Club at the Palm Beach International Equestrian Center and walked the gauntlet runway in front of a sea of smiling faces.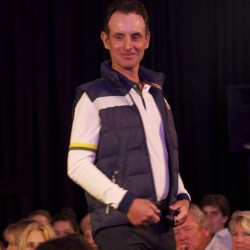 Read more at the source: Work it Baby ~ Work it Right
Article excerpt posted on Sidelinesnews.com from On the Line.
Double D Trailers Info