By Sarah Eakin
Portraits by Alex Banks
Eventer Alyssa Phillips started her equestrian career wearing a sparkly outfit and riding a Western horse named Chief. When she was 6, her family moved from the Texas countryside to Fort Worth, where Alyssa began riding at an English riding center, leaving her Western outfits behind. "I remember refusing to wear the tight pants and boots," she recalled. "So I would wear my jeans and cowboy boots. I quickly learned the cowboy boots weren't going to last long when I had a 'no stirrups' lesson and they kept falling off my feet."
There's a photo of Alyssa sitting on a neighbor's barrel horse at the age of 3. Ever since the camera recorded that moment, the young horse enthusiast had to be "dragged" out of the barn and "was riding anything" she could. It was the speed of eventing that drew Alyssa in—the cross-country, that is. Fast forward to one of her early rounds and another photo tells the story. "There's a picture of me riding cross-country in Beginner Novice and all my friends and family are there standing on the mound," she said. "And I'm waving at them! I really liked to go fast."
Focused on Going Fast
While Alyssa was drawn into eventing by the thrill of cross-country, the dressage phase was less appealing, but she endured it, as a means to an end. "Whenever they told me it was time to start learning the Western pleasure patterns, I checked out," she said of her pre-eventing days. "It's ironic because it was like learning a dressage test, but I think once I switched to eventing, the dressage was just something I had to get through to get to the jumping phases, so I was okay with it."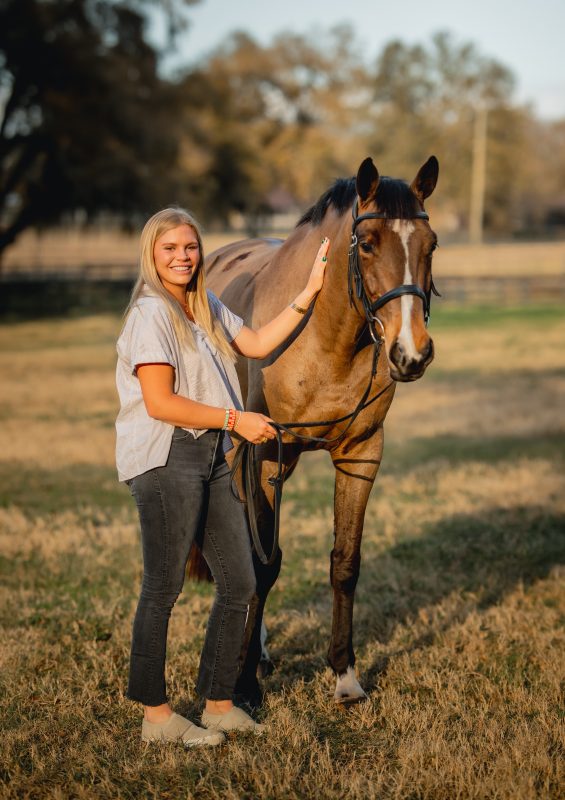 Alyssa's early trajectory in eventing included back-to-back wins in 2011 and 2012 on the largely Texan team representing Area V at the FEI North American Junior and Young Rider Championships. Alyssa's father, Doug Phillips, was an ardent supporter of Area V eventing, which includes Texas, Louisiana, Arkansas and Oklahoma. He was there with a large posse of supporters to witness the first victory in 2011, but he passed away from cancer prior to the 2012 competition. Doug was known as The Silver Fox, and the Junior Area V team, including Alyssa at 15, decided to compete in honor of her father. They succeeded in "winning gold for The Silver" with a victory for the second year running.
Alyssa learned from the team experience, which saw her first take the role of team anchor for Texas in 2011 at the age of 14. "It was a fantastic experience," she said. "I was only 14, and it was the first time I had experienced a team competition. When I was young, I put so much pressure on myself that I started to thrive under it. So when I was given the anchor position, I knew what needed to be done. It set a pretty high standard for the following years."
Alyssa, now 25, is fully immersed in eventing, living between Coatesville, Pennsylvania, and her mother, Julie Phillips', recently purchased farm, Shady Oaks East, in Ocala, Florida. The move east was inspired by her trainer, Jennie Brannigan, who took Alyssa under her wing in 2017.
Alyssa was in college at the time and was advised by a friend who was riding with Jennie that she needed to head east. "I had never actually met Jennie," Alyssa said. "But that didn't stop my mom from calling her up and basically asking, 'Can you take this girl and her four horses?' That was in the fall of 2017."  Since then, Alyssa's presence in the eventing world has been cemented and allowed her to set her sights high.
"I want to represent the U.S., compete at five-stars and all the clichés I dreamt of as a kid," Alyssa said. "Those types of goals won't happen overnight, so the main goal that I can focus on for the entirety of my career is to produce the horses I have to the best of my ability and see what becomes of them."
Relationships With Horses
No longer riding anything and everything, Alyssa has a pipeline of three horses and is excited about each of them. "I really enjoy getting to know each horse and forming a relationship with them. Seeing them grow stronger and more confident in themselves is so rewarding," she said.
Cornelius Bo is an 8-year-old Hanoverian gelding she has worked with since he was 5, currently competing with Alyssa at the three-star level. "He is one of the most workman-like horses I've ever ridden, and he aims to please. It took a while for him to trust me, but once it clicked, it clicked," she said.
Carrigshawn is a 6-year-old ISH mare she has had for just over a year and who is "showing real promise."
Alyssa has partnered with her top horse, Oskar, a 13-year-old Holsteiner gelding, since he was 7 and together they have produced her most memorable performances, including a second-place finish in July this year at the Horse Scout Design CCI4*-L at Rebecca Farm.
"He's extremely economical and that's what has made him such a good four-star horse," said Alyssa. "He wouldn't be the quickest of the bunch, but he doesn't take long to set up and he only jumps as high as he needs to. I admire him a lot. He understands his job now and knows when it's a big competition."
The pair won the CCI3*-L in the U25 at Bromont in 2019, the Advanced at Red Hills in 2020, and were second at the Jersey Fresh CCI4*-L. In 2021, they landed a memorable victory at the Lexington CCI4*-S in testing conditions. "The weather was all over the place, and I think it was 30 degrees when I did dressage at 9 a.m.," Alyssa said. Before her cross-country round, the heavens had opened and while she waited her turn and watched riders struggle with the course on the livestream, her biggest concern was her vision. 
"It was just not going well for a lot of people, and it was raining. I wear contacts and if I don't have my contacts in, I literally can't see," she said. "So it was like, Don't mess up and make sure when the rain hits your eyes, the contacts don't fly out."
Alyssa's mother suggested she stop watching the coverage, concerned it might be detrimental, but pressure is Alyssa's friend. "I wanted to know what was happening and where," she said. "I think watching the livestream when things aren't going well would make some people nervous, but it lit a fire under me."
Alyssa and Oskar jumped clear with a few time penalties in cross-country before ensuring the win with a faultless show-jumping round. "Oskar and I have a great relationship, and he always hunts for the flags," said Alyssa. "He's a funny horse. He's quite strong but also lazy and sensitive. So typically when I show jump him last, it's easier because he's a bit more 'with me.' Kentucky was his first clear round of the season, and it was a super-special moment."
It was a decade since Alyssa's father had watched, for the last time, his daughter win at the iconic venue. It made victory all the more poignant. "The last time I won in the Kentucky arena was at Young Riders in 2011. It was the last big event my dad was able to attend," Alyssa said. "So 10 years later, I made my dad proud by winning the first four-star of my career. I know he was there every moment."
Support System
Family and friends are central to Alyssa, who cites her support system as the most important thing in her life. "My mom is my number-one supporter, who wants to see my dreams come to fruition," she said. "I'll have crazy ideas, and she doesn't question them. It doesn't matter if a horse is running four-star or its first Beginner Novice; she's there. I really couldn't do it without her support. Jennie Brannigan and her crew are the other part of the equation. We all work together, and I'm incredibly grateful for their support."
Aside from her equestrian feats, Alyssa is proud to have finished college at Texas Christian University—a challenge made harder by the west to east cross-country distance involved once she started riding with Jennie in her junior year. She took night classes and tried to keep Fridays free. There was a lot of flying back and forth, and sometimes it meant flying in the day before the event. "I'm grateful Jennie took me in and put so much time into helping my horses and allowing me to finish school," Alyssa said. "I might've graduated later than all my friends, but I'm grateful for the experience and support from my friends, who always wished me luck at my 'horse race.'" 
Alyssa has hit the eventing ground running with the successes of the past few years—and looks to be on track for bigger and better things. But the practicalities of life—wearing the right boots for the right occasion being an early lesson in one of them—are keeping her grounded.
"Life is pretty crazy, and so is the sport of eventing," she said. "I've always had a relatively good balance between horse life and normal life, and that's important to me. I think it's essential to live in the moment and take things as they come."
For more information, visit alyssaphillipseventing.com
Photos by Alex Banks, www.alexbanksphotography.com
Double D Trailers Info