By Ruby Tevis
Portraits by Kristin Lee
For British transplant Carly Taylor-Smith, dressage is more than a sport — it's a way of life.
Born into a horse family in Kent, England, Carly was riding before she could speak a complete sentence. Carly's passion for dressage led her to compete internationally as a young rider, then find success in the United States with her horse of a lifetime, two-time USDF Horse of the Year Rosalut NHF.
Carly grew up in Aberdeenshire, Scotland, a picturesque country village in the northeastern corner of the country — a stark contrast to her home today in sunny Somis, California.
"It was so cold and rainy there, but I never seemed to care much as child. Now that I'm older, I don't think I could survive!" Carly laughed.
Carly's mother is an avid equestrian, judge and a trainer at Twinwood Equestrian in Texas, her sister rode for several years and her father was happy to be along for the ride. "My dad doesn't really understand why I do what I do, but he's happy if I'm happy," Carly said, thinking back on her childhood.
Carly was gifted her first pony, Hudson, on her fifth birthday. 
"I showed up at the riding school with my mum and sister, but there wasn't another soul in sight. I walked around the corner to the main courtyard and there was a little grey pony with my purple halter on," she said. "I threw a crying fit because I thought someone had stolen my halter and was using it on their horse, and that's when everyone jumped out and shouted surprise!"
Despite the pony testing Carly's patience, dumping her countless times and dragging her through the bushes, she gives Hudson credit for making her ride tactfully and fearlessly from a young age. Carly was hooked on riding and dedicated her junior years to succeeding in Pony Club and completing her prestigious 'A' level certification.
Young Rider Adventures
After many years of participating in the East Aberdeenshire Pony Club's after-school rallies and horsemanship lessons, Carly branched out to compete in recognized competitions. She competed in both eventing and dressage, and was offered positions on Great Britain's Junior/Young Rider Squad for both disciplines. With competition dates overlapping, it came time for Carly to make the choice between her two passions.
"I ended up choosing dressage because I thought it was a more practical and safer option," Carly explained. "I'm a pretty brave rider, but if you see some of those fences at the top level, you're going to think twice!"
With her mind made up, Carly and her horse Neo traveled to Addington, Hickstead and Roosendaal, Holland, to represent Great Britain in CDI competitions.
"We had some great successes and some disasters, but that's just how it went with Neo. He was an absolute fruitcake, and anyone who knows him knows how difficult he was," Carly said.
Despite the mix of results ranging from 705 scores to 50% scores, Carly was grateful for the experience. "Neo still remains by my side as an old retiree and he will forever hold a very special place in my heart," she said.
In 2007, after graduating high school, Carly took a gap year to become a working student for Hannah and Becky Moody of Moody Dressage in England. "They were lovely and treated all of the apprentices like family," she said. Her daily duties included mucking and stable management, but also included lessons on her own horse. 
After some time, Carly earned the opportunity to learn on schoolmasters and eventually warm up the competition horses. "In some way, it kickstarted the idea that perhaps training horses is what I wanted to do as a career," she said. "I'm very thankful to them for everything they did for me and I still keep in contact."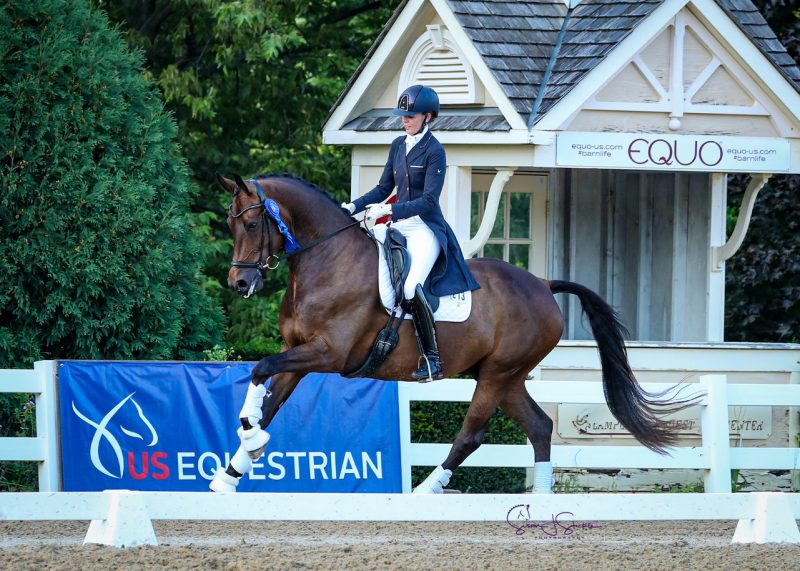 Living the American Dream
In 2010, Carly chose to move with her family to the United States, following her father's job transfer. "I never thought I would ever leave my home and England, but here I am — now a United States citizen," she said.
Carly made the decision to attend college and study graphic design and English, though she never left the horses behind. Of course, Neo made the move overseas, too. "It was quite tricky balancing college life and riding, but I made it work," Carly said. "My mum mostly helped me with the training, but I did do the odd clinic here and there."
Three years later, Carly officially started her own training business and venture into the life of professional riding. At first, she was shocked at the differences between the dressage community in the United States compared to her experiences in Europe.
"In Europe, everything is a lot closer, and there are more events and shows to attend. The international circuits are happening all the time, pretty much all year round, which makes competing and qualifying a little easier," she explained. "In the U.S., things are more spread out because the country is so big and thus traveling becomes a big, expensive commitment."
With the support of her sponsors, Carly has been able to navigate America's unique equestrian landscape and find success with Rosalut NHF, known around the barn as Ludo. The talented gelding was purchased from Maggie Neider of North Hill Farm by Carly's mother, Nikki Taylor-Smith. Carly started riding him when he was 3 and has trained him all the way up to Grand Prix.
Together, Carly and Ludo captured the championship title at the USEF National Young Horse Championships two years in a row, as a 4- and 5-year-old.
"He was the first 4-year-old to ever score over 90% in the Young Horse Championship. That was definitely the start of something epic with this horse," Carly said. Since then, Ludo has been named the USDF Horse of the Year in both Second and Third Level, and is already confirmed in the Grand Prix at just 10 years old.
Over the winter, Carly spent her first season in Wellington, Florida, competing Ludo at Grand Prix. "We had a few setbacks in the beginning, but Ludo did win his first Grand Prix at the Season Kick Off show with just a hair shy of 72% and then went on to win his first try at the Grand Prix Special the following week," she said. 
"The shows in Wellington felt much more like what they do in Europe, with finesse, great hospitality, more qualifiers and good footing in all of the arenas," Carly continued. "The people were all lovely, especially the ones I spent time with at the barn."
Working for the Future
Carly is looking forward to the future with Ludo, remarking on his exceptional work ethic. "He shows so much talent for the Grand Prix — I'm hoping one day it may take us to some of the really big international competitions, but you never know. He's only 10, so there's no rush."
Back home in Somis, Carly boards her horses at a private stable nestled between rolling hills of lemon and avocado orchards, then trains and teaches at other local farms. While Carly doesn't have a self-proclaimed training niche, she does emphasize her love of training a horse through the levels.
"I've never been able to afford a made horse, so that's just how I've always done it," she said. "I'm not one to want a ready-made horse, to just sit there and push buttons; I enjoy the training process and the partnership you can form over time."
On occasion, Carly has to use the pony-wrangling skills she acquired in her junior years.
"Difficult, naughty and challenging horses seem to come my way quite often," she said. "I've ridden countless tricky ones through my career and that's given me a lot of experience to be able to ride anything. A sticky bum and long legs, that's the secret!"
Hacking has always been a critical part of her training program, and Carly takes advantage of her close proximity to the beach to go swimming with the horses. "Every now and again, I'll take them to the beach with a good friend of mine. They love to splash in the water and it just gives them something different to do," she said.
Finding balance for herself is just as important to Carly as it is for her horses.
"Anyone doing the sport knows how much of an emotional rollercoaster it is. Horses can bring you so much pleasure and joy, but they can also bring you heartbreak and an empty wallet!" Carly remarked. "It's expensive to campaign a horse at the top level, and us riders who don't have financial backing are always looking for sponsors and owners to help us succeed. I'm so thankful to my sponsors for their continued support."
With World Equestrian Games, Olympics and World Cups on her bucket list, Carly continues the daily grind, working hard with Ludo as a member of the USEF Dressage Development program in hopes of someday making the United States Team.
"Life has a funny way of never going according to plan," she said. "I've learned to just go with the flow."
For more information, visit www.carlytaylorsmith.com
Double D Trailers Info