By Ruby Tevis
Portraits by Melissa Fuller
In this day of technology, social media can be the gateway to dreams coming true. For dressage rider Lehua Custer, a regular evening of Facebook scrolling turned into the start of a new adventure—and love at first sight with a little chestnut colt on her screen. She didn't know why she loved him so much, but her instincts never led her astray. In 2021, Lehua and Tuna, her now-5-year-old stallion, Fortunato H2O, took home the Grand Championship title at the prestigious Breeders Championship Series Finals at Dressage at Devon.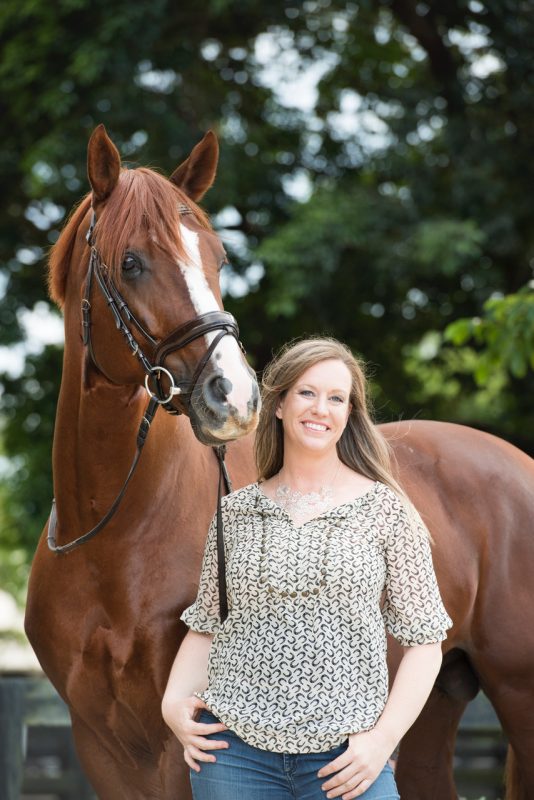 Lehua's love for horses starts a long way from her current home in Wellington, Florida. She took her first riding lesson in her home state of Hawaii. "My full name is Lehuanani Limahuli Custer," she said. "My first name means beautiful flower, and my middle name is the valley I was born in—it's a very Hawaiian thing to have a poem for a name!" 
Growing up in Hawaii, Lehua rarely spent time indoors. "I was always at the beach and enjoying the water," she said, "but I was a shy kid. My mom wanted to find a way for me to become more outgoing and assertive. That's where the horses come in."
For Lehua, confidence in riding took time to develop, but that might've had something to do with the fact that her riding arena was on the edge of a cliff. "It was a little tiny edge, but we were up high on a mountain—a few thousand feet up on the side of a volcano—so looking over, I felt like I was going to roll all the way down. That was my incentive not to fall off the horse!" Lehua laughed.
After some time taking lessons, Lehua moved to a new barn, Mauka Lani Stables, to train with Carol Adams. There she met Thunder, an Appaloosa whose previous owners had won him in a poker game. "I started working with him, but everyone told me not to fall in love because he was going to be for sale. We didn't have money to own a horse, so I knew he wouldn't become mine," Lehua said. "Well, my mom played me on my birthday. I walked down the barn aisle and Thunder was standing there with a huge red bow around him. My stupid kid brain thought, That's sweet. My mom made my last ride with him really special. How thoughtful. They said he had a new owner, and I just didn't get it. Finally, they said, 'The new owner is you!' I still didn't get it—it took two weeks for it to sink in!"
With a horse of her own, Lehua spent the next several years having fun. "My mom doesn't know that we would race cars on the road in the pineapple fields—but she can't ground me now," Lehua said. "Thunder would buck me off every day and jump out of the arena, but I'd still get on him bareback and ride to the beach. We didn't win at horse shows, but he taught me how to connect with a horse. I had a wild childhood with Thunder, and God bless my parents for paying for him for his very long life—he lived to be 42!"
Dressage in California
With her adventurous childhood coming to an end, Lehua looked ahead toward college. "I got a scholarship to Pepperdine University in Malibu," she said. "It was a culture shock to move from the Hawaiian countryside to this big California city." Focusing on her psychology degree, building friendships and held back by her student budget, Lehua took a break from riding. "In Hawaii, even as a kid I had a lot of responsibilities. When I was in college, I could just enjoy myself completely."
After graduation, Lehua's mom came to visit, and they visited San Diego to watch a horse show at Del Mar. "We watched dressage freestyles," Lehua said. "I'd never seen riding like that in person, and it was so different than what I'd seen on video. My mom told me she would buy me a dressage lesson as a graduation present."
Unfortunately for Lehua, the proposal sounded easier than she expected. "I called every barn in Los Angeles, but it was really hard to find a barn with school horses. Everyone was really nice, but there were either no horses or no availability. The last person I called was Hilda Gurney, and she told me to show up the next day," Lehua said. "She put me on a horse and offered me a job on the spot—saddle breaking babies of course, but I agreed."
For the next 10 years, Lehua trained under Hilda, working her way up from riding the young horses to competing at Grand Prix. "She took me under her wing. As someone without the financial resources to go buy horses, she taught me how to develop a horse and make the most of what I have," she said. "I took a Premarin rescue baby named Gulliver, a draft-Thoroughbred cross owned by Barbara Parkening, to compete at FEI, and to my first freestyle at Del Mar. It was full circle."
Not only did Lehua gain life-changing riding experiences with Hilda, she shadowed Hilda as a judge. "I decided to go through the L Program and graduated with distinction," she said. "I knew I could be a better competitor if I knew the judge's perspective. I also did the USDF Instructor Certification program through Second Level. I wanted to know that I was on the right track, to help my horses and students."
New Business
After 10 years of apprenticeship with Hilda, Lehua decided it was time to branch out and build her own business. "I moved to the L.A. Equestrian Center," Lehua said. "I started with riding a horse owned by Wendy Sasser, and from there I gained other students and horses to the point where I had a waiting list. It was a great feeling, and Wendy was always someone who believed in me. She bought her horse, F.J. Ramzes, as a yearling from Cornell University. He was a reproduction project for the vet students, with his sire and dam donated by Iron Spring Farm."
Lehua suggested Ramzes spend his early years at Hilda Gurney's Keenridge Farm. "I knew he would have a wonderful start there," she said. "When he came to L.A. Equestrian Center he was big and wild, so I had a friend come ride him for the first six months because he was a bit of a monkey. We just wanted him to grow up to be a solid horse for Wendy; he didn't need to have the fanciest gaits. Eventually, as he hit age 6 and 7, I started wondering if we had something special. He won every show he was entered in as a 7-year-old, and Wendy just kept putting us in more shows."
An opportunity came up for Lehua to ride Ramzes in symposiums with Carl Hester and Charlotte Dujardin. "Both of them told me that we had a special horse, and that we should develop him for something big," Lehua said. "Wendy and I talked about it. I realized that if I wanted to focus on Ramzes, I couldn't juggle that with a 20-stall barn full of horses and other clients. I needed to make a change."
In late 2018, Lehua was awarded the $25,000 Carol Lavelle Grant by The Dressage Foundation a month after heading to Wellington with Ramzes to develop him as an international Grand Prix horse. The grant, which had previously been awarded to riders like Adrienne Lyle, Laura Graves, Olivia Lagoy-Weltz and Sabine Schut-Kery, allowed Lehua to stay in Wellington much longer than one month. "The grant was a catalyst for me to able to move to Wellington permanently and change my life," she said. "We're in US Equestrian's Dressage Development Program and it's so exciting to be at this point with Ramzes."
In Wellington, Lehua felt like a "baby fish" in the huge pond of trainers, but now that she has established herself, she feels good about having a full barn again. "I have a waiting list again!" Lehua laughed. "It's a smaller operation here, but it gives me the time I need to really focus on my priorities."
Tuna, the Star of the Show
With her focus on client horses for so many years, Lehua developed an urge for a horse of her own. "I wanted a stallion prospect. I wanted him to be bred in the United States and I had been looking, but hadn't found the right one, until the night I saw that foal on Facebook," Lehua said. "I jumped off the couch and screamed, 'That's my horse!' Wendy and I were roommates at the time, and she looked at him but didn't know what I was going on about—he was only 10 minutes old in the picture."
As the days went by, Lehua couldn't keep her mind off of him. She contacted the breeder, Kendra Hansis, at Runningwater Warmbloods in Frenchtown, New Jersey. He was a fair price, but still out of Lehua's budget. "I didn't know how I was going to get the money, but I told everybody about him," she said. "Eventually, one of my clients came up to me and told me to buy him, and that she was going to loan me the money." Though hesitant to take the offer and risk a relationship with her client, Lehua gave in, and little Fortunato H2O was purchased.
"That client is my fairy godmother," Lehua said. "I paid her back, on time and with interest! He was born in April, and I met him a couple of months later at his foal inspection. I'd never seen him trot before; he would always canter in the videos. At the inspection, the mare started trotting and he blasted off into this trot and my jaw dropped. He had hocks, he had knees, and he got glowing reviews from the judges."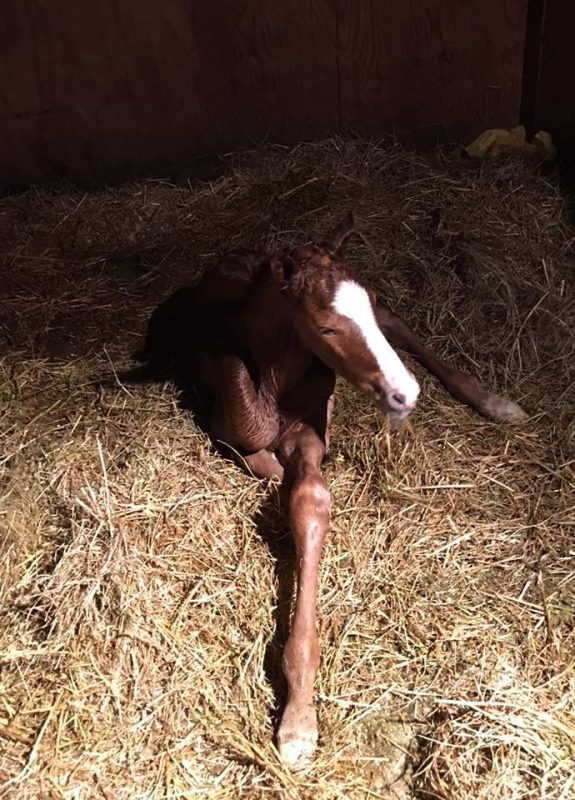 Ensured she had a stallion prospect on her hands, Lehua looked forward to training him for his stallion testing. "I got him licensed when he was 3, but then COVID hit. I didn't know how we were going to do stallion approvals for his 4-year-old year, so I decided to wait until he was 5 in 2021," Lehua said. "Dressage at Devon was happening just a couple of weeks before, but it wasn't my focus. I'd just gotten back from coaching the Paralympics in Tokyo, I had my mind on the stallion testing for Tuna, and doing Dressage at Devon sounded fun but it wasn't something we were serious about."
As the entry deadline for Dressage at Devon approached, Lehua got a call from Tuna's breeder, Kendra Hansis. "She told me it could be a special year for him, so I entered at the last second, but I didn't know if they would let us in because we were so late. The Sunday before the show, I received the class list and there we were." Realizing she had to leave the next day, Lehua threw everything in the trailer, loaded Tuna the next morning and hit the road—just the two of them.
"He was incredible—he won every class, had the high score of the day, and we were named to the top three in the Grand Championship," Lehua said. "I thought for sure there was another horse who would top him, but I looked at the scoreboard and it blew my mind. It was a huge deal for everyone: for his breeder, who doesn't have a huge program; for his handler, who had his first win; and for Tuna, as a stallion. He won the in-hand, the materiale, Born in the USA and the Grand Championship. I don't know how often that happens, so it feels pretty special."
 "I couldn't be prouder to have bred this special horse," Kendra said. "I can't really express how much this horse and that show mean to me as a breeder. I was definitely in tears as they handed me Tuna's Devon Grand Championship trophy!"
The Future Awaits
With Tuna earning his first round of approvals from his stallion testing and already a few foals on the ground, the future is bright for Lehua's stallion. "He minds his Ps and Qs, he's showing already in open classes in dressage and he's a very chill guy. He doesn't even have a stallion stall—he's in low fence turnout and stands in the crossties next to mares. He has an easy life," Lehua said, "but he's also a different type of horse from Ramzes, so it's fun for me to have these two personalities to bond with."
Having always enjoyed being around young horses, Lehua appreciates the relationships that are formed by watching a horse grow up. "I like to be very hands-on with my horses. With Ramzes, I do his stall, tack him up, bathe him and feed him, so I know every single one of his quirks. I even know where he likes to poop! I have a camera on him too—I'm very committed," Lehua laughed. "It's part of the process for me."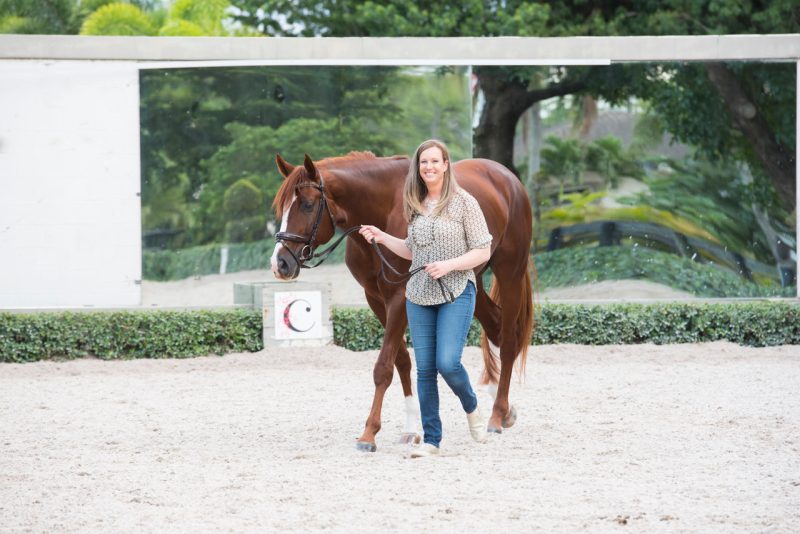 Outside of training horses and coaching her clients, Lehua spends time working with para-dressage athletes, which took her to Tokyo for the Paralympics. "Being at the Games in the role of a coach was special, and a little stressful because I wanted my student to do well! They pulled off a bronze medal, which was historic for us," Lehua said. After returning home, Lehua earned a mastery certificate for para-coaching, becoming one of five in the country.
As the winter season is underway, Lehua plans to bring Ramzes into the CDI ring at Grand Prix, showing in the freestyle as well. With Tuna, she hopes to compete in the FEI 6-Year-Old Test, with her sights set on Lamplight for the Festival of Champions. "I want to let Tuna develop how he wants to," she said. "He's very easy to train, so I don't want to rush anything. He has all the training he needs for his age; it's just about letting him grow up and have fun."
Riding outfit courtesy of CU at X Tack in Wellington, Florida. Riding shirt and breeches are by Montar and boots are by De Niro. For more information, visit cuatxtack.com
For more information, visit www.lehuacusterdressage.com
Photos by Melissa Fuller, msfullerphotography.com
Double D Trailers Info