By Kimberly Gatto
Portraits by Melissa Fuller
Of the many lessons that Elisabeth "Liz" Halliday-Sharp learned from her father, resilience was perhaps the most important. Liz's innate ability to overcome adversity has served her well in her quest to become one of the top event riders in the world. Through the highs and lows of a career with horses, Liz's "can do" attitude has helped propel her through both triumph and defeat.
Liz, who has won more events globally during the past three years than any other rider in her discipline, continues to set records—with her sights set firmly on the 2024 Olympic Games.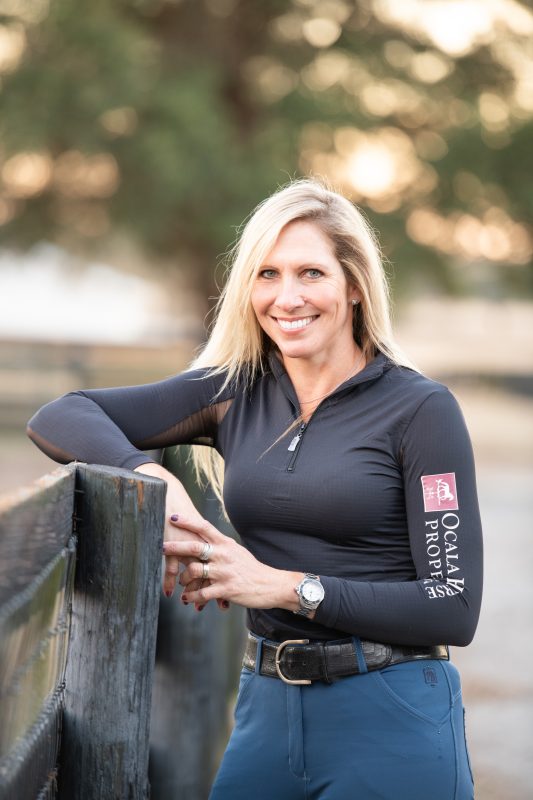 "I think I've always been very focused and driven, from the time I was very young," Liz said. "It's something I learned from my dad, Don Halliday. He taught me to be a fighter and to focus on what I want to achieve by moving forward and taking risks. It's a lesson that I keep with me to this day."
Though Don passed away in 2012 after a long battle with a rare form of Alzheimer's disease, his guidance continues to inspire Liz. She also credits her mother, Debby, for continuing to "support her crazy" and for being her biggest fan on the good days and the bad. "I feel very lucky to have had amazingly supportive parents who encouraged me to follow my dreams and to fight for what I was passionate about," Liz said. Her father was, sadly, not alive when Liz achieved her lifelong dream of being chosen for the U.S. Olympic team in 2021, nor was he able to console her when that dream was shattered. But the grit and determination that Don instilled in his daughter proved immeasurable in helping Liz to move past such disappointment and continue working toward her dream.
"Being named to the Olympic team was one of the greatest moments of my life," Liz said. "It had been my dream from the time I was a little girl, so it was a huge deal for my family, my owners and my entire team as well." That dream was moving toward reality as Liz and her mount, the bay KWPN gelding Deniro Z, were selected to represent Team USA at the Tokyo Olympic Games. But in early July 2021, prior to departing for pre-quarantine, it was discovered that Deniro Z had some bone bruising and would be unable to compete. Liz had no choice but to forfeit her spot on the Olympic team.
"There were many tears," Liz said. "The fact that Niro would be OK was obviously the most important thing. But I think having your Olympic dream be over in an instant is probably every athlete's worst nightmare."
Drawing on her father's memory, Liz reminded herself that where one dream ends, another begins. "It had been a very challenging year overall," she said. "It seemed as if all kinds of other things started going wrong in my life all at the same time. I felt like I had to just keep picking myself up again and again, trying to move forward." When Liz appeared discouraged, U.S. Eventing Team show jumping coach Peter Wylde took her aside and explained that these heavy setbacks happen to virtually every equestrian at some point in their lives. "Peter reminded me that everyone pretty much gets dropped on their backside at one point or another—it was up to me to claw my way back up. And that's what I decided to do."
Liz credits her mom, husband, family, friends, owners and her team at home for providing unending support and encouragement during this time. "Everyone was just so incredible in standing behind me and lifting me up," Liz said. "My owners basically said, 'with crisis comes opportunity,' and we decided to look at what we could do to improve the whole operation and move forward. We ultimately hired a new barn manager, Isabel, who has been amazing. If I learned one thing from 2021, it is that I am actually quite hardy."
In the Beginning
Born and raised in Southern California, Liz became enamored with horses at a young age. "For as long as I can remember I wanted to ride," Liz said. "There was a small barn up the road from us that offered lessons and I kept begging my mom to take me. Nobody else in our family was a rider and I didn't grow up with horses, but I think my love for them has always been in my blood." Liz began taking lessons at the age of 8 and started in a Western saddle, but quickly discovered the thrill of jumping.
"My first competition was at a hunter show, and while I loved being at the competition, I knew early on that discipline wasn't quite my path," Liz said. "Then I found out about Pony Club and eventing." Liz started Pony Club when she was 12 and competed in her first Pony Club Championships at the age of 13. "I found that I really enjoyed the variety that comes with training for the three different phases," she said. "That's what makes eventing so unique as compared to other disciplines. And I also think that nobody events unless they really enjoy riding cross-country. The idea of riding fast and jumping solid fences was definitely the first thing that attracted me to the sport."
In addition to the thrill of eventing, Liz channeled her need for speed into another fast-paced sport: car racing, a passion she shared with her father. An accomplished vintage race car driver and a longtime instructor for the Sports Car Club of America, Don Halliday introduced Liz to the sport as soon as she obtained her driver's license. "I remember that he brought me to this old airport track and taught me how to really drive the race car. Dad made me drive up and down the track, going up and down the gears until I could manage the transmission on the car seamlessly," Liz said. "Only when I was doing it perfectly was I allowed to drive the car in an actual race. I still really respect the process of his instruction and value the diligence that it instilled in me. For a few years, we shared his vintage race car, a 1967 Datsun 510. It was very special for me to have that time with him.
"Motorsport also helped me to develop another level of mental toughness," Liz continued. "It's a super-high-pressure sport, especially at the top level. I think that definitely helped prepare me to fight harder in the future."
Changing Course
When it came time for college, Liz enrolled at the University of California at Santa Barbara, where she studied marine biology and rode with 1974 Olympic gold medalist Don Sachey at nearby Raintree Ranch Equestrian Center. After her junior year, an opportunity arose for Liz to take a year off from her studies and travel to England to work under eventing legend William Fox-Pitt at his farm near Oxfordshire. "My parents were spending some time in England that year and I went to visit them during my spring break. When I was there, my dad really encouraged me to take some time away from school and live in another country," Liz said. "He felt it was important for me to go off on my own and experience another part of the world. What was meant to be one year away in England turned into 20 years and became the most influential years of my life."
Having never competed outside of California, Liz entered a whole new world riding in the UK. "When I arrived in England, I had only done one Preliminary Level event, and had only competed at home in the U.S.—suddenly I had access to all of the incredible courses in England and Europe and the stiff level of competition that came with that," Liz said. "Looking back, I definitely didn't know as much as I thought I knew, and the move was a real eye-opening and character-building experience. William was an incredible mentor to me and taught me so much. He made me a much better rider and horsewoman, and I still consider him a friend today."
Within three years, Liz was competing at the CCI3* level (now CCI4*) on her own horse, an Irish gelding called Bally Supreme, known around the barn as Cheese. "He was a very special horse with a ton of heart," Liz said. "We went from doing our first Intermediate event together all the way up to our first three-star, at Boekelo in the Netherlands. Cheese was not the scopiest horse, but we had a great partnership and he always gave me his all. I am forever grateful to him, as he showed me what it was like to ride at the upper levels."
While overseas, Liz continued on her quest for excellence in the sport of auto racing as well as eventing. She traveled around the globe, taking part in numerous endurance races, including the prestigious 24 Hours of Le Mans in France, in which she competed on three separate occasions. Regarded as "the ultimate endurance test for man and machine," the 24 Hours of Le Mans seeks to determine which car can cover the largest distance in a period of 24 grueling hours with just three drivers. During her auto racing career, Liz won numerous races and awards, including a win in the prestigious Sebring 12 Hours. She was also the most successful female driver in American Le Mans Series history, with six victories in total.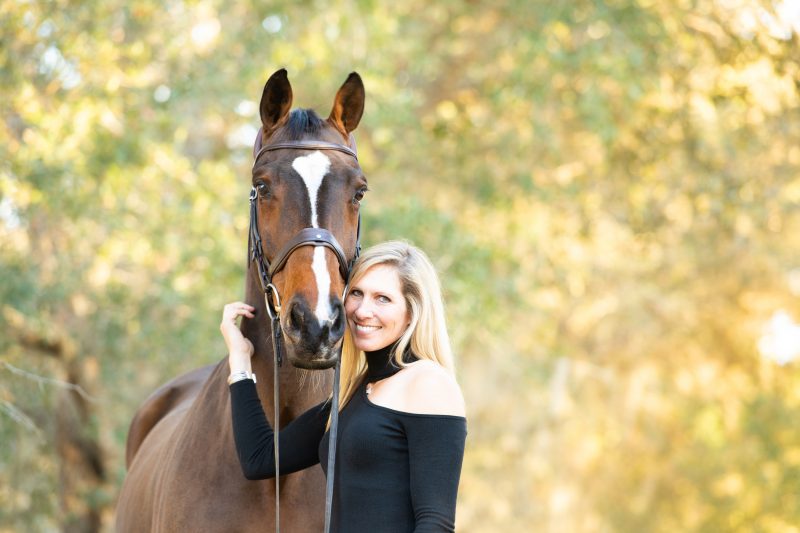 Liz's experience, coupled with her upbeat personality, made her a sought-after television commentator in the auto racing world, covering various events for networks such as Eurosport and CBS Sports. Additionally, she was chosen to serve as a judge on the Speed Channel's "GT Academy" series and in the Sky One series "The Race."
Liz retired from auto racing not long after the death of her father in 2012. "It was a passion we shared, and that combined with the loss of some of my major racing sponsors made it feel like the time had come to focus on one sport instead of two," Liz said. "I feel so grateful to have been able to compete at some of the most incredible racetracks in the world and to have shared those times with my dad. It was such a gift. I still hold those experiences very close to me."
A Renewed Focus
With her sole focus now on eventing, Liz made her presence known as she moved up the levels, winning events on several different mounts. "It was difficult to balance the racing and the eventing at such a high level at the same time," Liz said. "Sometimes I think I would have achieved much more with horses earlier in my career if I had not also been racing. But it was an amazing part of my life and a big part of who I am, so looking back I would not change a thing."
Liz met her husband, Allan "Al" Sharp, while she was still racing cars in England. "I actually met Al through a dating app, and the rest is history," Liz said. "Al was a policeman and I drove fast cars, so friends used to joke that I must have met him though a traffic violation or something. But the truth is that we met online. I am so lucky to have Al in my life; he truly is my rock."
For five years, Liz and Al split their seasons between living in the UK and in Ocala, Florida. When that became less feasible, the couple moved full time to the U.S., where they currently own farms in both Ocala and in Lexington, Kentucky. "It was a great opportunity to go back and forth for a few years, but we knew that it was not financially sustainable and that we would eventually need to choose," Liz said. "We decided—especially with my aspirations of representing the U.S. at multiple championships—that it made the most sense to be based full time in the USA."
A Special Partnership
In 2015, Liz found a talented KWPN gelding known as Deniro Z not far from their farm in England. He was 7 years old at the time and relatively inexperienced, and was originally purchased as a sales prospect. But Liz and Deniro had a great bond from the beginning.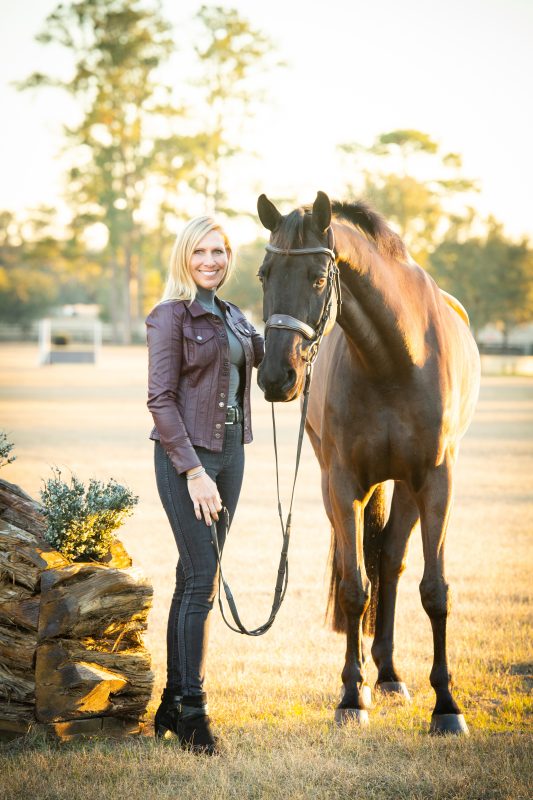 "Deniro was always a very kind horse, but also had some real fight in him. I took him to his first event about a week after we got him and I remember telling my groom what a great gallop he had. I think I knew then that he would be something special," Liz said. He quickly rose through the levels and enjoyed multiple FEI wins up through CCI3*L in his second season eventing.
In the spring of 2017, Rob and Chris Desino of Ocala Horse Properties purchased Deniro and he became the first of multiple horses that they would have in partnership with Liz through the years. "Just three years from his very first event, Deniro Z completed his first five-star and with a top 10 finish," Liz said. Since then, Liz and the flashy bay have formed a partnership for the ages, with numerous victories and top placings at the highest levels. "Deniro is my dearest friend, my special boy," Liz said. "He is an incredibly special horse. I don't think I have ever had a horse with so much heart.
"Deniro is very professional and knows his job. He's also a very kind, personable horse; he does funny things like flapping his lips when he's excited about something. He also has a reputation for being quite the naughty boy at the trot-up!" Liz said. Now 15, Deniro appears to still have plenty left to give. "He's feeling better than he has in a long time," Liz said. "He will let me know what he wants to do. And that is all we can ask."
While Deniro Z is perhaps the most well-known of Liz's mounts, she continues to achieve great success with several other horses. To that end, she is continuously working to develop an entire barn of top-level athletes. "I really enjoy developing horses from the beginning," Liz said. "I feel like right now I have the best string of horses I've ever had. I should have four or five horses at the five-star level this year, if all of the stars align, and I feel really lucky to have amazing owners behind them who are also great friends, which makes it that much better."
One of the horses that shows much promise is Miks Master C, aka Mikki, a 16.3-hand bay Swedish Warmblood gelding owned by Ocala Horse Properties and Deborah Palmer. "Mikki came to my program in May of 2022 and it's the first time that I have actually ever had a more experienced horse join my team. He was beautifully produced by Maya Black originally, and came to me as a horse to produce and ultimately sell for his owner and breeder," Liz said. "When I started to work with Mikki, I could see how much talent he had for the future, so I talked to some of my owners about purchasing him and I still feel so grateful that Debby and Ocala Horse Properties stepped up and bought him to make the partnership possible."
Liz and Mikki have already won several events, including consecutive first-place finishes at the Bromont CCI2*L, Rebecca Farm CCI4*S, Chattahooche Hills Intermediate and the FEI Eventing Nations Cup – Bromont CCIO4*S. Most recently, Liz and Mikki were victorious in the $50,000 Grand Prix Eventing Festival at Bruce's Field, making Liz a three-time winner of this event on three different horses. "He has just reached another level and will plan to do his first five-star this year," Liz said. "Mikki is a phenomenal horse and is actually my number one hope for the Paris Olympics."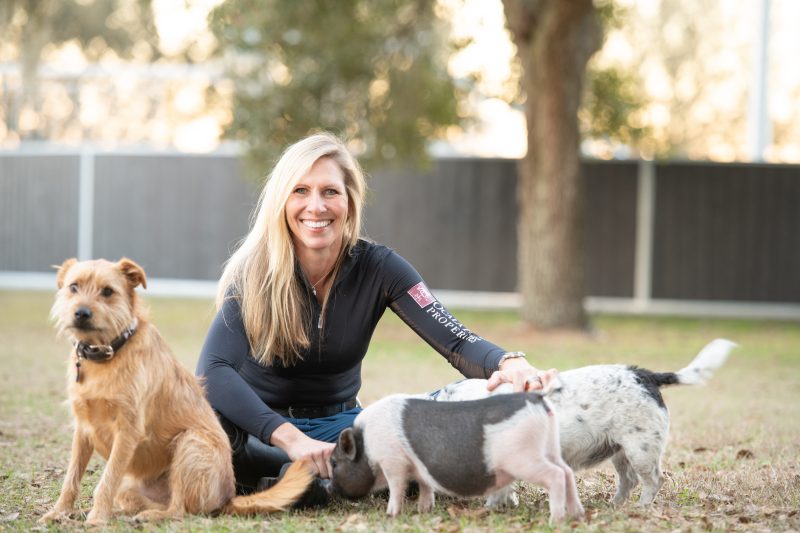 Liz's ability to excel with many different types of horses has contributed to her great success. In 2020, her stellar performances on 13 different mounts culminated in Liz being named USET Rider of the Year, marking the first time a female was awarded this honor in 39 years. Despite a shorter 2020 eventing season at the height of the COVID-19 pandemic, Liz amassed 25 first-place finishes and 67 top-five placings to secure the title. Since then, she has shown no signs of slowing down, amassing more global victories during the past three years than any other eventing rider in the world.
As she works towards her goal of competing in the 2024 Olympic Games, the long-ago lessons that her father taught her are never far from Liz's mind. "My dad was a huge inspiration to me and a big reason why I learned to work hard for my dreams," Liz said. "The bottom line is that things will go wrong, but you just have to keep moving forward. Dad always taught me to fight hard and never be afraid to take risks on your way to the top. I still carry that with me wherever I go."
For more information, visit lizhallidaysharp.com
Photos by Melissa Fuller, msfullerphotography.com
Double D Trailers Info