April 4, 2014

Lexington, KY – The application deadline for three June 2014 Emerging Athletes Program Regional Training Sessions is midnight of Monday, April 21.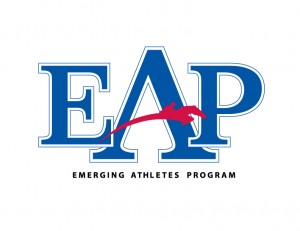 The intensive 4 1/2 day training sessions will be taught by some of the sport's most respected clinicians and stable managers. Riders, competition age 20 and under, interested in participating in the USHJA Emerging Athletes Program, presented by Dover Saddlery, must submit the EAP Application and required documents to USHJA no later than the respective deadline. Applicants are also required to pass the USHJA Horsemanship Quiz Challenge Level One Quiz, with a score of 80% or higher, to be considered for participation in a Regional Training Session.
June Regional Training Sessions:
June 4-8 EAP Regional Training Session – Canby, OR
Oz Inc.
Clinician: Cynthia Hankins
Stable Manager: Nanci Snyder
June 8-12 EAP Regional Training Session – Conyers, GA
Georgia International Horse Park
Clinician: Anne Kursinski
Stable Manager: Anne Thornbury
June 16-20 EAP Regional Training Session – Hackettstown, NJ
Centenary College
Clinician: Julie Winkel
Stable Manager: Colleen Reed
April 21 is the deadline for any of these three June Regional Training Sessions!Don't miss out –Log into your USHJA account and click "EAP Regional Clinic Application" under the Emerging Athletes Program section.
Please check the EAP Calendar for the Regional Training Session in your area.
Additional questions or request for information may be directed to Meghan Carney at (859) 225-6721.
United States Hunter Jumper Association 
3870 Cigar Lane
Lexington, KY 40511
P: 859.225.6700
F: 859.258.9033