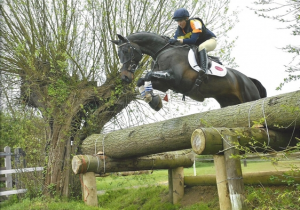 Liz Halliday was again dovetailing her dual sporting careers last weekend when she competed in the Lotus Cup UK at Oulton Park before travelling south for the Catton Park Horse Trials in Derbyshire.
Motorsport and equestrianism are two very different sports, a fact that was underlined by the dramatic change in Halliday's fortunes over the three days…
Friday and Saturday were spent in Cheshire where the bad luck that has characterised Liz's Lotus motor racing campaign was once again in evidence. This time teething problems proved the least of her and the John Danby Racing team's worries however after Halliday's Lotus 2-Eleven was hit by a spinning driver as they slid back across the track in front of her. Powerless to prevent a collision, the hefty impact saw Liz retire on the spot.
Fortunately better was to come at the Catton Park Horse Trials on Sunday where Halliday had entered Blackie (Fernhill By Night). He too had not had a great previous event, but returned to form with an excellent second place finish in the hotly contested Open Intermediate section.
A score of 26.4 in their accomplished Dressage test left the pair joint second heading into the Show Jumping where a clear round helped maintain their victory chances. Although a handful of Cross Country time penalties would ultimately see them finish as runners-up, Liz was nevertheless delighted with Blackie's performance.
Liz Halliday: "It's fair to say that my weekend didn't begin well but fortunately it came good in the end. What happened in the Lotus Cup race was so frustrating because there was absolutely nothing I could do to avoid the spinning car ahead. I did my best to miss it but there was just nowhere for me to go, and the end result is that my car sustained some heavy internal damage.
"Gladly I was able to put that behind me on Sunday when Blackie really stepped up after some indifferent recent performances. He was on it from the start and really felt the part Cross Country. I feel like we are back on track now for the season and looking forward to the next event in a couple of weeks."
Busy weekend done and dusted, Liz spent Monday travelling to France where she is due to commentate on the Le Mans 24 Hours for Eurosport. Her pitlane reporting and commentary duties mean that she's in for a busy time throughout the race on Saturday and Sunday.
When she finally returns home next week, a new horse – Chaco (Cooley Ground Control – will be waiting for her at Chailey Stud. Still only five-years-old, Liz has high hopes for the yard's newest addition.
ENDS
Liz is supporting pioneering medical charity Spinal Research throughout the 2013 season. For more information please visit www.spinal-research.org or contact Isabel Long on 01483 898786 / isabel@spinal-research.org.
Liz Halliday media enquiries to Tom Hornsby:

+44 (0)20 8605 9797

Chailey Stud enquiries to Sam Kelly:

+44 (0)7734 900 327

Spinal Research: Isabel Long

+44 (0)1483 898 786

ArcEquine: Steve Jenkinson

+44 (0)7973 427 572

Andrews Bowen Ltd: Lynn Jones

+44 (0)1995 672 103

Cyclo-ssage: Sean Hamilton

07785 315310

Nupafeed:

+44 (0)1438 861 900

Jacksons Fencing: Carla Wessel

carlaw@blueberrycommunications.co.uk

+44 (0)1233 750 393

Mirrors for Training: 

+44 (0)1902 791 207

Voltaire Design: Géraldine Gilmas

+1 (845) 875 4438