January 3, 2014 SPARTANBURG, SC
GGT- Footing™, the equine division of Polysols Corporation is proud to announce that the Claiborne Arena at The Kentucky Horse Park has been outfitted with the New Butterfly Matting System offered by GGT Footing.
For several years GGT-Footing has been installed in the fine equestrian sand at the Kentucky Horse Park.
Robby Murphy and Hugh Kincannon from The Kentucky Horse Park   have been working with
GGT Footing National Account Manager, Cynthia Brewster-Keating to determine the best recipe and products for the Horse Park needs.
Many horse shows are run in the Claiborne arena as it is one of the main rings at The Kentucky Horse Park.
Just this past fall, GGT Footing distributor and consultant, Brett Raflowitz of Equestrian Services International was chosen as the footing expert to install the matting system and to blend the GGT- Footing Fibers.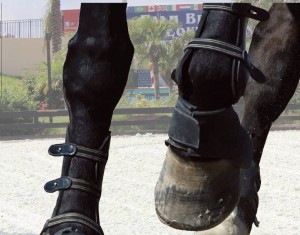 GGT Butterfly Mats™
The use of arena mats can significantly reduce the cost of traditional layering methods with gravel, extra sand and the labor involved in the construction. Now with the GGT Butterfly Mats™, This new design that will allow arena builders and farm owners a choice on how they construct their arena base.
By utilizing the GGT Butterfly Mat™ system, one can protect their horse's joints and tendons from long term concussion and instability due to slippage from traditional footing surfaces. The typical force of a striking hoof is absorbed by the mat this plays an important role in maintaining soundness.
The drainage holes in the mat allow for excess water to drain quickly, thus allowing arenas to be used quicker after a rain.
The GGT Butterfly™ Mats design also has water retention system that minimizes respiratory damage due to dusty footings by capturing small amounts of water thru a cup design .The moisture is then released into the arena sand which not only helps with dust control, but reduces the need for watering.
GGT Butterfly Mats™ are manufactured from recycled material. In this way, our company actively contributes to environmental protection and sustainable development.
For more information on GGT Footing ™
 Contact: Cynthia Brewster-Keating atsales.east@polysols.com or call 864-804-0011 Visit 
www.ggt-footing.com