The Definition of Style Contest, sponsored by SmartPak
Whether it's the hay that's decorating your hair when you rush into the office in the morning, or your favorite accessory with an equine twist, we know that somehow, horses define your style. So we partnered with SmartPak to ask you to show off your equestrian style! Read on:
What stylish equestrian item can you not live without?
In anticipation of our upcoming summer fashion issue, Sidelines wants to know how horses shape your look. And no, we're not talking about the hay stuck to your boots, or the bit slobber your horse left on your shirt this morning! Show us your most stylish equine-themed fashion item, whether it be your risky bedazzled helmet, your special horse charm, or that hunt coat that you always seem to win the hack in. The top entries will be voted on by our readers and the #1 entry will receive a very stylish Plymouth Padded Fancy Stitch bridle from SmartPak!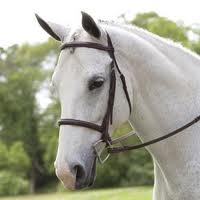 Don't worry, we're making this contest as easy as throwing on your favorite pair of earrings – that is to say, it's simple!

Just go to our Facebook page, and post a picture of the stylish equestrian item that defines you. Make sure to write a short description telling us why this piece means the world to you. We'll add your entry to our "Definition of Style" Facebook photo album and count the "likes" on all photos until June 23rd, 2011. The photo with the most "likes" will win a Plymouth Padded Fancy Stitch bridle from SmartPak! Sidelines will also throw in a year's subscription to the magazine for the top three photos, and feature YOUR stylish item in their August, 2011 issue.
So visit Facebook to enter early and tell your friends – you could create the next equestrian fashion trend!
Special thanks to our contest sponsor SmartPak.
www.smartpak.com www.sidelinesnews.com www.facebook.com/sidelinesmagazine