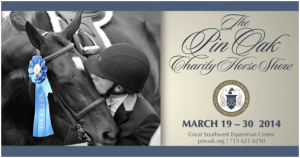 Houston, TX – In the saddle is a natural place to be for Keely McIntosh, a vibrant young woman with a passion for horses, equestrian sports, and a full life ahead of her.  Keely has ridden since before she could walk and competed in Pony Club before she could read. The written tests for Pony Club ratings had to be read to Keely by the older girls and the family joke is that Keely learned her letters from the dressage arena.  By age 6, Keely was showing in the Hunter ring in Welsh Pony classes.  Her riding repertoire also includes Western, Eventing, and Charity Trail Rides to benefit SIRE programs.  Today, Keely, 19 from Magnolia,Texas, is a show jumper competing in A and AA shows and, more times than not, lands in the top spot of the Amateur/Owner Show Jumping classes.  However, all her years in the saddle never prepared her for an unexpected, life-changing moment with her horse in the ring.
In the summer of 2012 while showing in Colorado, Keely was in a freak accident in the warm-up ring as she was preparing for the Junior AO Jumper Classic.  Keely's beloved mount, Eddy Money, stumbled a few strides after coming over a jump, never regained his footing, fell to the ground, and landed on top of Keely.  The difference between life and death on that July day was her helmet.
Keely suffered a seizure and was unconscious.  She was rushed to a local hospital where it was discovered her brain was bleeding.  Upon the discovery, Keely was transferred to the University of Colorado hospital with brain surgeons waiting and preparing to perform surgery upon arrival.  Surgery was avoided as the bleeding stopped and it seemed Keely was on the road to recovery.  After a short hospital stay, she was discharged and returned home to Texas.
However, after her homecoming Keely's Texas medical team found four major bruises on her brain which brought her life to a standstill.  Her doctors prohibited her from driving, she had to delay the start of her freshman year at Texas A&M, and could not ride her beloved horses.  Through perseverance, patience, and a strong-will, Keely was able to start Texas A&M in January 2013 and after seven long months, she was able to return to the show ring the following month.
Despite feeling a bit rusty, Keely's skills and determination carried her into first place in two High Jr AO classes right off the bat at the Winter Series Horse Show being held at the Great Southwest Equestrian Center.  With Eddy Money, her mount at the time of the accident, she was Reserve Champion in the High Junior Amateur/Owners Jumpers and was Champion on Guess Who in the Low Junior AO at the show.  Quite a comeback for this passionate rider, but this was just beginning for Keely and her horses.
With her confidence regained, March 2013 found Keely competing in the 68th Pin Oak Charity Horse Show presented by Irish Day Farm.  Pin Oak, established in 1945, holds the honor of being name the first USEF Heritage Competition as well as being named a NARG Top 25 show three years in a row.  "Unreal," is how Keely describes her return to Pin Oak after her accident.
Keely was unbeatable in the High Junior AO Classic both weeks of Pin Oak 2013 as she sailed into the Champion spot aboard Eddy Money Weeks I and II.  "There are no words to describe the feelings I had winning these two classics. All of the pain, the waiting, and the struggles, finally paid off and I felt like my injury could no longer hold me back, "said Keely.
This champion spirit will carry Keely through a bright 2013 summer show season which began in Tyler, Texas and will end in Kentucky before returning to college at Texas A&M in the Fall.  Keely's recovery is not complete as she still struggles with short term memory loss, but she does not let that stop her from living life to the fullest in the show ring and out.
As Keely reflected on her journey, her advice to everyone who rides, no matter the discipline, is to always wear a helmet.  It saved her life and offers this perspective, "Helmets should never be an option.  There is no choice to be made as the difference between life and death could be that helmet."
As the equestrian community rallies around International Helmet Awareness Day on June 22, 2013 organized by riders4helmets, Keely's story and experience is a reminder of the importance of wearing a helmet that is properly fitted at all times when in the saddle.   The Pin Oak Charity Horse Show joins Keely in advocating for all riders to ride safe, ride smart, and wear a helmet.  Keely has many more ribbons to win and moments to cherish with her beloved horses thanks to her helmet .
_______________________________________________________________________________________________________________
About Pin Oak:  The Pin Oak Charity Horse Show established in 1945, is the first designated USEF Heritage competition and a NARG Top 25 Show. Through the production of a world-class horse show, The Pin Oak Charity Horse Show supports the healing of sick children through financial donations, outreach, and volunteer support for Texas Children's Hospital, Houston's Ronald McDonald House Family Rooms, and Candlelighters Childhood Cancer Family Alliance. Pin Oak also serves the children of the greater Houston/Katy community through community outreach and educational programs.  The 69th Pin Oak Charity Horse Show is slated for March 19-30, 2014 at the Great Southwest Equestrian Center.