New York-Bred Returns Home to Celebrate 10th Anniversary of Derby and Preakness Wins
LEXINGTON, Ky. (July 31, 2013) – Funny Cide, winner of two legs of Thoroughbred racing's Triple Crown in 2003, the Kentucky Derby and the Preakness Stakes, will travel to Saratoga Springs, N.Y. for a special 10th anniversary celebration to mark his victories and the 150th Anniversary of Racing at Saratoga.  The only New York-bred to win the Kentucky Derby, Funny Cide returns home to make an appearance at Saratoga Race Course on Sunday, Aug. 4, 2013, for an Equine Retirement Day Salute to Funny Cide.
The day will start with a meet and greet in the paddock with Funny Cide at 11:30 a.m., which will include his trainers, Barclay Tagg and Robin Smullen; and Jack Knowlton, representing his owners, the Sackatoga Stable.  The New York Racing Association will be on hand to give out 1,000 Funny Cide posters.  Funny Cide's former jockeys, Jose Santos and Richard Migliore, will sign autographs to benefit the Permanently Disabled Jockeys Fund.  Four New York-based horse retirement organizations will be at the track and will accept donations throughout the day.  Later, Funny Cide will lead the post parade for the Vanderbilt at the track, approximately 5-5:45 p.m.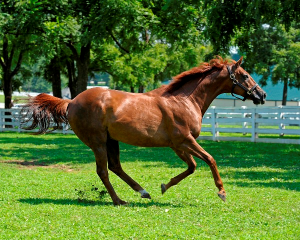 Funny Cide, or "Funny" as he is known at the Kentucky Horse Park's Hall of Champions where he has lived since being retired to the park in 2008, will be away from the park Aug. 1 – 8 for the trip to New York.  Funny retired with the highest earnings ever by a New York-bred Thoroughbred at $3,529,412.  At the 2003 Kentucky Derby, he was known as "the people's horse" mostly through the story of his owners – a group of former high school buddies who pooled their money to buy the chestnut gelding.  He can usually be seen at the Hall of Champions daily throughout the summer at 10:15 a.m., 1:15 p.m. and 3:15 p.m.
Learn more at www.KyHorsePark.com or at  www.nyra.com/saratoga/information/events/.
Photo courtesy of Anne Eberhardt/Blood-Horse, available upon request.  Permission required to republish.
The Kentucky Horse Park is a working horse farm/theme park and equine competition facility dedicated to man's relationship with the horse. The park is an agency of the Kentucky Tourism, Arts and Heritage Cabinet and hosted more than 800,000 visitors and campers, as well as 15,000 competition horses in more than 200 special events and horse shows in 2012.  The park is home to the National Horse Center, which comprises more than 30 national and regional equine organizations.   Located at Exit 120, Interstate 75, just north of Lexington, the Kentucky Horse Park is The place to get close to horses.  Information about the park's programs and activities can be found on-line at www.KyHorsePark.com, Facebook, Twitter, Google+ and YouTube.