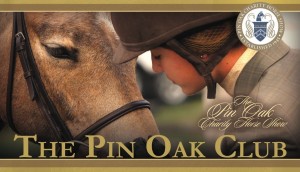 4th Annual THJA College Equestrian Fair
"Getting on Track" ‒ How to Become a Potential Candidate for a College Equestrian Team…and more!
(Houston, TX) ‒ The Pin Oak Charity Horse Show is known as one of the largest and most prestigious horse shows in the country. With a legacy of 68 years of helping children, and a leader in giving, Pin Oak has donated more than $4.5 million to help build Texas Children's Hospital's Main and West Campuses.
Seven years ago, Pin Oak created an educational field trip, inviting 1st and 2nd grade school children to the show for a "behind the scenes" barn tour to foster a passion for horses and excite young children about the world of equestrian sports. Continuing the passion for education, Pin Oak chose to expand its support of young riders by hosting the Texas Hunter/Jumper Association (THJA) College Equestrian Fair. Riders spend countless hours dedicated to the sport in their lower, middle and high school years, then graduate, and ask themselves "Now what?"
With the growth of Collegiate Equestrian teams, Pin Oak decided to provide a forum to educate high school students and their parents on how to continue their passion for horses into the collegiate level. Pin Oak chooses a select group of Division I & II colleges as well as handpicked schools with equestrian riding teams from around the country to promote their programs and provide aspiring riders a "one-stop shopping" experience to learn what these colleges offer and hopefully find a program that fits their goals—both in and out of the show ring.
Until now, this event was open to THJA and Greater Houston Hunter/Jumper Association (GHHJA) members and students associated with Pin Oak. During last year's show, the Ram Riders Equine Club from Mayde Creek High School came to the rescue to fill a need at education day. Their "painted horse" contribution to our Vet Station made a lasting impact on show organizers and participants became the catalyst to opening the fair to others. Pin Oak's leadership team realized there are many other equestrian-minded students participating in disciplines other than English riding, who could benefit from this college fair. Dressage teams, polo teams, western teams, high school horse clubs and many equine college degrees allow a rider's passion with horses to continue as well as spawn the next generation of equestrian leaders.
Pin Oak extends the invitation to all equestrian-minded students to attend the 4th Annual THJA College Equestrian Fair, September 22nd, from 10:00 am-8:00 pm in the Texas Children's Hospital Arena Club at Great Southwest Equestrian Center in Katy, Texas.
Pin Oak's college fair provides the student with a one-on-one opportunity to meet with college representatives in a more intimate setting than at the larger fairs. Following the four-hour college meet and greet are 90 minute panel lectures and Q & A periods. A representative from University of Texas – Austin's Polo Equestrian Team will speak from 2:30-4:00, and the Collegiate Equestrian Riding representatives will be presenting from 6:30-8:00. Mistress of Ceremony will be Patty
Roberts, Hunter/Jumper Chairman of the Pin Oak Charity Horse Show. Speakers include Sally Batton, Intercollegiate Horse Show Association (IHSA) Representative, Andrea Hanson, National Collegiate Equestrian Association (NCEA) Representative and Margaret Swanson, former member of Mount Holyoke IHSA Team on her experience as a team member. Participating colleges include Albion, Dartmouth, Savannah College of Art and Design, Texas A&M University, University of Texas – Austin and William Woods University.
This unique experience provides high school age riders and their parents an opportunity to learn what is available in the world of collegiate equestrian sports and polo, and to speak with college representatives from around the country and meet many wonderful equestrians who share their riding goals. As a parent, if you were wondering how your child could continue in the show ring and earn a college degree, this is the perfect event for you and your child to attend.
"The information received, both verbal and literature will save us so much time in the future. It has helped this whole college process become clearer." The Bifano Family
Pin Oak wishes to thank our generous sponsors. Title sponsor is Texas Hunter Jumper Association. Hospitality sponsors are Gainer, Donnelly & Desroches, Michael's Cookie Jar, and Evamore Natural Artesian Water. Our facility sponsor is, Great Southwest Equestrian Center and door prizes are sponsored by The Lead Change and InkStables,
For more information or to register for the fair, please visit www.pinoak.org, friend us on Facebook, phone us at 713.621.6290 or email at info@pinoak.org. The cost is $50 per family, $25 per individual, Pin Oak Club or THJA members $15, snacks will be provided.