Calgary, AB, Canada – May 29, 2013 – Spruce Meadows, home to some of the most prestigious and popular show jumping events in the world, is excited to welcome the best riders to their summer tournaments, which begin on June 5 and continue with five tournaments through July 14, 2013. Along with an unparalleled venue, riders can look forward to fantastic prize money and the opportunity to gain world ranking points, Rolex FEI World Cup™ qualifying points, and the chance to help their country qualify for the Furusiyya FEI Nations Cup™ Series Final.

Starting with the 'National' CSI 5* Tournament on June 5-9, competition features include the Spruce Meadows Canadian Show Jumping Championship™, the $400,000 CN Reliability Grand Prix on Saturday, June 8, and the $175,000 Nexen Cup 1.60m derby on Sunday, June 9.
The 'Continental' CSIO-W 5* Tournament will run from June 13-16, with complimentary admission and parking for spectators. The 'Continental' Tournament will hold the $200,000 CN Performance Grand Prix, a Rolex FEI World Cup Qualifier, on Sunday, June 16.

Spruce Meadows is host to one of only two Furusiyya Nations Cup events in North America, which will be a qualifier for countries hoping to attend the series final in Barcelona, Spain, in September. Following the first event for the region in Wellington at the FTI Consulting Winter Equestrian Festival, the United States leads with 100 points, Canada is close behind at 90, and Mexico is in third with 65 points.
Spruce Meadows President, Linda Southern Heathcott, commented, "We added a CSIO event in June so that we could participate in the qualification process for teams from North America, Central America, and the Caribbean for the Furusiyya FEI Nations Cup Series Final. Since we invited less than five teams, Canada, United States, and Mexico are allowed to field two teams each. My hope is that we can be instrumental in developing second teams for these nations and help their programs."
Along with Canada, United States, and Mexico, there will be a team from Ireland participating in the $100,000 Furusiyya FEI Nations Cup on Thursday, June 13.

John Madden, Chairman of the FEI Jumping Committee, stated, "To have a Nations Cup at Spruce Meadows is really important because it's the first year of the Furusiyya series, and I believe the series will be integral to the sport. For our region in the Americas, it gives us a competitive way to earn a spot and prepare for the final. The changes that were made to the Series this year were intended to create global opportunities to help develop the sport of show jumping. This is exactly what we are seeing here in the Americas, which is really exciting."
For United States Show Jumping Chef d'Equipe Robert Ridland, the new Furusiyya FEI Nations Cup Series works better for North American riders. "I have long held that the former Top League was counterproductive to the healthy state of show jumping in North America, and to the rest of the world, for that matter. By limiting the highest level of the Nations Cup Series to Western Europe, the sport was not encouraged to expand to the other continents of the world, and as a result, the top non-European riders were forced to spend an inordinate amount of their efforts away from their home countries," he explained. "With the advent of the Furusiyya FEI Nations Cup Jumping Series, North American riders can now qualify for the Final at two venues (Wellington and Spruce Meadows) that are on their regular schedules."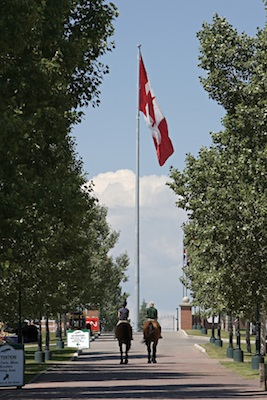 Having another Furusiyya FEI Nations Cup qualifying event in North America means a great deal to the Canadian Show Jumping Team as well. Chef d'Equipe Mark Laskin stated, "It affects us in a number of ways. If we qualify for the Furusiyya FEI Nations Cup Final every year, like we hope to, we will be able to send our top team on a yearly basis to compete against all of the best teams in the world. In the past, our competition was restricted in Europe because the main competitions were tied up in the Super League, it was a huge commitment to financially partake in that series, and it conflicted with the major portion of our show season. Now, even though they may be used as qualifiers for European teams, it will be possible for us to obtain invitiations to compete at some of the most prestigious competitions in the world."
In addition, Laskin points out that the revamped series has already produced a new Nations Cup during the 'Continental' tournament that didn't exist before. "I think it's going to lead to even more competitions for us to compete in, within our region, and it is generating a lot more interest in all of the regions of the world," he remarked.
Madden also commented on the unique opportunity that the United States, Canada, and Mexico will have at the Furusiyya Nations Cup to send two teams, "It's a really fantastic development for the sport in North America. Not only is it the best venue for these riders, it becomes a great training ground. It goes with Spruce Meadows' mission to develop the sport. I think it will be fun for spectators and productive for the nations to see two of their own teams compete against each other."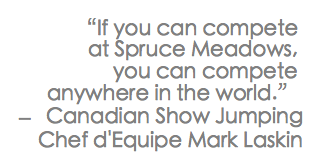 "The Furusiyya Nations Cup event at Spruce Meadows provides an opportunity for more of the younger American riders to get valuable international team experience," Ridland added.
Laskin said he will use the 'National' Tournament to see which horses and riders are in top shape and their current form will be a 'determining factor' to choose the Canadian teams. He said, "If developing riders are firing on all cylinders, they'll definitely get a chance."
He also said that the ability for two teams has also led to increased interest from the riders to be on a team. "Having the Nations Cup on our home turf means a lot to our riders. We have a huge list to pick from," Laskin pointed out. "It's great for us to have two teams from a developing point of view. We're doubling the experience for our riders and I think that's extremely benficial."
Having the additional Nations Cup experience at the best show jumping venue in the world doesn't hurt either. "Our riders can compete there year after year and improve their competitive level on an international basis," Laskin said. "A lot of the reason why our riders are so comfortable (at international and championship venues) is if you can compete at Spruce Meadows, you can compete anywhere in the world. Knowing that gives us a lot of confidence when we walk into an arena anywhere else."
Madden and his wife Beezie regularly attend the Spruce Meadows Summer Tournaments; Beezie is the number three all-time money winner at Spruce Meadows and the current Rolex FEI World Cup Champion.
"I believe that Spruce Meadows is the standard for our sport," said Madden. "From the footing, the arenas, the fans, sponsors, media coverage, and more, it represents everything that is the best in equestrian sport."
The other three tournaments during Spruce Meadows' summer schedule include the 'Canada One' CSI-W 4* Tournament, June 25-30, 'North American' CSI 5* Tournament, July 3-7, and 'Pan American' CSI 5* Tournament, July 11-14.
Spruce Meadows is expecting record entries for the 'National' and 'North American' Tournaments, with riders from 11 nations represented.
As always, Spruce Meadows also offers a full schedule of events for junior and amateur jumper riders. Make your plans to visit Spruce Meadows this year and see the best show jumping action in the world!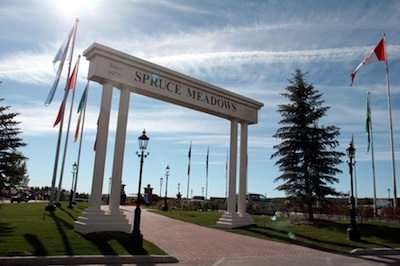 Based in Calgary, Canada, Spruce Meadows is the brainchild of the Southern family who built a Show Jumping complex at the foothills of the Alberta Rocky Mountains. It was in 1976 that the first Spruce Tournaments were held, with annual spectator attendances reaching over 50,000 by the end of the decade. Today, Spruce Meadows boasts one of the greatest outdoor equestrian venues in the world and offers an incredible experience for riders and fans alike. Spruce Meadows focuses on the organization and hosting of show jumping tournaments of unmatched quality for junior, amateur and professional athletes in a manner that reflects basic family values in a clean, green and welcoming environment that celebrates the horse and encourages the breeding and training of quality sport horses and the teaching and development of athletes. For more information on Spruce Meadows, please visit www.sprucemeadows.com.
Photos © Spruce Meadows Media Services. They may only be used in relation to this press release and with photo credit.