Bingen, WA – Leading the field with fresh innovation, Kerrits introduces their new Kombi Riding Tight with a strategic combination of fabrics placed for enhanced fit and performance.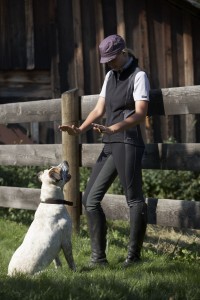 "Our Kombi Riding Tight is the perfect marriage of a breech and a tight," said Kerri Kent, owner and designer for Kerrits Performance Equestrian Apparel.  "It combines the durability and integrity of a breech and the stretchy comfort of a tight without the reveal."
In sports a flat, wide Flow Rise waist with belt loops and the slimming Dynamic ExtremeTM  fabric provides shape and hold with excellent coverage.  The side panel is a stretch knit with a denim-like look giving the ultimate freedom of movement and a side pocket large enough to hold your cell phone.
Its smooth, flat finish is lightweight.  The kneepatch and fullseat are constructed in a perforated NuBackTM fabric that has a leather-like feeling that's breathable and moisture-wicking.
"Riders will love the multi-functional aspects of the Kombi Riding Tight for the diverse conditions we all experience with our horses," said Kent.
Kombi Riding Tight
Colors: Mushroom, Eggplant, and Black
Sizes: S, M, L, XL
Machine washable
MSRP: $94.00 Kneepatch
$109.00 Fullseat
Ride On! About Kerrits Performance Equestrian Apparel:
Home-grown performance that sprouted in 1986, Kerrits Performance Equestrian Apparel thrives on creating innovative, functional, and stylish performance apparel, uniquely designed for women who love to ride – and their horses.