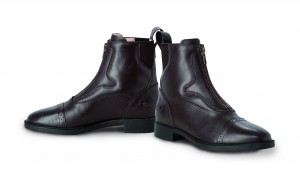 DUBLIN, Ireland – 28 September 2012 – Ever responsive to market demand, Tredstep Ireland has added a new, smaller sizing to their Giotto line of paddock boots making them available to customers in a size 36 EUR/6 U.S.  Part of Tredstep's stylish Renaissance Collection, the Giotto paddock boots embody Tredstep's philosophy that the classics can be updated to gain high performance, without sacrificing beauty. The new sizing will be available from retailers in late October.
The Giotto paddock boots provide equestrians with luxurious, long-wearing comfort and feature supple, full grain nappa leather and classic styling for everyday wear.  Constructed for top performance, the boots are fitted with a moulded sport high-impact cushioning footbed with a dry-lex moisture wicking top layer and a forked Bartoli composite mid sole with an advanced shank providing stability and reducing foot fatigue.
Giotto paddock boots are favorites among Tredstep's sponsored riders including International Eventers Sharon White, Caroline Powell, Aoife Clark and Camilla Speirs, who wear them on a daily basis.
About Tredstep Ireland
In 1993, Irish entrepreneur and Three-Day Event rider Aidan Keogh saw the need for a better half chap, and set out to create his own.  A former design student who studied fine arts, Keogh believed that he could improve the comfort, performance and aesthetics of riding wear, while respecting the traditions of a Centuries-old sport.  His product eventually redefined the market and brought half-chaps to the mainstream where they are now standard equipment for every rider. Along the way he created Tredstep Ireland, a company driving innovation, but ever respectful of the traditional roots of equestrian sport.
Tredstep now offers a complete collection of chaps, boots, gloves and accessories including the newly released Raphael tall boot, part of their superior Renaissance Collection, all designed to make the riding experience more enjoyable. For more information on Tredstep products please visit us at http://www.tredstep.com .