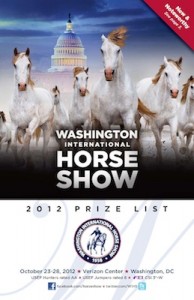 Washington, D.C., – July 26, 2012 – The Washington International Horse Show (WIHS), is pleased to announce the 2012 WIHS Prize List, which includes several exciting changes to the show program, is now available online. The country's leading metropolitan indoor equestrian event, now in its 54th year, will take place October 23-28, 2012, at Verizon Center in downtown Washington, D.C.
"We take great pleasure in welcoming many of the finest horses and riders in the sport and appreciate all the hard work it takes to get to Washington," said Bridget Love Meehan, WIHS Executive Director. "We strive to make it a very special experience for exhibitors, spectators and sponsors."
The U.S. Equestrian Federation (USEF) has granted WIHS a presidential modification to increase the number of WIHS Equitation Finalists to 40 (from 35), with 10 spots available to qualifiers from the West Coast League and 30 from the East Coast League. The increase will give more riders the opportunity to compete in one of the most prestigious equitation finals in North America.
WIHS will also introduce the Amateur-Owner 3'3" Hunter division for the first time with 20 entries accepted, 10 each in the 18-35 and 36 & over age groups.
Entries must be postmarked by midnight September 4. The qualifying period ends August 29, except for the WIHS Children's and Adult Hunter and Jumper Championships, which ends August 31. For more details, download the Official WIHS Prize List at www.wihs.org/prize-list/. Entries may also be submitted using Equestrian Connect.