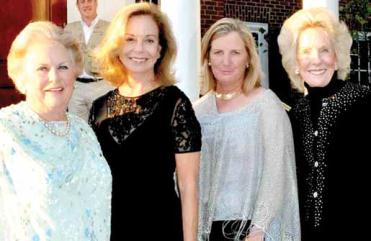 FOR HORSE PEOPLE • ABOUT HORSE PEOPLE 
SIDELINES DECEMBER 2011 75
Mrs. Jacqueline Mars, vice-
chair of the National Sporting
Library and Museum's Board of
Directors, co-chair of the NSLM
Gala committee, owner of
event horses and patron of the
equestrian and visual arts; Mrs.
Gerald (Robin) Parsky, co-chair
USET Foundation Development
Committee); Olympic and Pan
Am medalist Karen O'Connor;
and Joanne Swift paused in
their party fnery for a photo
before enjoying the preview
tour of the museum's Afeld in
America 400 Years of Animal
and Sporting Art, 1585-1885,
curated by F. Turner Reuter Jr.,
author of "Animal and Sporting
Artists in America"
Photo by Lauren R Giannini
White House, we'll have a dressage-enthusiast First Lady:
Ann
Romney
Jan Ebeling's
Laissez les bon temps rouler! Let the good times roll, is the
theme for the United States Pony Clubs 2012 Annual Meeting to
be held in historic New Orleans January 25-29. Pony Club is both
excited and proud to offer new opportunities for attendees visiting
the Deep South Region. This year's meeting will introduce the new
Equine Education Symposium
along with an extended schedule
to involve as many equine enthusiasts as possible. Pony Club is
Certain Restrictions Apply. Based on Patients
Without Insurance. Offer Expires 12/31/2011
(9995)
$200 Off In-House Whitening
(9972)
Gift Certificates Available.
Offer Expires 12/31/2011
12300 South Shore Blvd, Suite 208
Wellington • 561.204.4494
7593 Boynton Beach Blvd, Suite 200
Boynton Beach • 561.732.3203
Includes Comprehensive Exam (0150),
Full-Mouth X-rays (0210) and Regular
Cleaning (1110 ($285 Value!)
Certified Providers of Invisalign & Lumineers
DVD Goggles to Entertain You During Treatment
www.perfectsmiledentristry.com
The patient and any other person responsible for payment has the right to refuse to
pay, cancel payment or be reimbursed for payment for any service, examination or
treatment which is performed as a result of and within 72 hours of responding to the ad.
inviting horse people of all ages and disciplines to the two-day
Equine Educational Symposium Event with 30 plus workshops
and seminars each day. Please visit www.annualmeeting.
ponyclub.org for more topics as they are confrmed
USEF Dressage High Performance
Program
, the USEF is expanding the Dressage Developing
Program, in 2012 thanks to the generous support from the USET
Foundation through a gift from
USET Foundation Trustee Akiko
Yamazaki