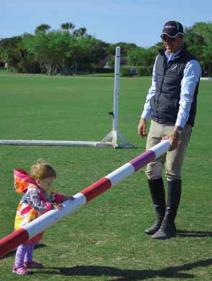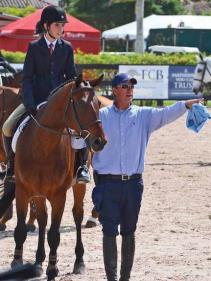 FOR HORSE PEOPLE • ABOUT HORSE PEOPLE 
SIDELINES MAY 2013 105
expand our clinic offerings year-round. We are holding try-outs
over the summer for our upcoming community IEA team, and look
forward to providing opportunities for all individuals with a love of
horses to become actively involved in the joy of equestrian sport,
regardless of past experience or limitations. We are also putting
together – through sponsorship – various scholarships that will
enable new riders to participate in our sport that otherwise might
5.
What are your goals?
Personally, I would like to take more time to work on my own
riding. I spend a lot of time with my students, and fnd that I've
recently neglected developing and enhancing my own skills as
a rider. My true passion is teaching, but I believe to be a great
teacher, you must be a great rider as well.
6.
What are your goals for the Palm Beach Riding
Academy?
My goals for PBRA are a little more ambitious. I would like to
continue to grow the business to a point of national recognition,
and have our model set the standard for riding schools around the
country. We have a solid program that provides easy access out
of the riding school and into the show ring, and a formatted step-
by-step process for doing so.
7. 
If you were going to travel anywhere, where
would you go? 
Growing up in Canada, I always dreamt of coming to
Wellington. Now that I am here, I don't have much desire to go
anywhere else. I am however, looking forward to taking my wife
and my 16-month-old daughter to Disney once WEF is over.
8. 
If you could have any horse in your barn, who
would it be?
The list is really too long to mention. Being in Wellington, we
are surrounded by some of the greatest horses in the country. I
tend to favor the hunters and love watching the First Year Greens
and Junior Hunters go, and I would take pretty much any of
them. But if I have to pick one, I would take Castlerock or Jersey
Boy (depends on which one I enjoy riding more).
9. 
Who were your role models growing up and
whom do you admire now?
There are a lot of people that I look up to, and try to learn from
on a daily basis. Being from Canada, my obvious idols were Ian
Miller and Wayne McLellan. I would still consider both of them
idols. I would add Scott Stewart - who I believe has the prettiest,
most talented horses at the show. Geoff Teall is another trainer I
respect a lot. He has a wonderful understanding for how a horse
needs to go, and his teaching and riding philosophies are very
similar to mine. I also have great admiration for Tori Colvin, and
tell all of my students to watch her any chance they can. Aside
from the obvious talent, she seems to have a tremendous work
ethic and really seems to enjoy riding and showing.
10. 
What do you think about the future of
equestrian sport?
I'm really excited about the future of this company and the
sport as a whole. It seems that every year we are bringing
more and more people into the sport. The horses get better and
more rideable. Just take a look at how many entries are in the
low child/adult hunters and low child/adult jumpers. With these
divisions, the horse shows have created an avenue for novice
and intermediate riders to compete regularly, which essentially
helps provide objectives for riding lessons. I have no problem
with going to a horse show, even if you're not completely ready. I
think it provides a lot of motivation and direction. Having that said,
because of our location, it's easier and less stressful for us to
About the writer: Courtney Zimmerman is from Cincinnati, Ohio and graduated
from the University of Kentucky with a B.S. in Equine Science and Management.
She is currently working on her M.A. of Communication at Northern Kentucky
University. She works at the Cincinnati Zoo and Botanical Garden as a zookeeper