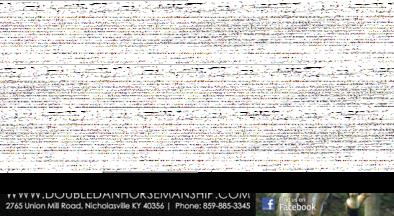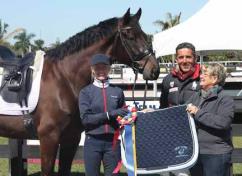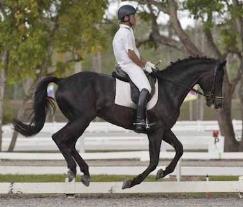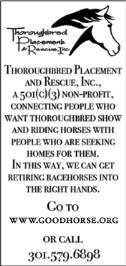 84 SIDELINES MAY 2013
FOR HORSE PEOPLE • ABOUT HORSE PEOPLE
Off Centerline
Chuck
Anne Koch's
Mr. Bockman has been sold to London
Dale Dedrick
as a World Equestrian Games U.S.
team prospect. The 13-year-old Westphalian gelding (Arpeggio -
Hauptstutbuch Amore) was imported from Europe and has been
in training with Grand Prix dressage rider
Chrissa Hoffman
Ocala, Florida. Dale, who is from Ann Arbor, Michigan, competed
in the 2012 London Paralympics Grade II events riding Bonifatus
and was the 2011 Para-dressage National Champion. She is
campaigning for a place on the U.S. team for the 2014 Alltech
World Equestrian Games. Good luck Dale and Mr. Bockman!
Darren Chiacchia
, a 2004 Olympic eventing bronze medalist,
2003 Pan American Games individual gold medalist and a
winner of the Rolex Kentucky Three-Day Event, is continuing
his steady recovery from the near-fatal fungal meningitis he
contracted last October. Darren won three blue ribbons at
the White Fences Dressage Show in Wellington, Florida in
February aboard his own black stallion,
Ballzauber
head trainer for The YARD Sport Horse Center, also in
Wellington, he is training a solid group of both young and
advanced eventing, dressage and show jumping horses. For
more information on Darren, visit www.teamchiacchia.com.
Nadine is queen with a second Horse of Course High Score
of the Show at the Global Dressage Festival. The dream
Nadine Burberl
Cesar Parra
Michael
Sarah Davis
are hard to top. And Nadine won
the awards on two different horses, Borret and Fiderhit, both
owned by the Davis family.
Music to sooth the savage beasts? The
Yale Spizzwinks(?)
and entertained at the March Global Dressage
Festival CDI before Friday night's Freestyles. They were really,
really good but still no match for dancing horses!
Debbie McDonald
has been spending a lot of time in Florida.
She was the guest speaker at the Show Chic Shop Talk and rode
a pretty in pink Pas de Deux with
Mason Phelps
of the America's and taught a Ride and Learn Clinic at the Winter
Equestrian Festival…between working with countless riders with
team aspirations. One thing is for sure wherever Debbie goes she
has no trouble getting RESPECT! Meanwhile, Dressage author
Betsy LaBelle
was all smiles and thumbs up after
winning the raffe at Show Chic's Shop Talk.
Susie Dutta
top of the grand prix board. It
just goes to show that nice girls