Click here to be sure you're viewing the Sidelines Magazine current classifieds issue.
AIRPORT TRANSPORTATION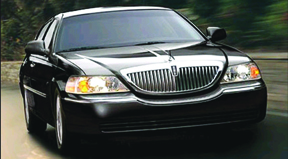 WELLINGTON TOWNCAR & CAB
561-333-0181
Family owned and operated for 19 years.
Safe transportation for you and your family. Local or long distance.
www.wellingtontowncar.com    ON TIME—EVERYTIME!!
BARN RENTALS
NOW FOR 2016-2017 SEASON
14 STALL W/APT: Sand ring – Saddle Trail
6 STALL W/APT Sand ring – Saddle Trail
12 STALL W/GUEST HOUSE – Palm Beach Point East
24 STALLSw/2 separate 2 bedroom houses – Palm Beach Point East
6 w/GGT ring 15 min. to WEF Palm Beach Point
4 STALL BARN in Paddock Park Available seasonally
or annually
Holly Chaney KELLER WILLIAMS  Housing also available
561-719-0828   HollyChaneyGroup@gmail.com
www.HollyChaneyGroup.com
12 STALL W/GROOMS QUARTERS; 250×110 ring 11 grassy paddock 2 feed and tack rooms . Hacking distance to show.. Palm Beach Point. House can be rented with barn
561-762-5741 • tamara411@mac.com
LOXAHATCHEE, FL. BARN FOR LEASE FOR 2017 SEASON OR YEAR ROUND:
12 stall barn or single stalls, sand ring, paddocks & accommodations. Call Bocoy Stables
561-654-1252 or 954-274-8148
BARN AND HOUSE RENTALS
24 STALL BARN WITH LIVING QUARTERS, WELLINGTON:  2 Tack Rooms/Office (12' x 24' each), Grass Field, 250' x 300', 8 paddocks, Sand Ring, 150 ' x 240', , Wash rack, Laundry room, 1100 SQ. FT. HOUSE  Short hack to WEF grounds.   Call 954-448-1044
TRYON RENTAL: Exclusive 12 stall equestrian facility, 2.5 miles from TIEC showgrounds, Apartment, RV hookup, Wordley Martin Arena, 10 paddocks, 4 stall and 4 paddocks also available. Call 229-942-2393 for details
AMAZING RENTALS FOR 2016-2017 SEASON, CLOSER THAN YOU THINK!  6 to 16 Stalls, some with Living quarters – Saddle Trail Park and Loxahatchee Housing, barns, condos & townhomes – all available for the season or all year!  Mary Ellen Sencer  Broker/Owner Saddle Trails Realty, Inc. 561-512-4340 saddletrailsrealty@gmail.com www.saddletrailsrealty.com
LOXAHATCHEE GROVES – RENTALS OR SALES, BARNS AND HOMES!  5 to 20 Acres – Equestrian properties and Vacant land. Phillis Managlia 561-460-8257 Saddle Trail Realty, Inc. pm.saddletrailsrealty@gmail.com
BOARDING / TURNOUT AND TRAINING
AMBER GLEN WELLNESS AND TRAINING CENTER: Centrally located in Pinellas County. Walking distance to equestrian parks, show grounds. Beaches within minutes. Offering Aquapacer, Theraplates, Cold Salt Water, Conditioning and Rehab. Full service training and boarding facility. Showing, Training, Lessons Sales  Home of Patti Fiedler Training Center. 727-423-7812 www.pattifiedler.com
HORSE HEAVEN FARM, RETIREES, NORTH CAROLINA'S PIEDMONT; Mild winters, run in sheds, hay, winter grain, if necessary. Lush pasture year round and lots of TLC. Lifetime of experience. Please call Nancy Peter for details, evenings or leave a message. 919-663-3953 • HHF88@yahoo.com
TURN YOUR HORSES OUT AT THE RED HILLS POLO CLUB IN TALLAHASSEE, FL: at the beautiful Phipps plantation. Mild winters, 50-acre grass paddocks with run-in sheds, groups and individuals welcome, injured or retired polo ponies, overnight board convenient to I-10, pick-up and delivery, blankets, and your choice of alfalfa or coastal. Green horses started/made. Playing all winter. Affordable rates. 941-313-0145. www.redhillspolo.com.
STALLS FOR RENT
STALLMATCH – Your local connection for seasonal housing and stall rentals in and around Wellington, FL   Contact Marcia Lichtenwalner/ Realtor: 561-707-7673  email: stallmatch@gmail.com  Keller Williams Realty Wellington, 12008 South Shore Blvd, Suite 201, Wellington, FL 33414
BREEDING SERVICES
EQUINE CLONING SERVICES  – Make a genetic copy of your horse of a lifetime,  or a stallion from a gelding,  or store tissue for future use.  www.replicafarm.com, 908-310-2125
EMPLOYMENT
AGENT/DRIVER FOR WELLINGTON, FL . Based Horse Transportation  Operation CDL Required Call: (954) 448-1044
EUROPEAN SHOW & WORKING SHEPERDS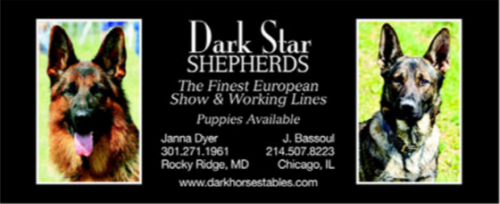 DARK STAR SHEPHERDS: THE FINEST EUROPEAN SHOW & WORKING LINES: Puppies Available.  Janna Dyer  301-271-1961  Rocky Ridge, MD   J .Bassoul  214-507-8223 Chicago, IL
www.darkhorsestables.com
FARRIER SUPPLY
FARRIER SUPPLY HOUSE: $10 Shipping US wide, Shipping International. Free tips with VETTEC products, Reward program for money off. Grant Moon Hands On Clinic Oct 29/30. We carry Engage Supplement pattifiedler1@gmail.com or farriersupplyhouse.com
HOME SERVICES FOR SEASONAL RESIDENTS
RESPONSIBLE, HONEST, WELLINGTON RESIDENT TO LOOK AFTER YOUR HOME. Weekly care and inspections include: empty mailbox, sort mail, run water, flush toilets, check alarms, and report problems to homeowner. Also, make arrangements for resolution of problems if homeowner desires. Additional services available. For more info, 561-792-7873 or chenrybarrus@gmail.com.
HORSES FOR SALE
DAVID HOPPERINC: Amenia, New York 12501. Outstanding selection of sport horses-from unbroken to competition ready. Hunters, Jumpers, Dressage, Equitation. All prices, ranges. David Hopper. Cell: 914-474-7175. Barn: 845-373-8897. www.davidhopperinc.com
SELL YOUR HIGH QUALITY SPORT HORSES ON  MATCHNRIDE.COM

WE showcase YOUR horses through industry newsletters, email marketing, horse shows and social media. You can also promote your training business in our ever-expanding Trainers' Corner.
QUALITY YOUNG SPORT HORSES CAREFULLY RAISED IN THE MIDWEST:  Midnight Express, 4-yr-old bay Warmblood gelding by Malachi, the best temperament, bloodlines and movement, started under saddle, $17,500; Herbsturm, 4-yr-old black Warmblood gelding by Malachi, amazing brain and nice gaits in a small package – great junior or ladies mount, starting under saddle, $11,500; Miss M, 4-yr-old red bay Warmblood filly by Malachi, to be started soon, very pretty, lovely gaits and conformation, $11,0000; two Warmblood yearlings by A-circuit hunter Basic Black, one pinto colt and one black filly, both will be large and have been handled daily, $7,800 each; made Thoroughbred gelding, 15-yr-old, 16.3 hands, has shown in dressage and hunters, $4,500. At stud: Zulu MV, black Warmblood stallion by German Elite stallion Herzzauber, shown on the A hunter circuit under name "Basic Black", 16.1 hands, classic jumping style, awesome mover and very quiet to handle, 2015 Stud fee $1,200. High caliber broodmares for breeding lease. Contact Kim at 260-468-2392, kim@looncreekenterprises.com .
LEGAL SERVICES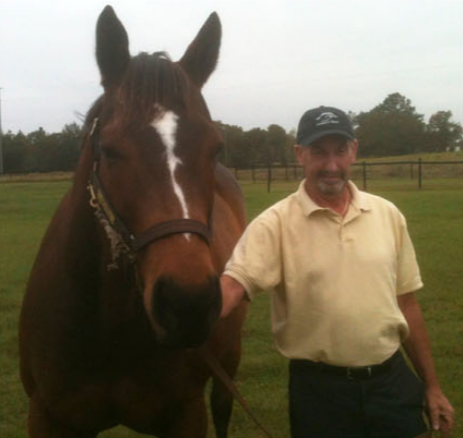 THOMAS NICHOLL ATTORNEY who also practiced Equine Veterinary Medicine for over 20 years.  Knowledge of all aspects of equine industry  407-228-2131 tom@thomasnicholllawfirm.com
PERSONAL TRAINER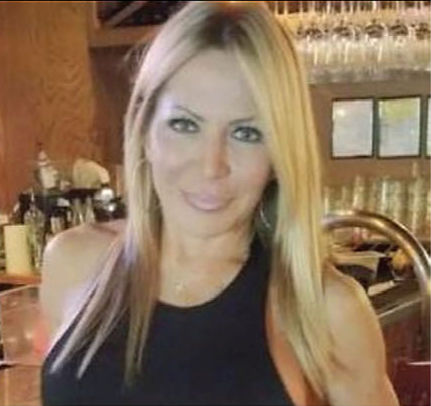 PERSONAL TRAINING AND NUTRITIONAL COUNSELING": In my Private Gym (Western Lake Worth/Wellington), or I'll come to you.  561-309-1869  www.starbodies.com   Priscilla@starbodies.com.
Your body won't have a choice, but to change! Trust me
I will teach you how to take body fat off the right way, and keep it off.  No more yo-yo-ing.
Private Weight Training—No one else will see you, but me—Nutritional Counseling—-Body Fat Testing—Weighing—Measuring.  Pictures of Progress (for your eyes only)
PONIES FOR SALE
8-YR-OLD WARMBLOOD-WELSH PONY GELDING FOR SALE:  Sky Rider, a.k.a. Tigger, grey, 14.1 hands, looks and moves like a tiny version of a European Warmblood. Going well under saddle, ready to show Training-First Level dressage and jumping small courses. Very fancy. Asking $19,000. Contact Kim at 260-468-2392, kim@looncreekenterprises.com
PHOTOGRAPHY & MEDIA SERVICES
MACMILLAN PHOTOGRAPHY & MEDIA SERVICES, Experienced photography and public relations team available for farm/stallion/sales horse/equestrian products promotion. Also available for farm/equestrian product photo sessions, $500 whole day – $250 half day plus mileage. Large selection of equestrian stock photos available for purchase from most disciplines and breeds and many international shows/events. Professional photo editing services.
Call or e-mail for rates – 260-468-2392,
kim@looncreekenterprises.com
REAL ESTATE
CINDY POLK & DAVID O'FLAHERTY, REALTORS; 703-966-9480  Specializing in horse farms and country homes. "Land * Huntboxes * Hobby Farms * Polo Clubs * Fine Estates * Professional Equestrian Facilities * WASHINGTON FINE PROPERTIES.  204 East Washington St., Middleburg, VA 20117  www.horsefarmsandcountryhomes.com
TRYON EQUESTRIAN CORRIDOR: 184 acres.  20 minutes from TIEC- Mature hayfields & hardwood forest -Contemporary farmhouse –  Five miles of bridle trails- $1,566,500. Video can be viewed-Google- 608 Robinson Creek Rd. Bostic, NC , scroll to YouTube   Tim Wright  New View Realty, Tryon N.C. 28782  rtimwright@gmail.com  828-817-2315
TRANQUIL 5 ACRES:  3/2 house with pool, 1/1 apartment, 5 stall barn, paddocks, stocked pond. Booming location – short drive to Wellington.  $725,000. Bill & Wendy Tison, REMAX Advantage Plus, 561-737-0000.
HUNTINGTON FARM – GORGEOUS 60-ACRE (AG PRES) EQUESTRIAN FACILITY
Currently income producing, turn-key boarding & training operation. Craftsman home with custom updates. 23-stall main barn w/auto waterers, rubber mats, 2 wash stalls-h/c water, tack room, feed & storage rooms & storage space for 1,000 bales of hay. Private client lounge & trainer office w/observation window into 80 x 160 indoor arena. Two other barns include 10-stall barn, 8-stall pony/storage barn. 15 paddocks w/3-board fencing, 4 w/run-in sheds, 8 w/auto waterers & tree-lined hacking field. Tenant/employee trailer near main barn. Other features – storage garage, machine shed, kennel, laundry room, trailer parking & private entrances to main residence & main barn, 2 ponds, surrounded by woods & adjacent to park riding trails. $1,950,000
15202 Carrs Mill Rd., Woodbine, MD 21797. Contact Sharon Keeny, Long and Foster 410-715-2743
PRIME CAROLINA LOCATION: Barn is TURN KEY with affordable long-term lease on 37+ac. This property was chosen & designed by a professional horseman. The layout keeps labor costs down & sandy soil offers year round enjoyment for both horse & rider. Easy access to Camden/Aiken/Tryon. The 72'x60' barn was built by Barn Master/MD Barns with stall mats, tack room, feed room & office. Ideal for layups during AA show circuit or Foxhunting season. Improvements & Amenities $149K. LAND LEASE $700/month. For more details about this UNIQUE opportunity go to calvertstables.com.
TRANSPORTATION
SHIP WITH CONFIDENCE- CUSTOM AIR-RIDE VANS – ICC, AND DOT licensed. Transportation Dependable coast-to-coast service since 1959!  NATION-WIDE HORSE TRANSPORTATION, INC.  Colorado Springs, CO 80931  719-392-1888,  Fax: 719-392-1891
www.nwht.net   1-800-451-7696
SHIP YOUR HORSE BY AIR WITH CONFIDENCE:  ALEX NICHOLAS AGENCY.  "OLDEST. FULLY LICENSED & INSURED SHIPPING COMPANY IN THE USA."   I.A.T.A. member and in-house custom house brokerage.  Call our competitor first, then call us.  You will not regret it. Daily   international flights… 516-678-9100,  info@anaht.com www.anaht.com
FARMINGTON GREEN HORSE TRANSPORTATION – (561) 791-9686; Cell No. (954) 448-1044 D. O. T. Authorized and Fully Insured Air Ride Equipped, Local and Long Distance.
VANS & TRAILERS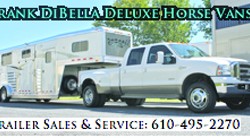 FRANK DIBELLA DELUXE HORSE VANS – We offer a wide selection of new/used horse vans and trailers.  Dealership for 4-Star and Hawk horse trailers.(PA). 610-495-2270
www.frankdibella.com
FOUR HORSE BARRETT, ALUMINUM GOOSE NECK HORSE TRAILER: 20' x 8', moveable stalls, 4' tack room. Very good condition. REDUCED $9,500. Wellington, FL. (802)272-7130.
2003 SUNDOWNER HORSE TRAILER & 1999 DODGE TRUCK. $22,000 for 2003 Sundowner 3 Horse Weekender slant load gooseneck with living quarters. 6' conversion with A/C unit, closet space, tons of cabinets, sink, large fridge, microwave, flat screen TV, Radio/DVD player and a walk thru door. Horse area is 7' tall x 7' wide, escape door, cowboy shower, stud divider, roof vents, drop down windows at the horse's head with drop down aluminum bars, sliding bus windows at the horse's hips, rubber lined & insulated walls, electric fans, rubber mats over all aluminum floor, rear loading ramp, brand new battery, brand new tires plus spare. Excellent condition. $9,800 for 1999 DODGE TRUCK SLT Laramie 2500 Diesel. 5 Speed stick, 4 x 4, oversized hwy tires with only 20,000 miles, well maintained, gooseneck hitch. Lake Worth, FL 561-727-8416
Missed the deadline?

You can advertise on the website

Email: Classifieds@sidelinesnews.com

Next issue 4/12/2016 – Deadline 3/25/2016

List your ad on the Barn Book

Free classifieds
Double D Trailers Info