May 28, 2023
By Jonathan Horowitz
Woodside, CA — The 2023 Woodside Spring H.T. served as a celebration of the successes of the West Coast eventers that competed in the Kentucky Three-Day Event, as well as what's in store for the future of the sport in California.
On the eve of competition on Thursday, organizers at the Woodside Horse Trials held a party in honor of both Tamie Smith's historic win in the Kentucky five-star and the team of cross country builders led by Bert Wood that unveiled new courses at The Horse Park. Derek di Grazia designed the new Advanced and Intermediate tracks, with Wood designing the new tracks for Preliminary through Starter.
"Of course it is always a wonderful feeling being back home in California, and to have been recognized the way Woodside did is humbling and a tremendous honor," Smith said. "There are many of us who dream of being able to accomplish big things in this sport. So I hope to continue to be an advocate and example of the ability to achieve these goals and dreams from the West Coast."
In addition to Smith's becoming the first American since Phillip Dutton and Connaught in 2008 and the first West Coast eventer since di Grazia and Sasquatch in 1985 to win the Land Rover Kentucky Three‑Day Event, California-based James Alliston completed his first five-star since 2016.
Alliston, who rode Nemesis to 20th place in the five-star debut for the 9-year-old Canadian Warmblood gelding (Novalis 46 x Sara's Muse), is back competing in California. Focusing on his up-and-coming prospects, he rode Call Me Rudi and Cora to a one-two finish in the Open Preliminary division at Woodside. Alliston has developed a reputation for bringing young horses up the levels, and Nemesis was the youngest in this year's Kentucky five-star field.
"Good to be back home helping my students and riding my up-and-coming horses who will hopefully be able to go east in a few years," Alliston said. "Very exciting that Tamie won in Kentucky having honed her skills and produced her horses in California. Courses were amazing and excited to have such challenging and educational tracks here. Many thanks to Derek and Bert and also the Woodside organizers who have worked hard on this show."
Call Me Rudi, an 8-year-old bay Bavarian Warmblood gelding, finished on his dressage score of 25.3. Cora, an 8-year-old bay Hanoverian mare, was second on her dressage score of 26.8. James' wife, Helen, was seventh in the division riding HSH Redfield Hillside Star.
"They are both exciting German horses who look like they have promising futures," Alliston said. "Call Me Rudi is owned by a partnership with John Matheny and will be for Helen to ride. I think she will take over after this show."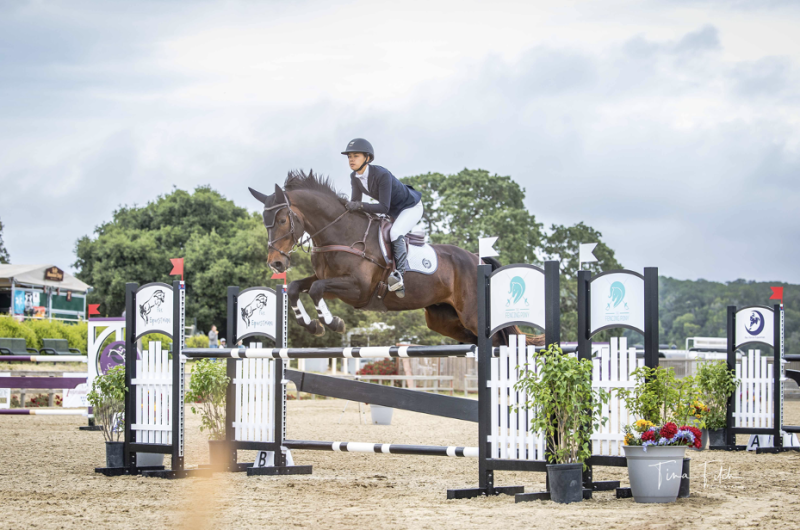 Molly Duda and Disco Traveler. Tina Fitch Photography
While Smith and Alliston have proven themselves at the highest levels of the sport, the Woodside Spring H.T. also spotlighted the continuing rise of 18-year-old Molly Duda. Duda was coming off her first career FEI win in the CCI3*-S with Disco Traveler at the Twin Rivers Spring International. The dark bay 14-year-old Swedish Warmblood gelding (Donatelli x Cadence) won the Open Intermediate division at Woodside as the only horse at the level to finish on his dressage score, 33.4. Duda and "Disco" were the only pair to go double clear on either di Grazia's cross-country or Marc Donovan's show jumping courses at Intermediate. This was their third win in a row at either the Intermediate or three-star levels.
"My trainer [Mickayla Howard] and I got emotional last Thursday when we arrived at The Horse Park—exactly one year ago at this event, Disco and I completed our first show together and took home our first blue ribbon in the Junior Training Rider division" Duda said. "Now, winning the Intermediate just a year later feels like a dream. I am absolutely filled with gratitude for this horse, and for my trainer, Mickayla, who has always supported our partnership and pushed us to be the best we can. Disco and I are still at the beginning of our journey together, and I can't wait to see where it takes us."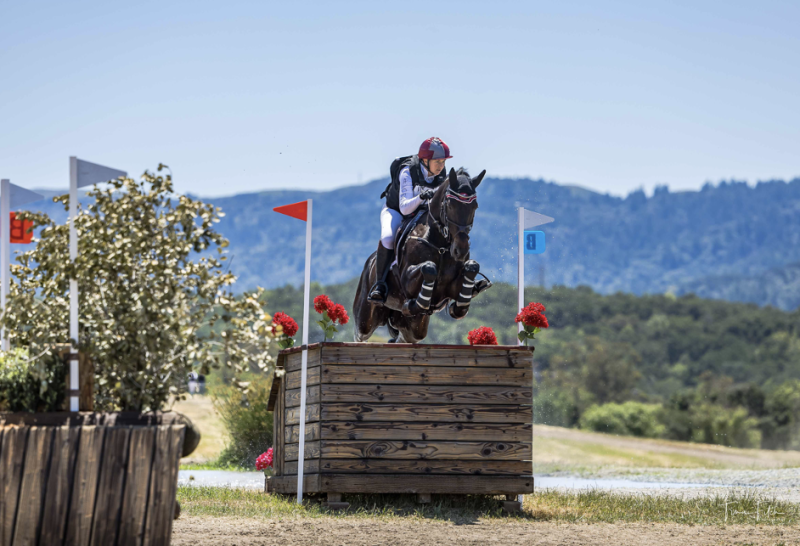 Amber Birtcil and Cinzano. Tina Fitch Photography
At Advanced, Amber Birtcil and the Cellar Farm Corp's Cinzano won in the return of the 12‑year-old dark bay Holsteiner gelding (Classe x Walta) to the level for the first time since 2021.
"Cinzano and I have been together for about seven years now; even though the scoreboard doesn't reflect it, I was thrilled with our weekend," said Birtcil, who won with a score of 108.2. "This was our return to the level, and although I felt a bit rusty, he was excellent and it felt great to cross that finish line. I'm excited to build on this and tackle the rest of the season together. The event was wonderful with new course by Derek, brand new show jumps and everything was decorated and looking stunning. They've truly done a wonderful job! I'm excited to come back later this year."
In addition to the new cross-country tracks, the Woodside Horse Trials unveiled new show jumps built by Jonathan Berger of JB Horse Standards in Sacramento, California. The new jumps reflected how the West Coast eventing community came together to support horse trials at Woodside with 15 training barns donating to the building of new jumps and acquisition of other eventing equipment.
"To me, the incredible thing about this weekend was that it was a celebration of West Coast eventing where everybody came together," said Steve Roon, Executive Director of The Horse Park at Woodside. "We had enormous support from the community to enable the work to be done, and that allowed Bert Wood and his merry band of artisans to spend seven weeks building over 40 creative new cross-country jumps on new tracks with outstanding footing. Jonathan's brand-new stadium jumps were the perfect pieces in Marc Donovan's elegant stadium courses. A celebration indeed!"
The Woodside Horse Trials recognized: Anke Herbert Dressage, Bay Haven Equestrian, Cellar Farm, Cheval Training, Chocolate Horse Farm, Equinox Equestrian, Fox Equestrian, Kismet Farms, Lauren LoPiccolo Equestrian, Portola Valley Pony Club, Rising Tides Equestrian, Sauvignon Eventing, Tayside Sport Horses, The Fencing Pony, and Webb Ranch. Many of them had their logos emblazoned on custom-built jump standards, while others had their custom plaques affixed to unique cross-country jumps.
"The changes that the team at Woodside made were absolutely vital to our success and future of West Coast eventing, and to see the community from all demographics contribute was even more touching," Smith said.
After the last horse and rider crossed the finish line in the final show jumping round of the event, organizers were looking ahead to what's next.
"Everybody just left and we're feeling a bit sad; since last October we've been planning and building toward this weekend," said Victoria Klein, who serves on the Board of Governors of The Horse Park at Woodside. "It was great fun to have so many of our close community here to run on the new Derek and Bert courses. Unveiling the new stadium jumps with so many Area VI barns' logos was something I especially enjoyed."
Horse trials at Woodside will continue in 2023 with the Woodside Summer H.T. with plans to add a Modified level. Then, the Woodside Fall International on October 6-8 will mark the return of eventing at the FEI levels to Woodside with a CCI1*-S planned to be run for the first time alongside the CCI2*-S, CCI3*-S, and CCI4*-S.
"In order to continue to keep our horses and riders at the top of their game, these changes and efforts are imperative," Smith said. "Overall, Woodside and their team hit it out of the park, and I only can hope other venues and our eventing community use this as an example to strive for in years to come."

(Left) Victoria Klein and Steve Roon from The Horse Park at Woodside present a plaque to Tamie Smith recognizing her five-star win in Kentucky that she could choose to place on any cross-country fence at Woodside.
(Right) Tamie Smith speaks at the party in her honor on the eve of competition at the Woodside Spring H.T.
Tina Fitch Photography
Cover Photo James Alliston and Call Me Rudi. Tina Fitch Photography
The full list of winners from the 2023 Woodside Spring H.T.:
Advanced: Amber Birtcil and Cinzano (108.2)
Open Intermediate: Molly Duda and Disco Traveler (33.4)
Open Preliminary: James Alliston and Call Me Rudi (25.3)
Preliminary Rider: Coco Meerkamp and Dalanteretto (29.2)
Open Training: Sophie Tice and Viva La Vida (23.6)
Jr. Training Rider: Isabelle Eppink and Enfinity (28.6)
Sr. Training Rider: Mickayla Howard and Miss Tique (23.6)
Training Amateur: Leah Yacoub Halperin and Rodrigue Du Granit (30.5)
Open Novice: Kristen Joly and Kleary's Rosie the Riveting (29.7)
Jr. Novice Rider: Holly Fosmark and When Starz Align (24.7)
Sr. Novice Rider: Eri Takada and Toronto Z (27.2)
Novice Amateur: Angela Bryson and Petite Pavarotti (28.3)
Novice Horse: Lauren Billys Shady and Mister Cooley (22.5)
Open Beginner Novice: Alexis Helffrich and Casanova (23.2)
Jr. Beginner Novice: Zoe Barker and Kontessa M (21.2)
Sr. Beginner Novice Rider A: Eileen Morgenthaler and Levitate (23.6)
Sr. Beginner Novice Rider B: Annie Desmond and Little Elf (25.6)
Jr. Starter: Michaela Smith and Cashmaker (22.3)
Sr. Starter: Megan LeFave and Lord Rocco (28.7)
Connect with Woodside
Location: 3674 Sand Hill Road, Woodside, CA 94062
Email: Send message at http://www.horsepark.org/emailmessage.php
Website: http://www.horsepark.org/
Volunteer: http://www.horsepark.org/volunteer.php
Instagram: horseparkatwoodside