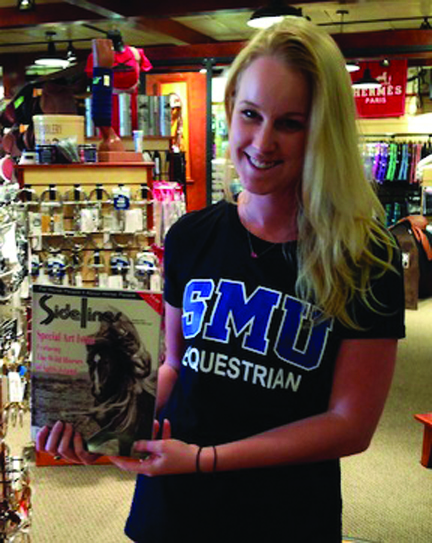 Sidelines intern Rachel Cline has the Sidelines spirit! She was spotted reading a Sidelines while shopping at Dover Saddlery – wearing her Southern Methodist University T-shirt of course! You can keep up with the SMU Equestrian Team on their "Pony Up" blog on the Sidelines website. 
The Humane Society of Charlotte, North Carolina is hosting its annual gala on Saturday, October 19th at The Westin Charlotte to raise funds and celebrate their mission and loyal human and furry friends. Last year's event had over 400 people and 50 canines in attendance!
Hillary Simpson continues to make news with her Thoroughbred, Arkansas. After placing sixth in the $100,000 Woodlea Farms Grand Prix at the I Love New York Horse Show in Lake Placid and then riding him to the win in the $30,000 Mount Equinox Grand Prix at the Vermont Summer Festival, Hillary appeared with him at the Retired Racehorse Training Project's Thoroughbred Makeover and National Symposium at Pimlico Racecourse in early October. Hilary has high hopes for Arkansas and is a big believer in Thoroughbreds in general. "As long as you give Thoroughbreds what they need and let them do their own thing and bring them along at their pace, they will always give you everything they can," she said. Amen to that!
EquiFit CEO Alexandra Cherubini had a dream summer with her horse EquiFit Carlos. The adult jumper championship they won at the Hampton Classic completed their team's own personal "Triple Crown" as it followed championships at Devon and Lake Placid. Adding to their dream summer were big wins at the CSI events at Chantilly and Valkenswaard in Alexandra's first time showing in Europe. To add icing to the cake, EquiFit's new D-Teq Custom boot has become the talk of the circuit since its unveiling at the Hampton Classic. Always good to see great things happen to great people!
Also making a debut at the Hampton Classic was new sponsor Samuel Lynne Galleries and artist JD Miller. JD, founder of the Reflectionist School, uses an amazing technique to create three-dimensional oil paintings. The Hampton's crowd loved his work and SamuelLynneGalleries sold several pieces. Looks like we'll be seeing more of them on the horse show circuit.
Bridles and Britches is happy to say that things are once again "happening" in the great state of Louisiana. Bridles and Britches tack store in Folsom, Louisiana, has just returned from traveling to four weeks of back to back "AA" rated shows in Folsom. After the devastation of hurricane Katrina, the equestrian world of southern Louisiana is back in business! Everyone should head down to Bridles and Britches in Folsom for some wonderful warm Southern hospitality.
Big kudos to Danielle Goldstein who set her goal last fall to ride for Israel. She did just that (just a few weeks after being the Chef d'Equipe for the gold medal Israeli jumping team at the Maccabbi Games) at the European Championships. Her stellar finish earned her spot on the World Equestrian Games team for Israel in 2014.
After a fire destroyed their home and workshop last year just before the holidays, Take 5 Equestrian is thrilled to be back up and operational! They are fully settled into their newly built home and workshop and are hard at work building and painting mini-jumps ready to be shipped out for the holidays. Their mini-jumps are great, original gifts for the kids that can be used outdoors and indoors.
Our thoughts have been with all of our equestrian friends and their horses and animals in Colorado. First forest fires and now flooding! Everyone at Sidelines is sending warm wishes and thoughts to those in Colorado!
Sidelines Magazine wishes Amy Barrington a speedy recovery! Amy is an eventer from Tryon, North Carolina who suffered a serious brain injury after a fall on September 4. Luckily, Amy was wearing a helmet. Amy has been hospitalized since the fall, but we hope she is able to get out soon, have a speedy recovery and get back in the saddle!
The Lead Change Tack Store in Katy, Texas will be at the PJCP Final Chase USEF "AA" Shows at the Great Southwest Equestrian Center November 13-24th.
Jennifer would like everyone to come by and say hello, buy, sell and receive some wonderful southern hospitality from The Lead Change.
R.I.P. John P. Brasier Jr. (1931 – 2013). John was a keen foxhunter and a great supporter of the sport. Our hearts go out to those who were close to this great equestrian – especially his wife and best friend, Dorothy.
For all the gossip and photos subscribe!
Double D Trailers Info