Live Oak International Returns with Driving and Show Jumping
Ocala, Florida – Live Oak International, the only equestrian event in North America to feature both world-class driving and show jumping, returns to Ocala, FL, from March 20 to 24, 2013.
For more than 20 years, Live Oak International has been known for its international driving competition.  This year, it will offer the highest amount of prize money of any driving event in North America.
While driving has a long history at the Live Oak International, each year improvements are made for the benefit of competitors and spectators alike.  Held in three phases, beginning with Dressage on Thursday and Friday morning, Saturday's Driving Marathon phase is especially thrilling as carriages negotiate complex obstacles, each individually sponsored.  Last year, over 5,000 spectators enjoyed Saturday's Driving Marathon competition, followed by the $50,000 CSI2* Grand Prix for show jumping.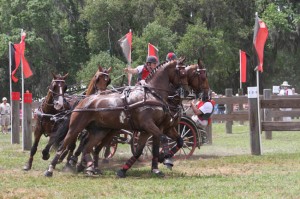 Sanctioned as a CAI-B driving event by the International Equestrian Federation (FEI) and offering single, pair and four-in-hand divisions for horses and ponies, Live Oak International attracts the top driving competitors from around the globe.  Chester C. Weber, the winner of last year's FEI four-in-hand driving competition, went on to win his second Individual Silver medal at the 2012 World Championships in Riesenbeck, Germany.
In 2012, the Olympic equestrian sport of show jumping was added to rave reviews.  Building on the success of its inaugural year, show jumping returns in 2013.  Like driving, the show jumping events are also FEI-sanctioned, ensuring that highest standards of competition are upheld and giving drivers and riders alike an opportunity to earn points in the all-important world rankings.
Two-time Olympic show jumping course designer Leopoldo Palacios of Venezuela will set the tracks in the John Deere Arena while personnel from Canada's famed show jumping venue, Spruce Meadows, will assist Damian Guthrie in managing the show jumping tournament.  Show jumping competition begins on Friday with the $5,000 1.30m Speed competition as well as the $10,000 E2 Show Jumpers Welcome Stake.  The $50,000 CSI2* Grand Prix is Saturday's featured event, followed by the Denim & Lugano Diamonds Exhibitor's Party.  Following the third and final phase of cones competition for driving, show jumping competition concludes on Sunday with the $32,000 CSI2* Winning Round.  As an added incentive, G&C Farm will offer a $10,000 Leading Rider bonus while Jerry Parks Insurance Group will reward the Leading Junior Rider and the Leading Amateur Rider.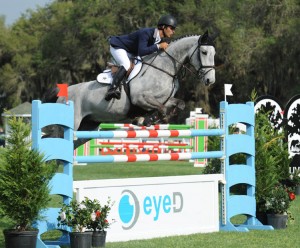 Held at Live Oak Plantation, the private 5,000-acre farm of the Weber family, the Live Oak International is produced by nine-time winner of the USEF Four In Hand Driving Championship Chester C. Weber of Ocala, FL, and his sister, Juliet W. Reid, who has led the Washington International Horse Show as President of the Board for the past four years.
"The passion of countless volunteers has made Live Oak what it is today," said Weber of the Live Oak International's long-standing success.  "My family and I are proud to be part of it.  We have always been committed to delivering the highest quality event to our constituency.  Moreover, my career has afforded me the perspective of seeing the best driving events around the world and Live Oak has adopted many of those ideas."
Reid echoed Weber's sentiments, saying, "As the Live Oak International is a family-owned and family-managed event on our own property, we have the ability to tailor our event to meet the needs of our sponsors, competitors and spectators.  Chester and I both play various roles within the equestrian community, and we both use our experiences in the sport to ensure that special care is taken to ensure that the Live Oak International is the best event it can be."
In addition to the competition, spectators can enjoy the Classic Car Show, sponsored by Palm Chevrolet & Kia, as well as a vendor village and the Signature Brands Kids Zone featuring pony rides and a bounce house.  Admission is $10 per person, $5 for children under 12, with proceeds benefiting the Marion County Therapeutic Riding Association.
Live Oak International wishes to recognize its generous sponsors for their support, including Adequan, Charles Owen, The Clothes Horse, Coast to Coast Truck & Trailer, Dutta Corp, E2 Show Jumpers, Farm Credit of Florida, G&C Farm, Golden Ocala, Grand Oaks Resort, Great American Insurance, Hermitage Farm, Insight Credit, Jerry Parks Insurance Group, John Deere, Johnson Horse Transportation, Lugano Diamonds, Marion County Visitor and Convention Bureau, Mid State Electric, Milburn Equine, Morgan Stanley Smith Barney, Ocala Hilton, Palm Chevrolet & Kia, PlaneSense, Sanctuary, Signature Brands, Stella Artois, and Tequestrian.
For more information on the Live Oak International, including VIP Hospitality seating and sponsorship opportunities, please visitwww.liveoakinternational.com.
Schedule of Events
Driving Officials Course Inspection                                     Wednesday, March 20, 7 am
Driving Officials Meeting                                                     Wednesday, March 20, 1 pm, Location TBA
                                                                                                (Marathon Course Open for Inspection)
FEI Horse Inspection Driving                                               Wednesday, March 20, 3 pm, FEI Stabling Area
FEI Driven Dressage                                                            Thursday, March 21, 9 am
FEI Horse Inspection Jumping                                             Thursday, March 21, 2 pm, FEI Stabling Area
Jumping Officials Meeting                                                    Thursday, March 21, 3:30 pm, Location TBA
Driving Course Inspection                                                    Thursday, March 21, 5 pm
Intermediate Driven Dressage                                             Friday, March 22, 8 am
$5,000 1.30m Table A Speed Class                                      Friday, March 22, 2 pm
                                                                                                (Course Inspection 1:30 pm)
$10,000 E2 Show Jumpers 1.40m Welcome Stake               Friday, March 22, 4 p.m.
                                                                                                (Course Inspection 3:30 pm)
Driving Marathon                                                                  Saturday, March 23, 9 am
$50,000 CSI2* Grand Prix                                                    Saturday, March 23, 2 pm
                                                                                                (Course Inspection 12 pm)
Driving Cones Competition                                                   Sunday, March 24, 8 am
$32,000 CSI2* Winning Round                                             Sunday, March 24, 2:30 pm
                                                                                                (Course Inspection 2 pm)