San Juan Capistrano, CA – Gambling on Conor Swail would have been the winning bet in Wednesday's $15,000 CSI2* Markel Insurance Welcome at the San Juan Capistrano International CSIO5* in San Juan Capistrano, CA. Swail and Gamble, owned by Asta Torokvei, topped a field of 46 entries to kick off the week with a victory for the Irish rider.
As the second entry to go on the Oaks International Grand Prix Field, Swail and Gamble led the class nearly beginning to end. They crossed the finish timers of the two-phase course, designed by Venezuela's Leopoldo Palacios, in what would prove to be a winning time of 27.24 seconds. Coming quite close to catching Swail was the USA's Kyle King who rode Cerolino, owned by Ilan Ferder, to a time of 27.34 seconds. Rounding out the top three with a time of 27.82 seconds was the USA's Alexis Sokolov aboard Fasole du Seigneur, owned by Hot Horses LLC.
"We had a good round today; I was very pleased with Gamble," said Swail of the 12-year-old Dutch Warmblood gelding. "Gamble and I have been together now for three or four years. He's a very good, competitive 1.50m horse and higher. He's just come back from three months off. He didn't jump all winter, so it's actually really nice now. I'm very happy with how he feels. He's competitive, and he always gives his all, so as you can see today, it worked out great for me."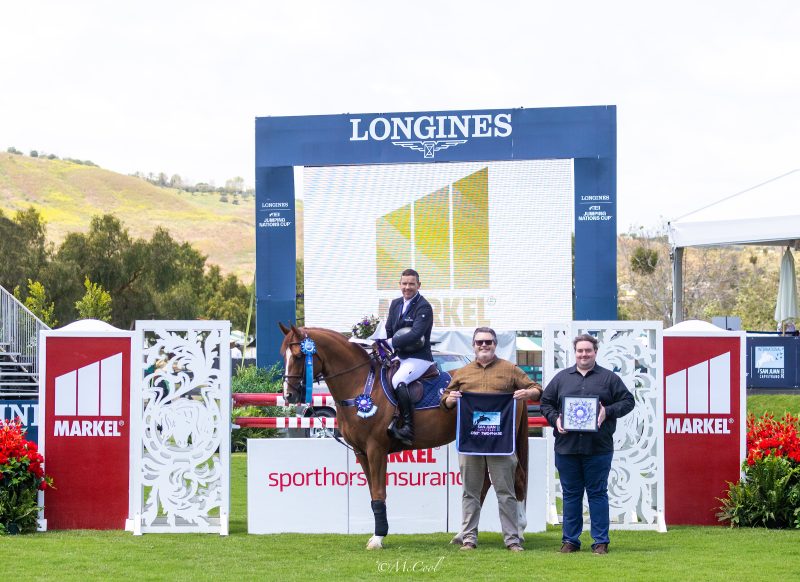 Conor Swail (pictured aboard Nadal Hero & DB) was presented as the winner of the $15,000 CSI2* Markel Insurance Welcome by Brandon Seger of Markel Insurance and Josh Mullins of the LSI Agency. Photo by McCool Photography
This week marks Swail's first visit the Rancho Mission Viejo Riding Park – home to the San Juan Capistrano International and more than a dozen competitions hosted by Blenheim EquiSports. While wins like Wednesday's are a wonderful bonus, Swail made the trip to San Juan Capistrano with his priorities set on representing the Irish team well in Sunday's CHF250,000 CSIO5* Longines FEI Jumping Nations CupTM USA.
"[The Nations Cup] is very important," said Swail, who is currently ranked eighth in the world in the Longines Rankings.
Cover photo: Conor Swail and Gamble. Photo by McCool Photography
Snapshots From the Show
All photos by Alden Corrigan Media