Preparations Already Underway for 2014 Show and 100-Year Club Anniversary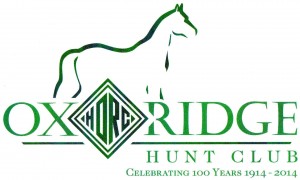 Darien, CT—July 16, 2013—The Ox Ridge Hunt Club (ORHC) is happy to announce the completion of the 83rd annual Charity Horse Show, which attracted over 5,000 riders, trainers, spectators and sponsors from across the region.  Special thanks is owed to this year's premier sponsor, Callari Auto Group BMW, MINI, VOLVO (Westport) and FIAT (Stamford), as well as the charitable recipient, Pegasus Therapeutic Riding. In addition to Carrington Charitable Foundation, Corporate Sponsors: Moffly Media Publications, Whole Foods, Double Tree Hotel and the generosity of the Ox Ridge Members and friends for the success of the Show.
As the Show's charitable beneficiary, Pegasus Therapeutic Riding will receive a percentage of net proceeds from the $85,000 raised through sponsorships. In addition, Pegasus' information booth featured an equestrian jewelry sale, and guests were invited to give parking donations to benefit Pegasus. The combined funds raised at the Show will be used for fencing to reconfigure two large paddocks for the therapeutic horses at Pegasus Farm in Brewster, NY.
"The outpouring of support we've received from guests and the ORHC alike has been fantastic," said Todd Gibbs, Pegasus' executive director. "The show was a huge fundraising and awareness success, and we're eagerly anticipating next year's event."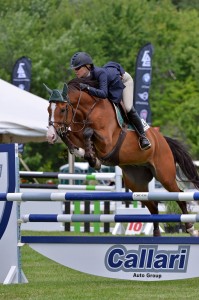 Pegasus Therapeutic Riding wasn't 2013's only big winner, however, especially Irish-born Kevin McCarthy, who rode Vernal to victory in Sunday's $30,000 grand prix. Owned by Kate Kohlhas and trained by Darren Graziano, Vernal electrified the three rings as over 1,000 spectators looked on.  The week's other winners included Colin Syquia atop Zsa Zsa, who took home $5,000 in the Callari Auto Group Welcome Class, and Holly George, who piloted Bombay to a first-place finish in the $1,500 FW PHA Derby.
In addition to the high-level competition on display, guests were also enthralled with this year's boutique vendors, which included Joseph Der Dau custom riding boots, Arcona Riding Apparel, Wild Horses Clothing, Lazlo Accessories, Patricia's Gifts, Carcoal Leather Jewelry, and Pegasus' own "Rider's Closet," which raised awareness for Georgina Bloomberg's free equestrian clothing exchange program, founded at her home in 2006 and relocated to Pegasus Farm in 2010. 250 VIP guests were also treated to a very special Champagne Brunch beneath the Callari Auto Group VIP tent, catered by O'Neills Pub of Norwalk and Glen Liquors of Darien.
"We're so thankful to all of the sponsors, riders, coaches, and residents who came out to support us in 2013," said Alison Potter, business manager at the Ox Ridge Hunt Club, "and hope to see them all again at next year's 100-year anniversary celebration."
Indeed, the 83rd annual Charity Horse Show is just the tip of the iceberg as the ORHC nears its 100-year celebration. The organization has already received sponsorship commitment of over $25,000 in advance of 2014's program, and is already hard at work planning their own birthday celebration.