Wellington, FL – January 24, 2013 – The 2013 Adequan Global Dressage Festival (AGDF) began this week with the National Opener Show on January 22-23. Dressage riders from all levels turned out to compete and get experience in the main Global Arena. The judge for the show was Margaret Freeman. The AGDF continues next week with the Wellington Dressage CDI-W presented by The Dutta Corp. on January 31 – February 3, which kicks off the international dressage season at the Palm Beach International Equestrian Center. The AGDF will host another four national shows as well as another CDI-W, CDI 3*, CDI 5*, and CDIO 3*.
One familiar face in the dressage arena on Tuesday was Janne Rumbough of MTICA Farm. Rumbough and her partner Junior, a gelding who is coming 11 years old this year. He is a Pure Spanish horse, and this was their first time competing in the FEI Grand Prix-AA test. They scored a 61.809%, achieving Rumbough's first goal of scoring over 60%.
It has been a long and patient road for Rumbough with Junior. She rode Junior's sire, Gaucho III, and bred Junior. After starting him as a four-year-old, Rumbough slowly made her way up the levels, making sure that Junior was solid at each level and performing to certain scores before moving up.
From the start, Rumbough believed that Junior could be a Grand Prix Level horse, but she knew it would take time. "I started him when he was a four-year-old because he was growing a lot. I always start them later. It's been six years to get to grand prix," she explained. "He's been very naughty and wild. But all the good horses have that personality. If they don't have that spirit, they're never going to make it to Grand Prix. I think he's going to be better than his sire. You never know before you are there, before you walk down the centerline."
"It's very special for me because I've trained him all the way through Training Level, First Level; I went to every single level," Rumbough expressed. "I was very strict with myself that I had to have a certain amount of very high scores before I allowed myself to move up a level. I moved up a level almost every year. Even in the Prix St. Georges, I needed one or two scores of 70 for me to move up to I-1. I-2 I needed a 66, which I got here last year, and then I allowed myself to go to Grand Prix."
Rumbough said that despite the wind and the fact that it was Junior's first time in the Global Arena, she was "thrilled to get over 60%." She continued, "His strong points were the difficult parts, the passage and the piaffe. His walk was very strong, the extended walk and the collected walk was very good. Where he was not good was in the transition from canter to trot, which he can do! One pirouette, you have to have six strides and I had a four, and that's a no-no. The other one he had six strides and he got a nice mark on that. Those were the mistakes and we can hopefully correct it. I'm going to try and get better and do a much better test."
Rumbough has been a part of dressage in Wellington for 30 years, having helped run a dressage show on the same grounds as the AGDF back when it was the original Palm Beach Polo grounds. She has appreciated seeing the sport and the equestrian lifestyle grow in and around Wellington, and now enjoys showing at the AGDF. "These grounds are just wonderful because we need facilities like this that have an international atmosphere," she noted.
Other top scores from the Adequan GDF National Opener included Chris Von Martels (CAN), who won Tuesday's FEI Grand Prix-Open class on Udon P. They scored a 66.596%. Close behind in second place was Mica Mabragana (ARG) on Granada, who received a score of 65.638%. On Wednesday, Yvonne Barteau and Raymeister won the FEI Grand Prix-Open with a score of 68.936%, while Mica Mabragana and Granada picked up another second place with a score of 68.511%.
Alix Szepesi and Majco Thunder's Hattrick were victorious in the FEI Intermediare 1 – Open presented by Stillpoint Farm with a score of 71.842%, with Justin Hardin on Wyatt Star close behind with a 71.184%. Lauren Knopp (USA) and Rantaro won the I-1 class on Wednesday when they received a score of 65.000%, and Mary Ambrose (CAN) guided Da Vinci to a score of 68.925% for second place.
The high score of the show on Tuesday went to Susan Dutta (USA) and Lumberjack 12 in the FEI Prix St. Georges-Open class presented by Stillpoint Farm. They received a 72.763%. Nicholas Fyffe and Tolstoy were second with a 71.053%. In the same class on Wednesday, Fyffe (USA) and Tolstoy moved up to first place with a score of 70.395% and Greta Friesen (USA) and Ice Cup were second with a score of 67.632%.
The next competition at the Adequan Global Dressage Festival is the Wellington Dressage CDI-W presented by The Dutta Corp. on January 31 – February 3, where the PBIEC will welcome dressage riders from around the world.
For full results, please visit CLICK HERE and for more information on the AGDF, please visit  www.globaldressagefestival.com.
Photo Credit: Photos © SusanJStickle.com. These photos may be used only in relation to this press release and must include photo credit.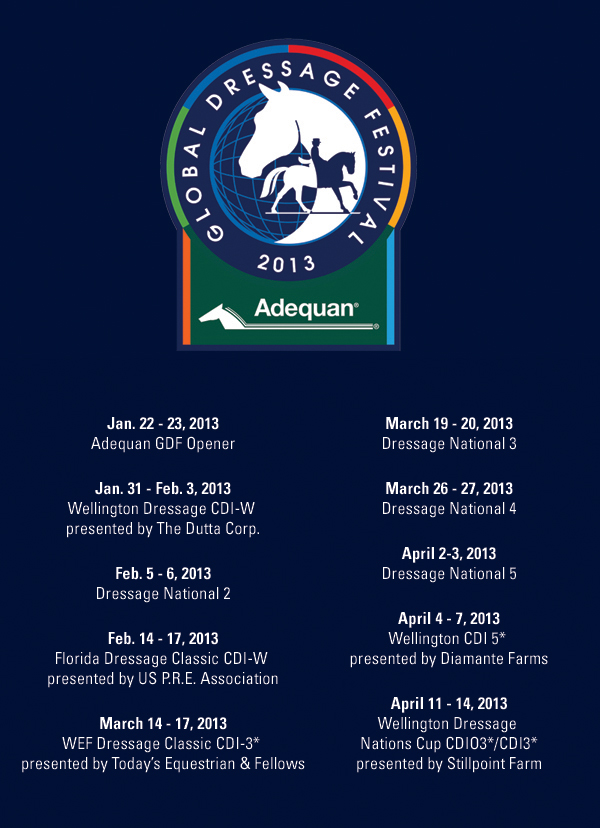 About the Adequan Global Dressage Festival:
The Adequan Global Dressage Festival (GDF) is one of the world's largest international and national dressage circuits featuring five CDIs, including a 5*, the first non-championship CDIO Nations' Cup in the Western Hemisphere, and nine U.S. national events.The Adequan GDF is offering more than $275,000 in prize money for the five international competitions making it one of the richest circuits in the world. In addition to the CDIs with national competitions, the Adequan GDF will feature six separate national shows to be held at the Stadium section of the Palm Beach InternationalEquestrian Center (PBIEC) show grounds.  The Adequan GDF encompasses almost 60 acres of the former Palm Beach Polo Grounds. The facility includes the Van Kampen covered arena (made possible by Kimberly and Frederic Boyer and family) and four outdoor arenas with world class footing, 200 permanent stalls, and a VIP seating area for the International Arena fully catered for relaxing and having an enjoyable experience.
First Founding Sponsors: Matt Varney, Chris and Rob Desino, Wellington Equestrian Realty; William Pearson and Janet Richardson-Pearson, Chesapeake Dressage Institute of Annapolis, MD; Terri and Devon Kane, Diamante Farm; Joe and Gaye Scarpa, Magnolia Farm; Tuny Page and Family, Stillpoint Farm; and Kimberly and Frederic Boyer, United States P.R.E. Association
Founding Sponsors: Dr. Fellows & Ashley Holzer, Today's Equestrian; Bethany Peslar, Everglades Dressage; Betsy Juliano, Havensafe Farm; Carol and Rebecca Cohen, Two Swans Farm LLC; Janne Rumbough, MTICA Farm; Mike & Roz Collins; Suhail and PJ Rizvi, Peacock Ridge; and Tim and Susie Dutta, The Dutta Corp.  
Corporate Sponsors
Brown Distributing, Champion Equine Insurance, Charles Owen, Chronicle of the Horse, Custom Saddlery, Der Dau, Dever Golf Carts, Equestrian Services International (ESI), Elite Equestrian Magazine, European Dressage Connection, Everglades Farm Equipment, Gold Coast Feed & Supply, Horse Of Course, Horseware Ireland, Interagro Lusitanos, Moet Hennessy USA, Nespresso USA, Paddock Cakes, Palm Beach Equine Clinic, Pennfield, Piaffe Performance, Premier Equestrian, Ritz-Carlton, Palm Beach, Rolex, Sanctuary at PBIEC, Show Chic, Sidelines Magazine, Triple Crown Custom Blankets, World Equestrian Brands