Wellington, FL – January 20, 2013 – After debuting to rave reviews, the Adequan® Global Dressage Festival (AGDF) returns to center stage at The Stadium at the Palm Beach International Equestrian Center. Top competitors from around the globe have their sights set on Wellington with competition beginning January 22, 2013, with the Adequan GDF Opener Show and continuing through April 14 with four more national level shows and five internationally-rated CDI competitions. Both participants and spectators are in for a fantastic season showcasing some of the most elegant and accomplished horses and riders. The opening press conference for the AGDF will be on Wednesday, January 30, at 1 p.m. at the Global Pavilion.

Equestrian Sport Productions, with the invaluable support of the First Founding Sponsors, Founding Sponsors, and Corporate Sponsors, remains steadfast in establishing the Adequan Global Dressage Festival as not only a leader, but innovator in the sport of dressage. With a new world-class facility with extensive arenas, first-rate footing, stabling, VIP Pavilion and spectator grandstands, the Adequan GDF has earned the respect and participation of all levels of dressage riders, both world champions and those striving for new levels of personal excellence.
Media are invited to the opening press conference to discuss highlights of the season and the addition of Adequan as the title sponsor of the AGDF. For those interested in media credentials, please visit www.globaldressagefestival.com and fill out the form under the "News/Media" tab at "Media Accreditation."
For more information and prize lists, please visit www.globaldressagefestival.com.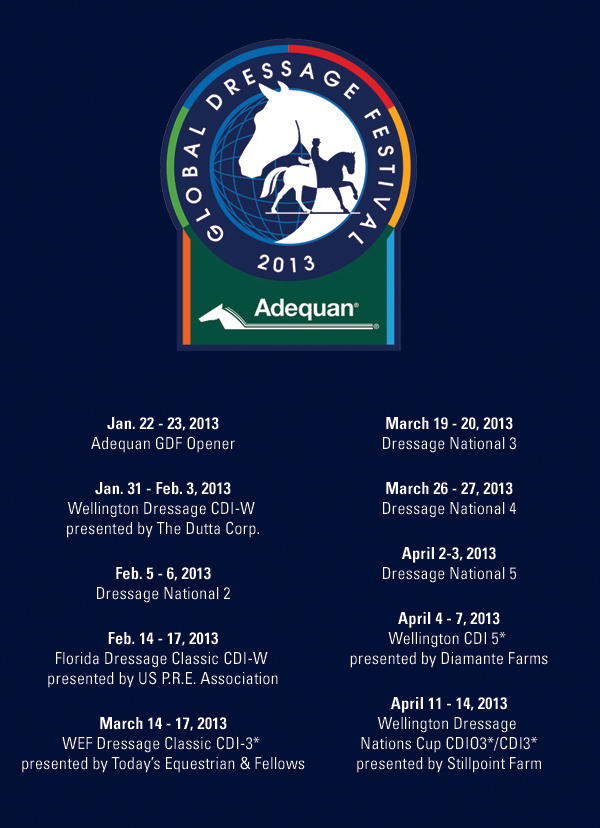 About the Adequan Global Dressage Festival:
The Adequan Global Dressage Festival (GDF) is one of the world's largest international and national dressage circuits featuring five CDIs, including a 5*, the first non-championship CDIO Nations' Cup in the Western Hemisphere, and nine U.S. national events.The Adequan GDF is offering more than $275,000 in prize money for the five international competitions making it one of the richest circuits in the world. In addition to the CDIs with national competitions, the Adequan GDF will feature six separate national shows to be held at the Stadium section of the Palm Beach International Equestrian Center (PBIEC) show grounds.  The Adequan GDF encompasses almost 60 acres of the former Palm Beach Polo Grounds. The facility includes the Van Kampen covered arena (made possible by Kimberly and Frederic Boyer and family) and four outdoor arenas with world class footing, 200 permanent stalls, and a VIP seating area for the International Arena fully catered for relaxing and having an enjoyable experience.
First Founding Sponsors: Matt Varney, Chris and Rob Desino, Wellington Equestrian Realty; Janet and William Richardson Pearson, Chesapeake Dressage Institute of Annapolis, MD; Devon and Terri Kane, Diamante Farm; Joe and Gaye Scarpa, Magnolia Farm; Tuny Page and Family, Stillpoint Farm; and Kimberly and Frederic Boyer, United States P.R.E. Association
Founding Sponsors: Ashley Holzer and Diane Fellows, Today's Equestrian; Bethany Peslar, Everglades Dressage; Betsy Juliano, Havensafe Farm; Carol and Rebecca Cohen, Two Swans Farm LLC; Janne Rumbough, MTICA Farm; Mike & Roz Collins; Suhail and PJ Rizvi, Peacock Ridge; and Tim and Susie Dutta, The Dutta Corp.
Corporate Sponsors
Brown Distributing, Champion Equine Insurance, Charles Owen, Chronicle of the Horse, Custom Saddlery, Der Dau, Dever Golf Carts, Equestrian Services International (ESI), Elite Equestrian Magazine, European Dressage Connection, Gold Coast Feed & Supply, Horse Of Course, Horseware Ireland, Interagro Lusitanos, Moet Hennessy USA, Nespresso USA, Paddock Cakes, Palm Beach Equine Clinic, Pennfield, Piaffe Performance, Premier Equestrian, Ritz-Carlton, Palm Beach, Rolex, Sanctuary at PBIEC, Show Chic, Sidelines Magazine, World Equestrian Brands
Please visit
www.globaldressagefestival.com
or call 561-793-5867 for more information.
Adequan Global Dressage Festival is located at
13500 South Shore Blvd, Wellington, Florida 33414