Lexington, KY- October 31, 2012- A black-tie gala at the Lexington Hilton kicked off the 129th Edition of the Alltech National Horse Show in its second year at the Alltech Arena in the Kentucky Horse Park. It was a night of glitz and glamour reminiscent of the horse show's rich and storied past.  The evening's festivities benefitted the Kentucky Equine Humane Center.
Dr. Pearse Lyons, President of Alltech, welcomed the attendees and introduced singers from the University of Kentucky Opera Program. The guests were treated to an evening's entertainment from Director of the Opera Program, Everett McCorvey and students who sang a range of classical and contemporary pieces.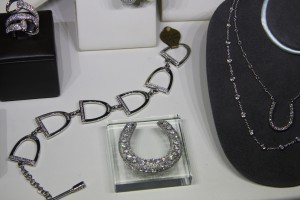 Lexington's Corbett-Frame Jewelers donated a custom designed, 18-karat white gold and diamond necklace for evening's auction to benefit the Kentucky Equine Humane Society. This was their second year to donate an impressive piece of jewelry to the organization, which sold for over $14,000 to Margaret Jewett.
"This year the piece was inspired by an Alltech advertisement- it was a jumper. My daughter was a competitive Saddlebred rider, so this cause is near and dear to us," said Jennifer Frame Lykins, from Corbett-Frame Jewelers. "It was a great opportunity for us to participate."