Bromont, Quebec – July 18, 2013 – As the first FEI event concludes at the International Bromont, Andrew Bourns earns a well deserved victory over Canada's Olympian Jill Henselwood, by 2.05 seconds.
The first round turned out to be challenging: only 6 teams make it to the jump-off, including Canadian Jill Henselwood on her two mounts, IV Ever and New Idol Z.
On a course designed by Brazilian Guilherme Jorge, with 12 obstacles for 15 efforts including three double combinations, Jaclyn Duff (CAN) on Pater Noster is first to execute a clear round. Jill Henselwood, a member of the 2008 and 2012 Olympic teams, on her first horse IV Ever, a twelve-year old Dutch warmblood, forces a jump-off with a clear round in 80.38 seconds.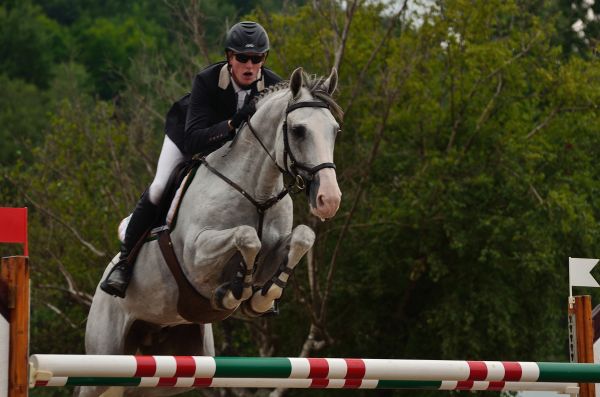 Andrew Bourns & Gatsby. Photo Credit: Isabelle Mark Beaulieu
Ljubov Kochetova (RUS) and her horse Aslan join the two leaders for the second round, as do the duo of Mac Cone (CAN) and Amor Van de Rostal and Andrew Bourns (IRL) on Gatsby. Jill Henselwood also makes it to the jump-off on her second mount, a 9 year-old mare, New Idol Z.
First in the ring, Jill Henselwood and IV Ever establish the time to beat with a clear round in 40.23 seconds. They will stay on top for the next four riders, as no pair, including Hensellwood and New Idol Z, beats their time.
The entrance of the last pair, Ireland's Andrew Bourns, changes the tone: they double the speed and take tight turns in order to best Canadian Olympic athlete Jill Henselwood. In the end, with a time of 38.18 seconds in the jump-off, Andrew Bourns steals the win.
Thursday's 1m50 is only the first of five FEI (Fédération Équestre Internationale) sanctioned events. The International riders will come back for another 1m50 class on Friday July 19, as well as for the 1m60 Grand Prix on Sunday July 21. The week of July 24 to 28 will give the riders an opportunity to participate in the third 1m50 class before closing the competition with the World Cup qualifier Quebec Original on Sunday July 28.
About International Bromont
International Bromont promises an unforgettable 2013 edition with five FEI events, the return of the Royal Canin Challenge (in collaboration with the Club d'agilité de la Montérégie), two Speed Derbies and a Hunter Derby. For more information on the programme, visit our site at  www.internationalbromont.org.
International Bromont, hunter and jumping competition, presents its 38th edition at the Bromont Olympic Equestrian Park from July 11 to 14, 17 to 21 and 24 to 28. International Bromont would like to thank the Ministère de l'Éducation du Loisir et du Sport as well as the Ministère du Tourisme du Québec for their support. General admission: $10 per person and free for children under 12. Preferred admission: $25 a ticket.
Results – 1m50 FEI
1. Andrew Bourns (IRL) / Gatsby 0-0, 38.18
2. Jill Henselwood (CAN) / IV Ever 0-0, 40.23
3. Mac Cone (CAN) /Amor Van de Rostal 0-0, 41.36
4. Ljubov Kochetova (RUS) / Aslan 0-0, 42.79
5. Jill Henselwood (CAN)/ New Idol Z 0-4, 44.39
6. Jaclyn Duff (CAN) / Pater Noster 0-EL
7. Elizabeth Gingras (CAN) / Avensis 1, 85.27
8. Derek Braun (USA) / Cyraneiky 4, 79.15
9. Roberto Teran (COL) / Tam Tam Hero 4, 81.95
10. Ainsley Vince (CAN) / Frieda 4, 82.24
11. Susan Horn (CAN) / Her Courchevel 4, 82.82
12. Ljubov Kochetova (RUS) / Balou du Reventon 4, 83.16
Information:
Alexandra Hill, communications – International Bromont, T. 450-534-0787 | C. 450-525-2716 communications@internationalbromont.org