Traverse City, MI – July 10, 2014 –  When Kim Carey traveled to Europe to look for a new horse for client Michelle Carroll, they went with high hopes. But after a long and fruitless search, they faced a trip home horseless. Then, the night before they were to leave, Carey heard about one more prospect.
"The people we were with said, 'Oh, you don't want to go see that horse.' A couple of good trainers had looked at it and didn't like it. I said, 'I don't care what anyone else thinks until I see it.' So, I went and said, 'I don't know what they're looking at, but we'll take him!" recalled Carey.
That horse was Legato, and today he collected the Wrenwood Farms Grand Green Hunter Championship and the First Year Green Hunter Championship during Horse Shows by the Bay Series II. The 8-year-old Hanoverian (by Stakkato) also tied for the Hillside Farm High-Score Green Hunter Award with a score of 87.
"He's the nicest horse I've ever had in my barn," said Carey. "I'm lucky and privileged to ride him. Michelle does the 3' adult amateurs on him, and he taught her to do the 2'6″ adults last year. This horse is incredibly versatile and is the best-minded animal. I feel super lucky."
Carey, of Huntington Ridge Farm in Holly, Michigan, has been showing at Horse Shows by the Bay since the early years and enjoys July in Traverse City.
"Alex [Rheinheimer] has done a great job from the get-go. And making it what it is today is impressive," said Carey. "She's really drawing all of the right names and riders and horses. It's putting Michigan on the map, which is nice. Kudos to Alex for that."
Carey was grateful to step into center ring for a bounty of awards, ribbons and coolers, and she thanked Carroll for allowing her to show Legato in the professional sections.
"I don't get to win all that often, so when it happens it feels great," she said. "I don't mind not winning all of the time, really, but when I have one like this I can only hope I can rise to his occasion. He's the winner, and when I don't win on him it's me. When I can be good on him, he deserves to win, and I'm lucky to be able to ride him and have him."
Greg Crolick, another Michigan-based trainer, added to his blue-ribbon collection today with a variety of horses. He topped the Second Year Green/High Performance Hunter section, earning the championship and reserve championship with Zack RVR and Aeroplane, respectively. Crolick also collected the Hillside Farm High-Score Award with Aeroplane with a score of 89, and he tied for the Hillside Farm High-Score Award in the First Year Green section with Revival, who earned the reserve championship.
Crolick, of Top Call LLC in Auburn Hills, Michigan, celebrated his one-year anniversary with Orchard Lake Farm LLC's Revival, having purchased him at Horse Shows by the Bay last year.
"He was a really green horse and had just shown maybe once, and he was trying to be jumper but needed to be a hunter," said Crolick. "He really started coming into his own here. I moved him into the 3'6" at HITS Ocala [Florida] knowing he was green for it, and now he's starting to mature, and I'm so happy with him.
"It's exciting and wonderful to come to a horse show where there are so many prizes for riders, and it's up for grabs to anybody," he continued. "Especially for myself and the clients who own the horses, they want to see their horses out there getting their pictures taken. It's a beautiful day in Traverse City, and two beautiful days for me. Hopefully, we'll keep the luck going!"
Amanda Derbyshire finished her first full open hunter section aboard David Gochman's Fredrick with the Wrenwood Farms Grand Conformation Hunter Championship, the Regular Conformation Hunter Championship and the Hillside Farm High-Score Hunter Award for their mark of 88 in the Handy Round.
John and Stephanie Ingram's Sizzle and Hayley Barnhill claimed the Green Conformation Hunter Championship, sponsored by Lisa A.H. Cudahy.
The Pre-Green horses vied for championship honors today in addition to the $1,000 USHJA Pre-Green Incentive Program Stake money. And it was Lynn Walsh's Hollywood Park who collected dual honors, taking top call in the Stake and the 3'3″ Pre-Green Hunter Championship with Peter Pletcher in the irons.
Walsh, of Magnolia, Texas, purchased "Woody," a 7-year-old warmblood gelding (by For Champion), two months ago from Lourdes de Guardiola and Michael Morrissey who had just imported him from Europe. The flashy chestnut has quickly made his mark in the show ring, earning three tricolors in three shows and two PGIP stake victories with Pletcher.
"He's nice and super straightforward with a great brain," said Pletcher. "He really started out level headed, and there's a little hunter changeover, but he's really coming along. We're very excited to have a new 'Park' for Lynn."
Walsh, who stood ringside with the PJP Farm cheering section during Woody's performances, is thrilled with her newest equine family member.
"Actually, it's almost unbelievable," she said with a smile. "I thought he was a good horse, but you never know until they get out there and compete. He's so sweet. I ride him all around the farm, and he doesn't care. That's what's important. Peter gets him for a while until he learns to pull to the chip or go to the 'Yaha' distance, and then I'll get him."
Fly Boy and Penny Lombardo also impressed judges Bill Ellis and James Toon in the Pre-Greens, winning the 3′ Pre-Green Hunter Championship and placing fifth in the Pre-Green Incentive Stake.
Owned by Jenny Sutton, Fly Boy is a stylish hunter that trainer Kelli MacDonald and Lombardo have brought along meticulously for the past two years with the USHJA
Pre-Green Incentive Program as a goal.
.
MacDonald found Fly Boy, a 6-year-old Westphalian (Light On–Carexa), in Europe after he'd won the stallion performance testing. They imported him two years ago, and he's worked his way up in the hunter sections since then, showing lightly. He spends his winters on the FTI Winter Equestrian Festival circuit, travels to Minnesota in June to trail ride and then spends July at Horse Shows by the Bay.
"This is maybe his fifth or sixth show as a Pre-Green horse," said Lombardo. "He'swonderful, scopey and has a great feel. He really wants to be slow in the air. He's been that way from Day 1 and is so much fun to ride."
Sutton's Wrenwood Farms in Naples, Florida, hosted one of the first stand-alone USHJA International Hunter Derby events in 2008, and MacDonald noted that they really enjoy supporting the USHJA programs.
"We found him right after they announced the Pre-Green Incentive, so that's one of the reasons we went ahead and bought him," she said. "Penny rides for Jenny, and she's been the only one jumping him. She rides him fantastically."
Over in the Grand Prix Ring, Shawn Casady also had a fantastic performance. Despite some antics from his mount Lucilla before his go in the $2,500 1.40m Speed Class, sponsored by Mr. and Mrs. Bertram R. Firestone, Casady was the consummate professional. He settled the mare and made it through the start timers with barely a moment to spare.
They scorched around the Guilherme Jorge-designed course, claiming the blue ribbon by 4.35 seconds over Michael Dorman and Valinski S, the class winners during Series I.
"She knew I was going to turn tight to it [the triple combination], so she wanted me to be on my toes," he joked.
Casady, 20, who rides for Ashland Farms, described Cory Olson's Lucilla as fast across the ground.
"She's not super huge, so I can stay on a good gallop and she'll put one [extra stride] in if I need it," he said. "She's a very straightforward horse to ride. You don't need to set her up for the first jump; you just gallop and go."
Casady praised the courses in the Grand Prix Ring and has enjoyed his first trip to Horse Shows by the Bay from his home base in Wellington, Florida.
"I was curious my first day out here and wondering how the designers would use the space," he said. "The ring feels a little different because you're kind of down in a bowl, but it's a blast to ride. The footing rides fast, and the horses like it. They're not slipping. They're confident on it."
Casady chose inside turns and dropped strides on his way to victory. "[Jorge] leaves you options and places where you can make a decision to take the fast round or the conservative," he said. "There are places where you can make it up and ride quick, and it's not just a flat-out race."
Lucilla, an 11-year-old Swedish Warmblood (by Non Stop R) is now finished showing for the week. "I'm out of here this week," said Casady. "She didn't show a ton this summer and these two weeks she got good ribbons, so that's a good class to end on."
Horse Shows by the Bay Series II is also a United States Hunter Jumper Association/World Championship Hunter Rider member event, so hunter riders earn points toward WCHR regional and national year-end awards.
In addition, this week features the Hillside Farm High-Score Hunter Awards, given to the highest-scoring horse/rider combinations from the U.S. Equestrian Federation rated hunter sections, including the Green Working, Conformation, Performance, Junior, Amateur-Owner, Pony, Children's Pony, Children's Horse and Adult Amateur.
 Other Featured Winners Today Included:
Performance Hunter 3'6″ Championship, sponsored by Team Rakowsky Equestrian – Fonteyn, owned by John and Stephanie Ingram and ridden by Hayley Barnhill
Hillside Farm High-Score Performance Hunter – Fonteyn (score of 91)
Performance Hunter 3'3″ Championship, sponsored by Baxter Hill – Thanks For The Gold, owned by Rancho De Los Arboles LLC and ridden by Peter Pletcher
TAKE2 Thoroughbred Hunter Championship, sponsored by TAKE2 Second Career Thoroughbred Program – Westchester, owned by Sarah J. Scuri and ridden by Jennifer Nadalin
TAKE2 Thoroughbred Jumper, sponsored by TAKE2 Second Career Thoroughbred Program – Just A Dream, owned and ridden by Anika Pirkle
Horse Shows by the Bay Fast Facts
Horse Shows by the Bay is a United States Equestrian Federation (USEF) Premier (AA) Hunter and Level 4 Jumper competition.
 Dates
Series I: July 2-6
Series II: July 9-13 (USHJA/WCHR Member Event)
Series III: July 16-20 ($25,000 USHJA International Hunter Derby)
Series IV: July 23-27 (HJAM Equitation Medal Finals)
Weekly $40,000 Grand Prix
Weekly $10,000 Open Jumper Welcome Prix
Weekly $2,500 USHJA National Hunter Derby
Weekly $1,000 USHJA Pre-Green Incentive Program Stake Classes
Weekly TAKE2 Thoroughbred Hunter/Jumper Classes
Weekly Charity Fundraisers & Special Spectator Days
Featured events for Horse Shows by the Bay Series II – July 9-13:
USHJA/World Championship Hunter Rider Week
Hillside Farm High-Score Hunter Awards
$10,000 Postive Step Farm Open Jumper Welcome Prix – Friday, July 11
$10,000 SJHOF High Jr/AO Jumper Prix – Saturday, July 12
$2,500 USHJA National Hunter Derby, presented by Walgreens – Sunday, July 13
$2,500 NAL/WIHS Children's Jumper Classic – Sunday, July 13
$2,500 NAL/WIHS Adult Jumper Classic – Sunday, July 13
$7,500 NAL Low Junior/Amateur-Owner Jumper Classic – Sunday, July 13
$40,000 Grand Traverse Bay Grand Prix – Sunday, July 13
Special Exhibitor functions during Series II include: a Pin Oak Pizza Exhibitor Party on Saturday; a weekend ice cream social sponsored by the Gochman Family; and the Morgan Stanley VIP/Sponsor Luncheon on Sunday during the Grand Prix.
Spectators are encouraged to attend this Saturday July 12 for Rescue Day. All gate proceeds will go directly to Danny & Ron's Rescue 501(c)(3). Fun activities include a Rescue Doggie Costume Parade right before the first horse on course for the $10,000 SJHOF Junior/Amateur-Owner Jumper Classic. A Silent Auction will also be held over the weekend, with additional donations being accepted!
Contact Information:
Alex Rheinheimer, Show Manager (561) 723-6287
Julie Agar, Show Office/Entries (248) 892-6806
Ben Fairclough, Feed & Stabling (231) 267-3700
MSU College of Vet Medicine, Show Veterinarian (517) 214-9369
Tricia Booker, Media Relations (703) 431-7103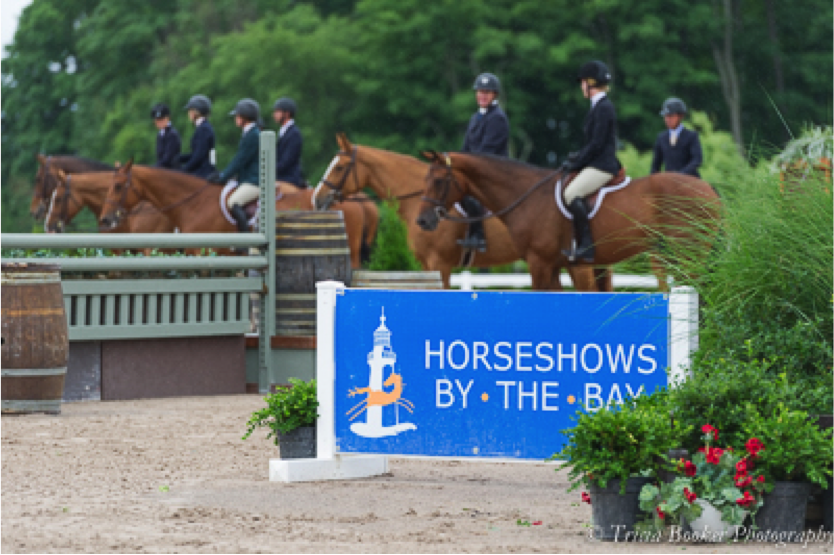 The 2014 Prize List and weekly Time Schedules are available online. For full show results, please visitwww.horseshowing.com.
The Horse Shows by the Bay Equestrian Festival is located 10 miles east of downtown Traverse City, Michigan. Nearby tourist destinations include the famed Torch Lake Sandbar, which was recently named the clearest lake in the continental United States by Weather.com and the Sleeping Bear Dunes, which was voted by "Good Morning America" viewers as the Most Beautiful Place in America.
For daily updates and photos, please visit the Horse Shows by the Bay Facebook Page.
For high-resolution photographs, please email: camerongreenmedia@mac.com.
For more information, schedules and directions, please visit www.horseshowsbythebay.com.
Horse Shows by the Bay – Flintfields Horse Park – 6535 Bates Road – Williamsburg, MI 49690