WELLINGTON, FL-Oct. 13, 2013—-Casablanca won its first tournament of the fall season with a thrilling 10-7 victory over ELG Sunday in the championship final of the USPA Kay Colee Memorial Tournament presented by The Tackeria at Grand Champions Polo Club.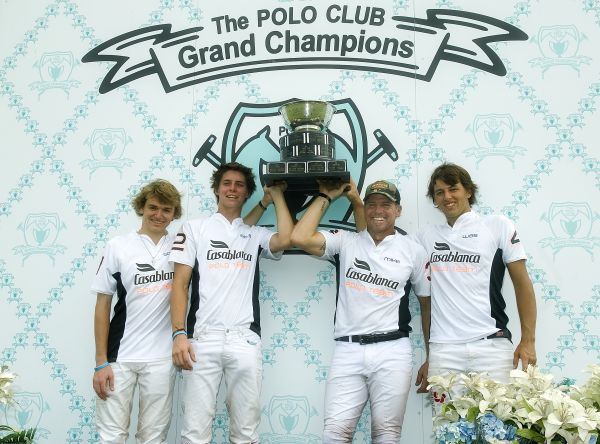 Casablanca teammates Grant Ganzi (1), Juancito Bollini (2), Mike Azzaro (3) and Wes Finlayson (4) are all smiles while hoisting the Kay Colee Memorial Tournament trophy. Photo by Scott Fisher
Casablanca, making its first appearance in a final, broke open a close game (7-6) after five chukkers with three goals in the final chukker against a more experienced team.
Casablanca, one of the youngest teams in Grand Champions history to win a tournament, featured three up-and-coming teenagers Grant Ganzi, 15, Juancito Bollini, 17, and Wes Finlayson, 18, whp teamed with one of the game's all-time greats, Mike Azzaro.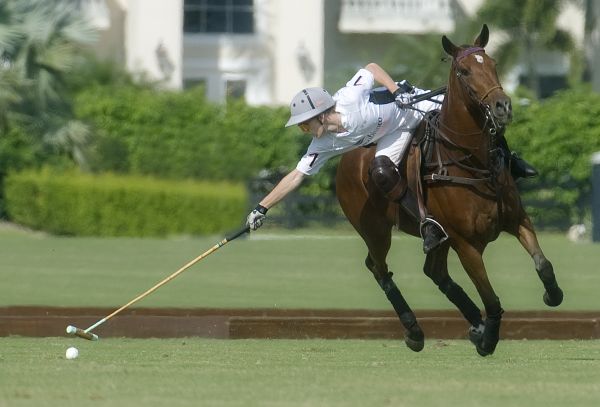 Casablanca's Grant Ganzi (1) and his horse defy gravity stretching to gain possession of the ball. Photo by Scott Fisher
"I rate this win as a really good win because it's the start of our Casablanca team at Grand Champions and the beginning of us winning a lot this year," Grant Ganzi said. "It's a big step up in our game and hopefully, we can start winning more."
Azzaro, 47, an 8-goaler and Hall of Famer, was named Most Valuable Player after scoring seven goals in two games including a team-leading four in the final. Bollini had three goals, Ganzi added two goals and one goal was picked up on handicap.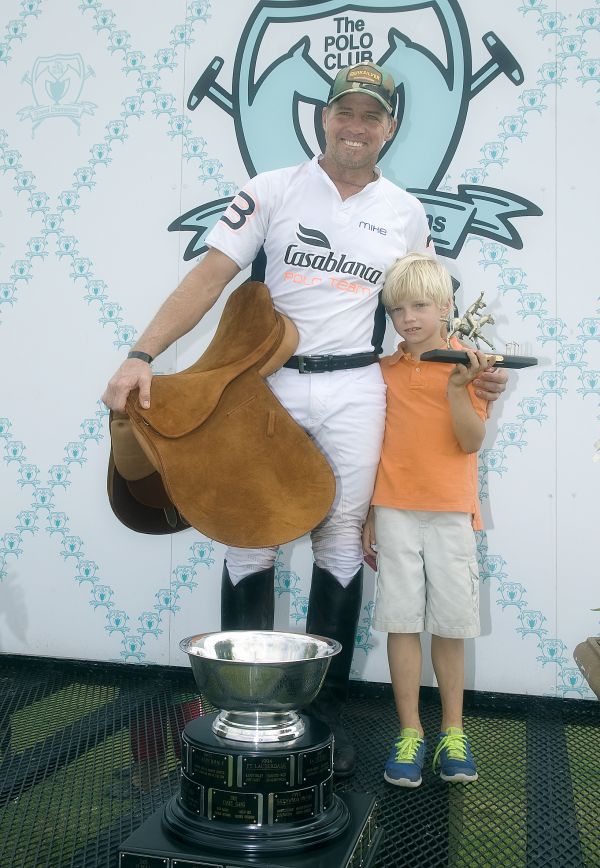 Casablanca's Most Valuable Player Mike Azzaro and his son Hunter. Photo by Scott Fisher
"It takes a great team to get this MVP trophy," said Azzaro, who worked well with his young teammates throughout the game that pitted mother against son (Melissa and Grant Ganzi) and father against son (Juan and Juancito Bollini).
"These kids are really talented," Azzaro said. "They are fun, nice kids with three individually different talents. It's fun playing with them.
"I never really played with these kind of talented kids on the same team when I was growing up in polo," Azzaro said. "When I was 16 I learned a lot from Memo Gracida, Joe Barry, Carlos Gracida and all those guys. But as far as playing with a high goal player at this level, I never got a chance to do that until I was 5 or 6 goals."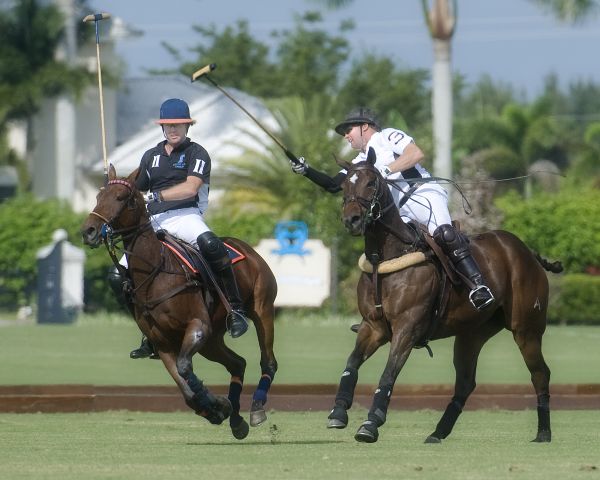 Casablanca's Mike Azzaro (3) shows his MVP form with a big hit as ELG's Kris Kampsen (2) defends. Photo by Scott Fisher
Defending champion ELG (Equine Law Group) featured Melissa Ganzi, Kris Kampsen, Juan Bollini and Avery Chapman. Kampsen scored six goals, four on penalty shots, and Chapman, who played well on defense, added another.
"It was a great game, I was really proud of the way Casablanca played as a team. I absolutely don't mind losing to them, it was wonderful that they won," Melissa Ganzi said. "They made good choices on the field and that was nice to see. Mike is playing really well and been a good coach to them."
Best Playing Pony was awarded to Tampa Glitter, a chestnut thoroughbred owned and ridden by Melissa Ganzi in the fifth chukker.
Bollini, Ganzi and Finlayson, members of the winning Florida Zone 3 All-Star team at the USPA National Youth Series Championship and President's Cup, have played together in various junior tournaments and the chemistry was never more evident on Sunday.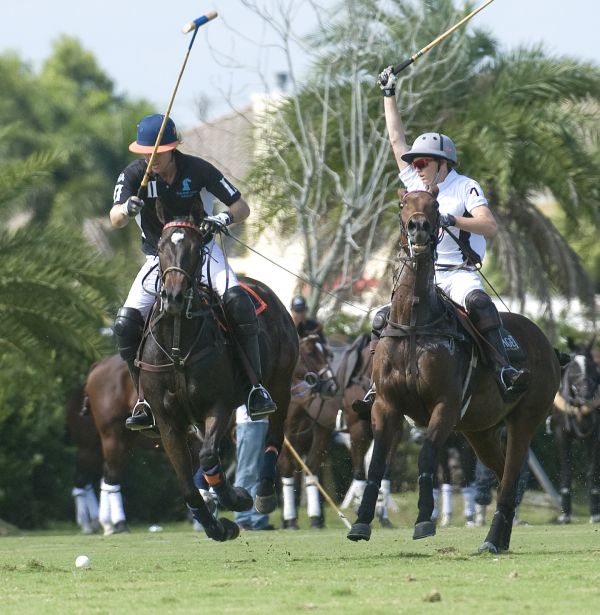 ELG's Kris Kampsen (2) goes for the ball with Casablanca's Grant Ganzi (1) defending. Photo by Scott Fisher
"I've played with Juan and Grant a lot and playing with a veteran like Mike is great," Finlayson said. "This is the third tournament we have played together and it's a lot of fun."
Azzaro turned pro at 16, by age 25 was rated 10-goals and held the perfect ranking for 13 years. He was recently raised to 8 goals in June and shows no signs of letting up.
"It's really awesome playing on this team," said Ganzi, a sophomore at St. Andrew's. "It's just a bunch of buddies and Mike who is our big veteran guy giving us advice and organizing us. This is like playing with (former All-Pro quarterback) Brett Favre, one of the all-time greats.
"The three of us have been playing so much together that we have the chemistry," Ganzi said. "It's almost so good that if one of us hits it or is running, we know where to go, we don't have to communicate, it's just natural. We just know where we are."
Added Bollini, who scored the final goal of the game with 49 seconds left on a nice 200-yard run, "Mike is always teaching us in the field and is really good to play with. I was really excited to play today. I woke up three hours ago and thought we had a chance.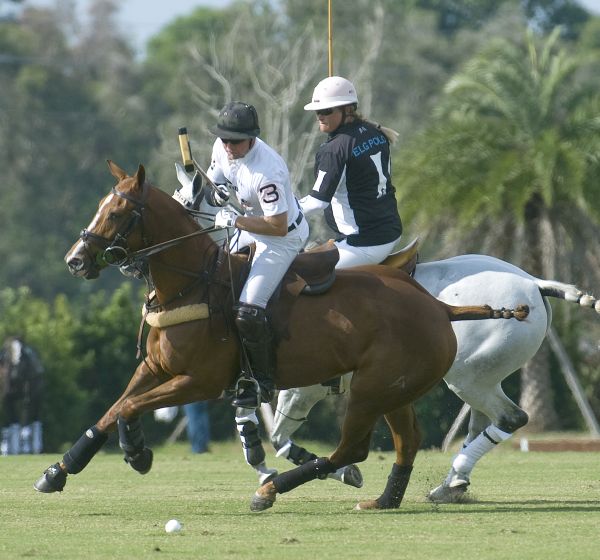 ELG's Melissa Ganzi (1) defends against Casablanca's Mike Azzaro (3) as he goes for the ball. Photo by Scott Fisher
"I would love to play with Grant and Wes on a pro team," Bollini said. "We're a good team and with Mike it's even better, he is one of the best players in the world. Our chemistry really helps us improve because we are more comfortable with each other."
Beluga (Misha Rodzianko, Leo Mandelbaum, Brandon Phillips and Guille "Gigi" Aguerro) won the consolation round robin tournament with an 8-5 victory over Newport (Gene Goldstein, Michael Dorignac, Luis Escobar, Kaisser Maakar) in the third and final game.
Rodzianko, 25, of Beluga was named Most Valuable Player after playing well on both ends of the field and scoring five goals including three in the last game.
In the other two round robin games, Beluga and Palm House (Marc Ganzi, Nic Roldan, Glenn Straub, Carlitos Gracida) tied, 3-3, and Newport defeated Palm House, 7-5.
One of the state's oldest tournaments is named after player-coach Joey Casey's grandfather, a teammate and friend of polo legend John T. Oxley.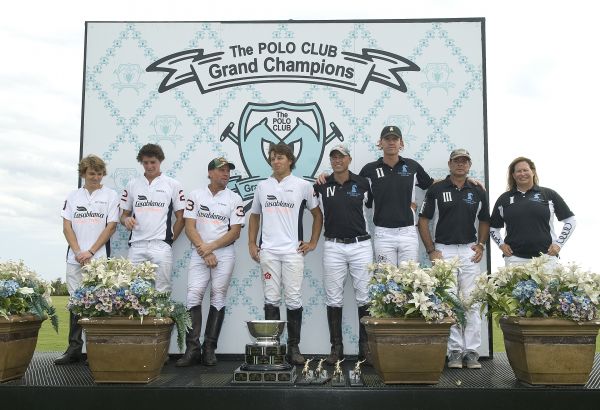 Winning team Casablanca's Grant Ganzi (1), Juancito Bollini (2), MVP Mike Azzaro (3) and Wes Finlayson (4); Runners-up ELG Avery Chapman (4), Kris Kampsen (2), Juan Bollini (3) and Melissa Ganzi (1). Photo by Scott Fisher
Started in 1964, the tournament was played at the former Royal Palm Polo Sports Club in Boca Raton for more than 20 years. Jacqi Casey, Colee's great granddaughter and her mother, Lorraine Casey, presented the tournament awards to Casablanca and ELG.
This was the third of seven medium-goal tournaments of the fall season, the most competitive in Grand Champion's seven-year history. Two additional 20-goal tournaments are scheduled for November.
The remaining fall tournaments are the Oct. 18-20 US Trust Cup, Oct. 25-27 USPA Fall Plates; and Nov.1-3 Pedro Morrison Memorial and Nov. 8-10 Palm Restaurant Invitational.
The two 20-goal tournaments are the Oct. 30-Nov. 9 USPA North America Cup and Nov.13-24 The National 20-Goal Championship. All tournaments are USPA-sanctioned and have grown in stature since their start in the mid-1990s.
Casablanca, one of Grand Champions' fall season's main sponsors, has been a pioneer in polo, recognized as the world's foremost producer of cutting-edge polo equipment and apparel, used and worn by polo players and followers of the sport.
The Tackeria in Wellington is the local distributor of Casablanca merchandise which can also be found online at www.casablancapolo.com.
The Tackeria, located at 13501 South Shore Boulevard in Wellington, is a complete equestrian shop catering to all horse sports including polo.
The store carries a full range of polo gear, saddles and apparel. Store hours are Monday through Friday, 9 a.m.-6 p.m., Saturday 9 a.m.-5 p.m. and Sunday 10 a.m.-5 p.m.
GRAND CHAMPIONS FALL SCHEDULE
Oct. 18-20, US Trust Cup
Oct. 25-27, USPA Fall Plates
Oct. 30-Nov. 9, USPA North America Cup
Nov. 1-3, Pedro Morrison Memorial
Nov. 8-10, Palm Restaurant Invitational
Nov. 13-24,The National 20-Goal Championship
GRAND CHAMPIONS POLO CLUB
WHERE: 13444 Southfields Road, on the corner of South Shore Boulevard and Lake Worth Road, Wellington, 561-644-5050.
INFORMATION: There are great field side views for tournament action at the home base of pro team Audi. Everyone is welcome to watch high and medium goal polo in a relaxed atmosphere during the spring and fall tournament season and other special events including the International Cup in November, Buzz Welker Memorial Junior Tournament in March, Women's Championship Tournament and Gay Polo League International Tournament, both in April.