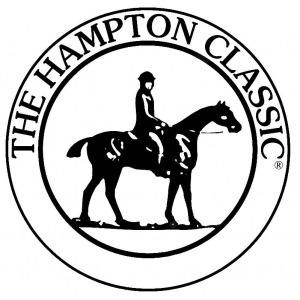 Bridgehampton, NY-August 30, 2013 -Just as she did in 2012, Victoria Colvin won two junior hunter championships on two horses owned by Dr. Betsee Parker and trained by Scott Stewart. Her victors were even the same two horses-Ovation won the Grand Junior Hunter Championship after winning the Small Junior Hunter, 15 and Under title, and Way Cool won the Large Junior Hunter Championship, 15 and Under title.
Way Cool also earned the Junior Hunter High-Score Award for scoring 92 points in one round.
"He really likes this ring-I think he likes the grass- and he jumps great in it," said Colvin, 15, of Wellington, Fla.
Colvin has been riding Ovation and Way Cool for more than three years at Stewart's barn. "They're really easy and really fun, and they're both usually perfect at every show," she said.
Way Cool's secret to success is that "he puts his ears forward and jumps really good." Ovation's secret to success is that "he's a really great mover and such a great jumper."
Colvin said that the two geldings have some common personality traits. For one thing, Ovation and Way Cool are each showmen, almost prima donnas.  "They're both cranky when other horses get near them, but they think people are their friends," she said.
Outside the ring, they're each predictably steady to ride, and "you never really know what you're going to get when you go in the ring, but they've both gotten much better. But they still go in the ring and wake up."
Lillie Keenan, 16, won the Large Junior Hunter, 16-17, Championship on Walk The Line. The tricolor ribbon was the latest in a series of victories for Keenan, of New York, N.Y., at the 38th Hampton Classic. On Tuesday she won the $20,000 Hampton Classic Time Challenge, and on Thursday she won the Sam Edelman Equitation Championship. She's riding eight different horses in the jumper, hunter and equitation divisions.
"Walk The Line is a quirky horse, but a whole lot of fun," said Keenan. She started riding the gelding in early 2013-her friend Meg O'Mara had previously owned him but aged out of the junior division and sold him to trainer Don Stewart. Keenan said she she'd watched O'Mara ride him often, and now she leases him to show.
"He jumps unlike any other horse I've ever ridden-he really fires over the jumps. At every fence he gives a crazy effort and jumps a 10, if not an 11. He really wants to win," Keenan said.
The 38th annual Hampton Classic Horse Show runs through Sunday, September 1 and features world-class show jumping competition, as well as magnificent shopping and a variety of entertainment attractions.  The Classic features six show rings with more than 100 classes of competition for horses and riders of all ages.  A wide range of jumper, hunter, equitation, short stirrup and leadline classes are all part of the Classic's schedule, as well as competitions for riders with disabilities.
The Classic features an FEI-recognized Grand Prix on three consecutive days – the $50,000 Spy Coast Farm/Young Horse Show Series Grand Prix Qualifier Presented by Longines on Friday, the $40,000 Longines Cup on Saturday, and the $250,000 FTI Grand Prix and FEI World Cup™ Qualifier on Sunday.  The world-class field of riders will also be looking to win the new Longines Rider Challenge that awards $30,000 to the rider who accumulates the most points in the horse show's Open Jumper division.
The FTI Grand Prix is part of the Taylor Harris Triple Crown Challenge which awards a $200,000 bonus should the same horse-and-rider combination win the $100,000 Wells Fargo Grand Prix of Devon, $250,000 FTI Grand Prix at the Hampton Classic, and $250,000 Alltech Grand Prix at the Alltech National Horse Show.  McLain Ward won the Wells Fargo Grand Prix of Devon on Rothchild  in May and now stands to win the $200,000 bonus should he ride Rothchild to wins in the remaining two events in the Taylor Harris Triple Crown Challenge.
For those who can't make it to the show grounds, WVVH-TV, the official Long Island television station of the Hampton Classic, broadcasts up to five hours of competition and highlights each day during the Classic. These telecasts can also be seen online at www.WVVH.com.
Free live webcasts of all  Grand Prix Ring competition will be available, courtesy  of ShowNet, at www.HamptonClassic.com. Competition in other rings will be available on a pay-per-view basis at www.shownet.biz.
Further information on the Hampton Classic Horse Show, please visit the Hampton Classic website at www.hamptonclassic.com or call (631) 537-3177.  Hampton Classic Horse Show, Inc. is a 501(c)(3) charitable corporation.