Lexington, KY – August 8, 2013 – Daisy Farish and Sassafras Creek stayed cool under pressure to turn in an impressive round over fences and secure the Regular Medium Pony Hunter Championship at the United States Equestrian Federation Pony Finals. Farish and Sassafras Creek, owned by Redfield Farm of Califon, NJ, came into the day with the lead in the division after strong finishes in the model and under saddle classes, and they staked their claim to the championship with an emphatic win in the over fences.
Farish and Sassafras Creek navigated the course with ease, earning scores of 89.5, 89.5 and 83.25 to best the field of 130. "The last line, a lot of people had trouble because there wasn't a set number, but it's at the end of the course towards the gate," she said. She added that trainer Patricia Griffith of Heritage Farm told her beforehand, "'Don't worry about a number, but just go off your eye.'"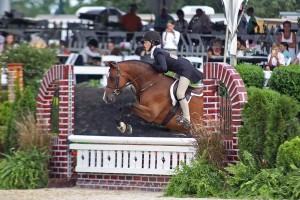 Daisy Farish and Sassafras Creek
Farish and Sassafras Creek accumulated a total score of 1035.5 over the three phases of competition, giving them a lead of nearly 25 points over Taylor St. Jacques and Elegance, who took home the reserve championship. St. Jacques and Elegance, owned by Amanda Pennington of Mequon, WI, received scores of 86.5, 86.5 and 84.5 and also finished second over fences. Madeline Schaefer of Westminster, MD, and her own Frosted finished just a notch behind St. Jacques to end up in third over fences on scores of 85.25, 88.55 and 83.5.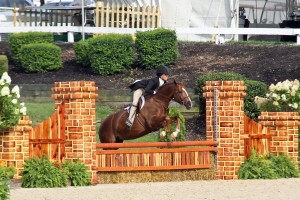 Taylor St. Jacques and Elegance
After winning the Large Green Pony Hunter Championship earlier in the week aboard Northwind Marin, Farish felt some pressure going into today's competition. "I usually don't get nervous, but I was nervous this time," Farish confided. "I felt like it could go either way so easily, and there were a lot of really good riders in that class."
"It's hard when you've been champion here before – you feel that added pressure," Griffith said. "She was nervous, and I told her not to worry about the ribbon, just that when she came out she was happy with her round. I was trying to be extra calm for her, but I was nervous too! I was happy that she had two to ride, and she was champion on both."
While 12-year-old Farish is starting to make the transition to horses, she has kept the ride on Sassafras Creek because of their great partnership.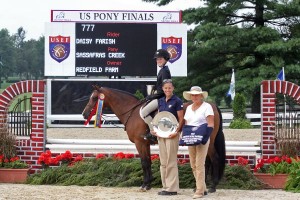 Daisy Farish and Sassafras Creek
"She's trying to phase into horses, but Sassy and Daisy have an unbelievable connection," Griffith explained. "We had a few other kids try her and it just didn't seem like the right fit, so we decided to continue with Daisy through Pony Finals."
"Sassy is really easy," Farish said. "She has a really good rhythm and you just have to get her going. Then she's great. She's really good for this kind of competition because she's really quiet. She doesn't spook, she's a good girl. It might be my last Pony Finals – this is my fifth year."
Farish has spent the summer riding at Heritage Farm and schooling over challenging courses in preparation for Pony Finals. Next on the schedule for her will be the Hampton Classic, followed by Capital Challenge and Indoors.
Earlier in the day, Emma Kurtz got off to a strong start in the Regular Small Pony Hunters, picking up double wins with Bit of Love. Kurtz and Bit of Love, owned by Dr. Betsee Parker of Middleburg, VA, opened the day with a victory in the Regular Small Pony Hunter Model. They just edged out Hana Bieling and Canterbrook Prince Charming, owned by Kathryn McCarthy of New Canaan, CT. Mimi Gochman of New York, NY, and Rafael finished third.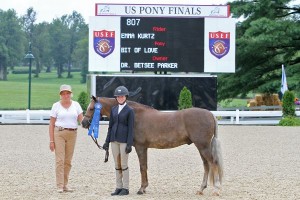 Emma Kurtz and Bit of Love
Kurtz and Bit of Love returned for the Regular Small Pony Hunter Under Saddle and again came out on top in the field of over 100 entrants. Gochman and Rafael showed their consistency by taking second, while Isabella Di Benedetto piloted Goldfish to a third place finish. Goldfish is owned by Addison Piper of Wellington, FL.
"He was good this morning in the model," Kurtz said of Bit of Love. "He pretty much stands himself – he's good about that. I rode him in Florida this winter and this is my first show back on him. You just get a shape and kick him forward during the under saddle and he does the rest."
Kurtz will enter Friday's Regular Small Pony Hunter Over Fences class with a solid lead over her competitors. She carries a combined score of 518 into the final phase. While she's had great success at Pony Finals thus far, this is the first time she has won both the model and under saddle classes.
"There is some extra pressure," Kurtz admitted. But she feels confident that Bit of Love will come through.
"He's not spooky – you just have to collect him for the lead change and the rest he is good about," she said.
This afternoon the Alltech Arena hosted the USEF National Pony Jumper Team Championships and Phase II of the USEF National Pony Jumper Individual competition. The defending champions, Zone 4, returned to the top of the podium again this year with all four riders riding to double clears during tonight's two rounds of competition.  The winning team included Morgan Gravely of Newberry, FL and her mount Dragon's Lair Banner, Micaela Smith of Clover, SC aboard Blue Me Away, Cooper Dean of Fayette, AL, riding American Hero, and Heather Vaxer of Delray Beach, FL on her mount Cha Cha Cha. The Zone 4 team was led by Chef d'Equipe Katie Maxwell.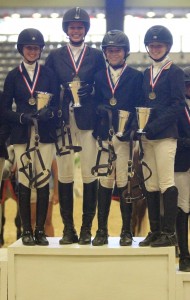 the Zone 4 winning team
This evening's competition opened with 11 teams competing over the Marc Donovan designed course. From there, the top six teams returned for round two of competition over the same course. Gravely kicked things off with an opening clear round for Zone 4 and the momentum just continued from there, making for an exciting night for all four of the young riders. One by one, they each delivered clear opening rounds, putting Zone 4 on top coming back for the second round. When Dean returned in the third rider position for Zone 4 and turned in their seventh clear round of the night, the crowd erupted with cheers as Zone 4 had just cemented their guaranteed victory.
"It was pretty amazing winning," 15-year-old Vaxer smiled. "We were all really happy. We came in really strong as a team, and we just stepped up to the plate from last year."
Gravely added, "Another thing that was really awesome was not just that we won, but that we won with eight clear rounds. Every single one of us had both clear rounds. That's pretty awesome."
Finishing in the silver medal position with eight faults was the team from Zone 5, consisting of Carson Ruff of Maple Park, IL on Jet Pilot, Emma Ellis of Annapolis, MD riding Tangled Up In Blue, Emma Bach of Cincinnati, OH aboard Lucky Charm, and Caitlyn Connors of Glen Mills, PA with Break Away. Taking the bronze medal spot on the podium were the four riders from Zone 7: Caroline Zaunbrecher of Lafayette, LA on Fire Van Battenbroek, Fiona Donnelly of Rowlett, TX with Picasso, Sedona Chamblee of Keller, TX aboard Lucky Star, and Elizabeth McDougald of Lawton, OK riding Knock My Sox Off.
Faults earned during tonight's two phases of competition also count toward the rider's individual standings Thus far, seven riders lead the pack with clear rounds throughout both tonight's two rounds and a welcome round held last evening in the Alltech Arena. All riders who have successfully completed the three phases without elimination will return tomorrow evening for the Individual Pony Jumper Finals and the naming of the 2013 USEF National Pony Individual Champion.
The 2013 USEF Pony Finals will continue tomorrow with the Regular Large Pony Hunter Model and Under Saddle classes, while the Regular Small Pony Hunters conclude with the over fences phase to determine champion and reserve champion honors.
For more information about the 2013 USEF Pony Finals, please visit www.usef.org.
For more information about the Kentucky Summer Series, please visit www.KentuckyHorseShows.com.