DEVON, Pa.—One of the first welcome signs of spring is the opening of the ticket office of the Devon Horse Show and Country Fair, which will open this year on April 8.
The 117th edition of the Devon show runs from May 23 through June 2 and benefits Bryn Mawr Hospital, with proceeds to the Hospital approaching $15 million, over $50 million when adjusted for inflation.
Exhibitors and spectators will see many improvements when the show opens, including more seating for the $100,000 Wells Fargo Grand Prix on Thursday evening, which is always sold out well in advance.
For the Grand Prix, additional seating will be available in the form of tables in the Devon Club tent, located adjacent to the Gold Ring.
Closed circuit screens will carry the entire competition from 7 p.m. to 10 p.m. in the Devon Club, while patrons, at tables for six or 10, enjoy cocktails and dinner catered by The Capital Grille King of Prussia.
For bench seating in front of the main grandstand for the Grand Prix, special wristbands will go on sale at 8 a.m., Thursday morning for exhibitors and those with proof of a general admission ticket on a first come, first served basis, free of charge.
New ringside tables are available at certain times for the entire 11 day show.
Junior weekend opens the 11 day run with three days of, first, equitation and pony breeding classes on Thursday, and then pony hunters in the Gold Ring and junior hunters and jumpers in the Dixon Oval on Friday and Saturday.
Tables for eight will be available in the Devon Club overlooking the Gold Ring from 8 a.m. to 5:30 p.m. on Friday, May 24 and Saturday, May 25 with catered breakfast and buffet lunch, beverage service and VIP parking.
The Carriage Pleasure Drive, which arrives at the Dixon Oval at 2 p.m. on Sunday, opens eight days of adult competition for jumpers, hunters, carriages and gaited horses.
Pony jumpers follow the conclusion of the Carriage Drive and compete again Sunday evening, with adult jumpers competing on Sunday evening and on Monday, Memorial Day, in the evening.
Four-in-hand coaching runs Monday through Friday evenings, with various exhibitions scheduled at different times throughout the week.
Tables of four, with an optional fifth seat, are available in the Committee Stand from Thursday, May 24 through Saturday, June 1, from 9 a.m. to 4 p.m., also with catered breakfasts and buffet lunch plus beverage service.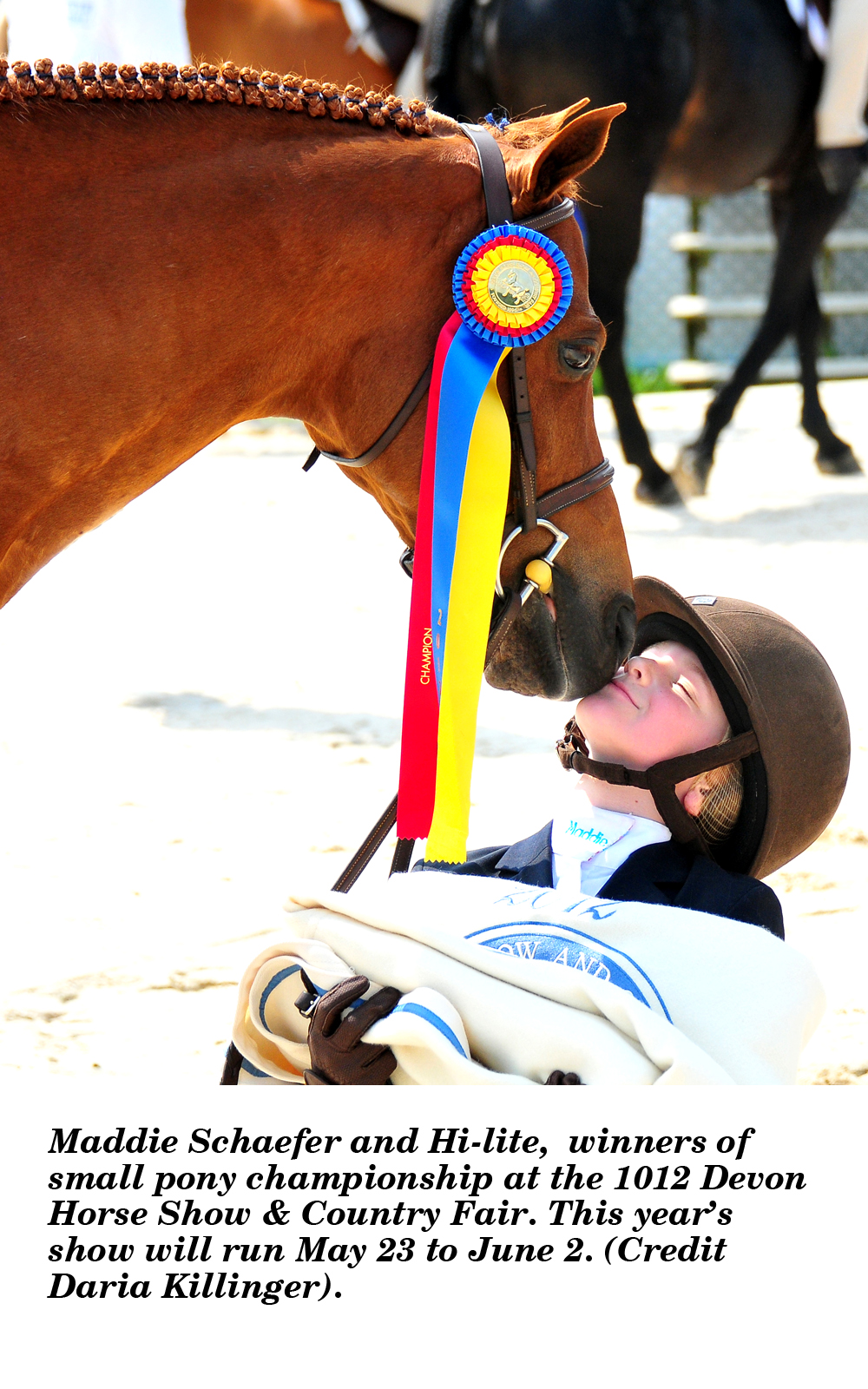 Hunters are featured during the day on Monday through Wednesday, with the first open jumper class at 7 p.m. Tuesday evening, followed by single horse driving classes.
Young jumpers compete in the Gold Ring on Tuesday and Wednesday.
Hackneys, fine harness, roadster and gaited classes begin Wednesday evening, with their championships scheduled for Friday evening and Saturday afternoon and evening.
Breeding classes take over the Dixon Oval on Thursday, with Devon at Sunset, featuring driving and gaited classes at 4:15 p.m., followed by the piece de resistance, the $100,000 Wells Fargo Grand Prix of Devon at 8 p.m.
Amateur owner hunters and jumpers plus local hunters compete Friday and Saturday, with the Open Jumper Stake and Championship the final events on Saturday's afternoon schedule.
The $25,000 International Hunter Derby is featured on Sunday, June 2, while tables for four or five for a Champagne Brunch are available in the Committee Stand from 10 a.m. to 1 p.m.
To reserve any of the tables, either in the Devon Club or Committee Stand, call Meg at 610-688-2554 or e-mail meg@devonhorseshow.org.
Sunday is Family Day, with pony rides and lots of family entertainment.
A new, large and comfortable exhibitors' lounge is located under the East grandstand between the schooling area and the Dixon Oval, and will offer closed-circuit coverage of the Dixon Oval, wi-fi, and light food and drinks with comfortable chairs and couches in air conditioning.
The Country Fair is open days and evenings throughout the 11 days, with a wide variety of foods, boutique shopping and rides and games.
From hot dogs, hamburgers and pizzas to gourmet dining complete with a selection of red and white wines, there is food for every palette, including the famous Devon fudge, tea sandwiches and lemon sticks.
Boutiques carry men's and women's clothing, paintings and prints, gold and silver jewelry, dog toys, salad bowls, souvenirs and collectibles.
The Ferris wheel towers over the area of games and rides and offers a compelling view of the Devon show grounds.
After the ticket office opens Monday, April 8, it will be open Monday through Friday from 10 a.m. to 5 p.m., and Saturday from 10 a.m. to noon.
General admission is $10, with $5 for children and seniors. Reserved seating tickets range from $10 to $55, depending on the day and session.
Entries close April 1 for qualifying divisions and April 22 for Saddlebred, Hackney, Harness, Roadster, Coaching, Driving, Pleasure Drive and Friesians. Visit the website www.devonhorseshow.org for additional information.