Best of the Best
By Veronica F. Finkelstein
What does it take to make a champion hunter horse? It takes a good, quiet mind and personality. Hunter horses have to arrive at a showgrounds they may never have seen before, step off the trailer, and perform without any evidence of nerves or excessive excitement. It takes athleticism which is showcased in correct, forward movement. It takes good conformation, or build, with all the parts in place so the horse can stay sound and perform for many years. Of course, it takes a little good looks and charisma to truly make it to the top. Here in the United States, breeders are creating the hunters of the future with all these attributes. The Devon hunter breeding classes are an opportunity to show off these future stars.
Competitors come from far and wide to compete in hunter breeding classes. Yearling Alika Bay came all the way from Tennessee to compete this year. Breeder Lynlee Dutton is excited to see the results of her hard work. She explains that Alika Bay, known around the barn as Piper, has been champion every time she's shown but "there's nothing like being at Devon." Unlike Piper, who spent hours on the trailer, other hunter breeding horses hail from much closer to Devon. Appaloosa cross Impre' Czario, owned by Julianna Potteiger and handled by Emily Belin hails from Ephrata, PA. Impre' Czario won the Yearling PA Bred Colts and Geldings class. Thoroughbred Nygel hails from Coatesville where he is owned by Cheryll Francella. He was shown to first place in the 2 Year Old PA Bred Colts and Geldings class by William Howland. The best young horse this year has had no shortage of success in the hunter breeding ring. Sabrina handled by Bucky Reynolds and owned by Donna Struve was named best young horse. This beautiful bay Warmblood 2 year old filly rose to the top of all the young horses shown this year at Devon.
Handlers come from all locations as well, and many have made hunter breeding their specialty. Raymond Francis has produced and shown some of the top hunter breeding horses over the past four decades, including many winners at Devon. He handled top hunter pony yearling Land's End Miss Moppet at Devon as well as several well-presented horses. Emily Belin is newer to the hunter breeding scene but has also had her share of success. Her Drum Roll Please won the young hunter under saddle in 2011 and his full sibling, De Feiner Star, won several classes at Dressage at Devon. This year, she not only handled Impre' Czario but several winning horses and ponies as well. As a result of her success, she was named leading handler. If these hunter breeding horses are the future stars of the show ring, it looks like an exciting future.
Tradition Continues at Devon
By Veronica J. Finkelstein
The 2013 Devon Horse Show and Country Fair has featured a little of everything. A little rain, plenty of sunshine, record-breaking 90 degree temperatures, light snow, and even jumper rider Mclain Ward winning a Saddlebred class. But nothing could have been more business as usual as the hours ticked down to the Wells Fargo Grand Prix of Devon. The boxes began filling with spectators armed with picnic baskets and wine and cheese plates from the Garden Café. The rows of benches around the ring were filled with those lucky enough to secure a special yellow wristband for a front row seat. In the gold ring, the schooling was underway. Olympians like Beezie Madden and Kevin Babbington shared the ring with aspiring junior riders like Michael Hughes and riders from Australia, Columbia, and Venezuela.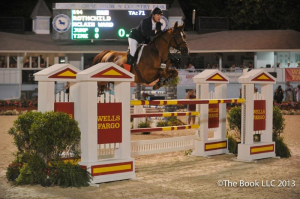 Variety gave way to tradition. The night ended as it has seven times before, with Ward leading the victory gallop. His path to the top of the class of 28 wasn't easy– course designer Olaf Peterson Jr. planned a difficult course. The bogey fence was the Abba Equine Health Oxer which riders approached both on a bending track as well as a more angled approach. Again and again, horses misjudged the width and the back rail was tipped by a hind hoof and fell. Even the time allowed proved to be a challenge. On Cortes C, Madden missed the time allotted by one tenth of a second and the crowd sighed in disappointment. By the time the first round was through, there were five to jump off-Devin Ryan on No Worries, Callan Solem on VDL Torlando, Andrew Welles on Boo Van Het Kastenjehof, Ward on Rothchild, and Madden on Vanilla.
Ryan set a blazing track in the jump off, showing the remaining riders how a clear path could be accomplished. His tight rollback to the Wells Fargo jump showed he was in it to win. He stopped the clock at 36.124. Next to go was local rider Solem. Her handsome gray stallion beat Ryan's time but had one rail down. Welles entered the ring next and walked out as the new leader with a time of 38.815. Next was Ward. He took all the fast options including a hairpin turn to the triple combination and an even tighter rollback to the Wells Fargo jump. He stopped the clock on 33.564 and it was all Madden's to win or lose. She was on track pace-wise but an early rail made it clear that McLain had won. Madden finished on eight faults.
And with that, the victory lap commenced. Ward was in first place followed by Welles in second and Ryan in third. As the crowd cheered, spectators began wandering back through the Country Fair, stopping for one last souvenir to remember a terrific night. This year may have had a little of everything, but some traditions are here to stay. With this notch in their belt, Ward and Rothchild have become the new Devon duo to beat.
String Band Gets Devon in the Grand Prix Spirit
By Caroline Goldstein
The Philadelphia Eagles Pep Band helped stir up excitement before Grand Prix as they roamed the Country Fair grounds today performing for visitors. The string band, made up of Brian Saunders, Tony "Skull" DiMeo and Bruce Mulford, has been performing at Devon for 15 years. "It's a fun event here," said Saunders.
The band has been at Devon throughout the show and will also be performing tomorrow and Saturday. The performances were organized by Houghton Enterprises.
The string band is perhaps most well known as the Philadelphia Eagles Pep Band. They have been performing at all of the Eagles' home games, and select away games, for the past 18 years. The band wrote and recorded the current arrangement of "Fly Eagles Fly" and gave the fight song that official title. The group first got together 34 years ago, and they were originally a rock band. "Over the course of time, we started doing different things," Saunders said.
They transitioned into a string band with a saxophone, banjo and bass. Their first job was at Clementon Amusement Park. From there they went on to play at the Tropicana Casino in Atlantic City, and they continue to play at various casinos.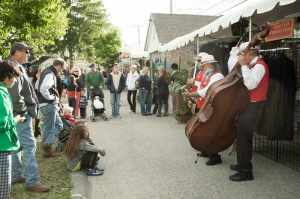 The band has made other high profile appearances as well, including at President Bill Clinton's inauguration and as Ed Rendell's campaign band during his gubernatorial campaign. "We've had a lot of big events," Saunders said.
As you see the string band make its way around the Devon grounds in the next few days, feel free to request any song; they are not easily stumped, Saunders said. People have asked for a variety of songs over the years, and Saunders said they are ready for anything. "They'll be shocked to see we'll still play it on the banjo, bass and saxophone," Saunders said.
The band's visit has become a tradition at Devon, and there is even a painting of them for sale in the Art Gallery. The Eagles Pep Band looks forward to visiting Devon each year and playing for the crowds. "This is a happy group of people," Saunders said. "Not only are they happy, but they're also very appreciative."