Wellington, FL – December 17, 2013 – Equestrian Sport Productions concluded its Holiday Festival I Show competion this weekend on December 14-16, 2012, at the Palm Beach International Equestrian Center in Wellington, FL. The competition featured a $25,000 Grand Prix, $10,000 Welcome Stake, and a full schedule of hunter, jumper and equitation classes.
Darragh Kerins and Hot Wheels Roll to Victory in $25,000 ESP Holiday I Grand Prix
Kerins mount, Hot Wheels, is a 15-year-old Silla Argentino gelding by Liliputiense. The speedy gelding has had success for many years and has been a great mount for Kerins, with many top wins. After Sunday's class, Kerins stated, "He is just a great horse. Every day you take him out, he gives 100%. Last week was probably one of the worst days I have had with him all year. He hadn't shown for a while and tried to do the grand prix and he had a couple down and he just wasn't himself. I hadn't planned on showing him again, but after that I just decided to go again this week and he was a different horse."
"He jumped great the first round and in the jump-off. I knew it was going to be very fast because there were ten clear,"
In the highlight event of the week, forty-four entries showed in Sunday afternoon's $25,000 ESP Holiday I Grand Prix over a course set by Catsy Cruz of Mexico. Ten entries cleared the first-round course to advance to the jump-off and six jumped double clear. Ireland's Darragh Kerins and Hot Wheels had the fastest time of 35.182 seconds for the win. Wilhelm Genn and Happy Z finished second in 37.009 seconds. Samuel Parot and Al Calypso placed third in 37.541 seconds.
Kerins said. "Four faults wasn't going to get me very much of a paycheck, so I just tried to be quick and see what happened. All of the jumps stayed up and it worked out good."
Commenting on the course, Kerins noted, "I thought it was a very good course; she built good courses all week. I thought it was fair for the amount of horses that were in it and she still ended up with ten clears, but there were a lot of good horses in it, so she did a good job."
Hot Wheels will now have off until after the holidays and will then begin competing again during the FTI Consulting Winter Equestrian Festival circuit.
"We will just keep trying to keep him fit and aim him towards the circuit here," Kerins detailed. "He is getting a bit older, so we have to pick and choose our classes with him. He has a lot of miles under his belt, but he is very sound and he is still fresh and he loves this ring here. He is very comfortable in it."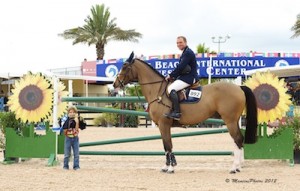 Kerins described Hot Wheels' personality and routine at home. "He is a character," he smiled. "The same guy has looked after him for all of the time that I have had him. We don't ride him much at home because he is just so difficult to get on and off and stuff, so we just try to keep him happy. We give him a lot of turn out and lunge him every other day. Then once he comes to the show and he walks in the ring, he knows his job."
Final Results: $25,000 ESP Holiday I Grand Prix
1. HOT WHEELS DARRAGH KERINS DARRAGH KERINS: 0/0/35.182
2. HAPPY Z WILHELM GENN WILHELM GENN: 0/0/37.009
3. AL CALYPSO SAMUEL PAROT SAMUEL PAROT: 0/0/37.541
4. ORMSBY HILL LIZA FINSNESS LIZA FINSNESS: 0/0/38.506
5. LARGO RAMIRO QUINTANA MAVERICK VENTURES LLC: 0/0/39.061
6. CAPALL ZIDANE RONAN MC GUIGAN RONAN MC GUIGAN: 0/0/39.398
7. ATTACK II AMANDA DERBYSHIRE BECKY AND DAVID GOCHMAN: 0/4/38.072
8. GRACIELLA 50 SAER COULTER COPERNICUS STABLES, LLC: 0/4/39.103
9. AX-CENT KENNETH BERKLEY RIVERS EDGE: 0/4/39.743
10. VICTORY DA AUDREY COULTER COPERNICUS STABLES, LLC: 0/4/42.965
11. WHITNEY RAMIRO QUINTANA ST. BRIDE'S FARM: 2/84.156
12. EXECUTIVE PRIVILEGE 3E MOLLY ASHE OLIVIA JACK: 3/85.327
Jumper Highlights
Thirty-four entries showed in Friday's evening's $10,000 Welcome Stake with 13 clear rounds to jump-off and six double clear competitors. Audrey Coulter and Copernicus Stables LLC's Rodenburgh's California had the fastest jump-off time of 36.57 seconds for the win. Michael Murphy and PenelopeStrait's Valentino Z finished second with a clear round in 37.38 seconds. Samuel Parot and Whisper H.E. were third in a time of 37.19 seconds.
In the $1,500 Tackeria NAL Children's/Adult Jumper Classic, Hannah Murrin rode Whipstick Farm's Landdame to victory with Samantha Wight and Sweet Oak Farm's Brooke Van De Zuuthoeve in second.
The $2,500 NAL Low Junior/Amateur-Owner Classic was won by Brett Burlington aboard Sweet Oak Farm's 'T Is Picobello Z. Kenzie Donovan and Volarnah finished second.
The High Junior/Amateur-Owner Jumper Classic saw victory for Nathalie Mathers and Windline with Sydney Shulman and Back Country Farm's HH Narcos Du Marais in second.
In the $1,500 Low Children's Jumper Classic, Hidden Creek's Shadow, owned by Les Cabrioles, LLC and ridden by Mackenzie Graves, was the winner. McKenzie Wade and Leslie Davies' Luna finished second.
The $1,500 Low Adult Jumper Classic was won by Amy Masterson aboard DK Masterson Holdings' Temba B. Kathryn Haefner andKaberle finished second.
In the $2,500 M&S Children's/Adult Jumper Classic, Katie McNair and Kilimanjaro were the winners with Lynn Yoos and Timba finishing second.
Hunter and Equitation Highlights
Showing in the Adult Amateur Hunter division over the weekend, Leslie Campbell rode E.L. Raymond to the championship tricolor with KellyJones' O So Soxy and Lisa Butzer in reserve.
In the Amateur-Owner Working Hunters, Lauren Cechini and Graffiti were the champions. Stephanie Danhakl tied herself for reserve riding After Five and Humor Me.
In the Performance Hunter 3'3″/3'6″, Christopher Payne rode Julie Holzberger's Pure Giving to the championship with Penny Lombardo and Jane Clark's Goosebumps in reserve.
In the Green Conformation Hunters, Sandy Ferrell rode Stephanie Riggio's Mariano to the championship with Victoria Colvin and Rose Hill Farm's Joyful in reserve.
The Junior Hunters also showed over the weekend and Victoria Colvin took both top tricolors, earning the championship with Joyful and reserve championship with Canadian Blue, owned by Scott Stewart.
In the Large Pony Hunters, Emma Kurtz also earned both top honors aboard champion All My Love, owned by Scott Stewart and reserve champion Westside, also owned by Scott Stewart. In the Medium Pony Hunters, Kurtz once again dominated, earning the championship with All Seasons Farm's Rock the Boat and reserve with Scott Stewart's Show Me Love. The Small Pony Hunters saw another championship win for Kurtz, this time aboard Double G Stables' Sparkle Plenty. Sophie Gochman and David Gochman's Page 6 finished in reserve.
In the equitation classes, Sydney Shulman and The Freedom Group's Lovely Charity won the Pessoa/USEF Hunt Seat Medal for the week. Brett Burlington rode Sweet Oak Farm's Sunman to win the ASPCA Maclay class. Victoria Colvin rode Scott Stewart and Alexandra Crown's Amore Mio to win the WIHS Equitation Overall.
For full results, please visit www.showgroundslive.com. Please visit www.equestriansport.com or call 561-793-5867 for more information.