OCALA, FL (March 5, 2013) – This weekend's win in the $5,000 Devoucoux Hunter Prix has Hunter Holloway, 15, of Topeka, Kansas seeing zeros and eagerly awaiting an appearance in the Diamond Mills $500,000 Hunter Prix Final this fall in Saugerties, New York.
Holloway was one of 12 to return for second-round competition out of an original 38 starters. The course was designed by Timmy Hott of Cumming, Iowa, and utilized the all-new Outside Course at HITS Ocala.
Holloway, daughter of grand prix rider Brandie Holloway, piloted Hays Investment Corp.'s Bellini to the top scores in both rounds of this weekend's hunter prix, earning an 88 and 89 for a combined score of 177. "Today's course was straightforward, but the new ring with the bank keeps the courses fresh and fun to ride," said Holloway.
Bellini and Holloway were partnered this past summer to show primarily in Junior Hunter divisions and collected six top-five ribbons last week, in addition to their blue in the Devoucoux Hunter Prix. "Bellini is very easy, very honest and a joy to ride. He was awesome today," said Holloway of the seven-year-old Warmblood gelding. "If he hasn't sold by September, he is most definitely the horse I would choose to ride in the Diamond Mills Final."
Adrienne Marciano of Collegeville, Pennsylvania, try as she might to best Holloway, pocketed a pair of 86s for a combined score of 172, which was good enough for second place. She was aboard her own Grey Street. The top three was completed with Harold Chopping of Southern Pines, North Carolina and Caroline Russell Howe's Caramo earning a 170.5.
Only fractions of a point decided fourth and fifth places. Meghan Flanagan of Atlanta, Georgia and her own O'Ryan finished fourth with a combined score of 169.25, and Nicole Lyvere of Lakewood, Colorado settled for fifth aboard her own Drumline with a 169.
Devoucoux, the makers of fine French saddles, will continue to present weekly hunter prix, which represent the only way for hunter riders to punch their ticket to the prestigious Diamond Mills Hunter Prix Final during HITS Championship Weekend in Saugerties this September.
$1,500 HITS Hunter Prix
Sophia Lothrop of Shelburne, Vermont has gone south this winter to qualify for the popular HITS $250,000 Hunter Prix Final and she found success with her own Castell this weekend. The pair rode to first place in the first of three remaining HITS Hunter Prix qualifiers in Ocala. Amy Zettler of Aldie, Virginia, who finished second in last year's HITS Hunter Prix Final, finished in second place with her own Glad Rags this week.
Kristen Sameth of Lebanon, New Jersey was third aboard her own Vandrin and Erica Lipke of Hamburg, New York was fourth on Christine Hannon's Knight Call. Eliza Month of Scarsdale, New York rounded out the top five in the irons of her own Duval.
About Devoucoux
Devoucoux, makers of fine French saddles, is proud to be the title sponsor of each and every qualifying Hunter Prix leading up to the phenomenal Diamond Mills $500,000 Hunter Prix Final. The Devoucoux Hunter Prix will be a featured event at all HITS horse shows this season as riders from around the country set out to qualify for the third-annual Diamond Mills Hunter Prix Final, which will take place September 7-8 at HITS-on-the-Hudson in Saugerties, New York.
About Diamond Mills Hotel & Tavern
Just 100 miles outside of New York City, nestled in the Village of Saugerties, Diamond Mills is a 30-room luxury hotel featuring stellar accommodations, fine-dining at The Tavern and full-service events at a state-of-the art Special Events Center. Diamond Mills is a proud member of the Small Luxury Hotels of the WorldTM, an unsurpassed collection of over 520 luxury hotels around the world. Saugerties' newest luxury hotel is also the proud sponsor of the Diamond Mills $500,000 Hunter Prix Final, which will take place at HITS-on-the-Hudson as part of the HITS Championship Weekend. For more information about Diamond Mills or the special VIP packages available to HITS-on-the-Hudson exhibitors, please visit DiamondMillsHotel.com or call 845.247.0700.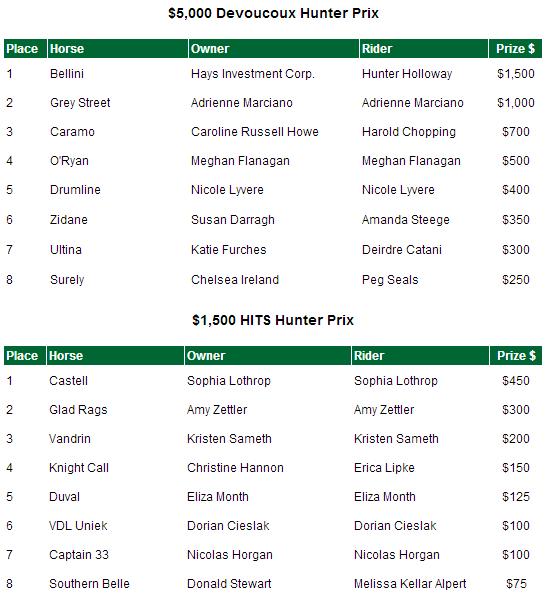 About HITS, Inc.
HITS, Inc. produces high-quality, international-level hunter/jumper horse shows. Based in upstate New York in the village of Saugerties, HITS has been producing shows since 1982 and is now a nationwide company with world-class circuits in California, Florida, Arizona, New York and Virginia. In 2010, HITS took the industry to new heights when it hosted the first-ever Pfizer $1 Million Grand Prix – now the Zoetis $1 Million Grand Prix. In 2011, HITS hosted the richest weekend in show jumping with the return of the Pfizer Million and the introduction of the Diamond Mills $500,000 Hunter Prix Final. In 2012, the historic weekend got even sweeter with the addition of the HITS $250,000 HITS Hunter Prix Final. This year, HITS will host a second $1 million class with the AIG Thermal $1 Million Grand Prix at HITS Thermal.
For more information and a complete schedule of classes and events, visit www.HitsShows.com. Stay connected with HITS, join us on Facebook or follow us on Twitter!
Media should contact the HITS Media Team at 845.246.8833 or e-mail Media_Info@HitsShows.com.