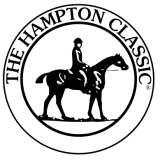 Bridgehampton, NY—July 10, 2013— All horses coming on to the grounds of the Hampton Classic Horse Show will be required to bring a Statement of Health signed by a licensed veterinarian within 7 days of arrival at the Hampton Classic.
The Hampton Classic Horse Show returns to Bridgehampton, NY, August 25–September 1, for its 38th year of world-class equestrian competition, shopping and entertainment.  The Classic is requiring the signed Statement of Health as a precaution to protect the well-being of all horses at the Classic.
"The new Statement of Health requirement will help us in our goal of keeping every horse at the Hampton Classic as safe as possible," said Shanette Barth Cohen, the horse show's Executive Director.
The Statement of Health must certify that the horse has:
1.  Been enrolled in a regular and consistent program of vaccination against EHV-4/1 with the most recent booster being within 120 days;
2.  Has not shown symptoms of, nor been treated for, EHV-4/1 within the past 28 days; and
3.  Has not been exposed to any horses that have been treated for or shown symptoms of EHV-4/1 within the past 28 days.
            A separate Statement of Health is required for each horse being brought on to the grounds and will need to be submitted to Hampton Classic staff prior to horses' unloading.  A form for this purpose is available in the prize list and online (please note that the original form required a 90-day booster, which has been revised to 120 days).    
Questions can be directed to the Hampton Classic Horse Show office at 631-537-3177.  Further information on the Hampton Classic is available at the Hampton Classic website at www.hamptonclassic.com.  Hampton Classic Horse Show, Inc. is a 501(c)(3) charitable.