Bromont, Quebec – July 21, 2013 -The second week of the International Bromont ended today, July 21, with Russian Liubov Kochetova winning the 1m60 Grand Prix.
Before a crowd of horse lovers and fans of equestrian sports, twenty-three pairs competed on a courseby FEI 4* course designer Guilherme Jorge (BRA). For this event, offering $ 100 000 in prize money, seven participants made it to the jump-off round, including St-Lazare Angela Covert Lawrence.
On her first mount, Aslan, Liubov Kochetova (RUS) executed a fast first clear round, insuring her participation in the jump-off. She also qualified later with Wilford 2, a 9th place finish in the FEI 1m50 on Friday July 19.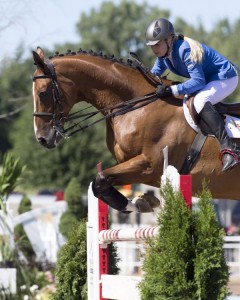 Liubov Kochetova and Aslan – Photo By: Cealy Tetley
Canadians are in good shape as well for the second phase; with 3 out of the 7 seven pairs. Derek Bran (USA), winner of the July 19 1m50 event on Lacarolus, and Schuyler Riley (USA) on Waterloo (7th in the FEI event on Friday), complete the roster for the jump-off.
Of the seven riders in the jump-off, only two will be able to overcome the technical difficulties and get a clear round: Liubov Kochetova (RUS) / Aslan, and Angela Covert Lawrence (CAN / Utan. Bested by 2.48 seconds only, Angela and Utan take second place in the International Bromont Grand Prix.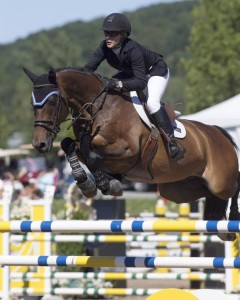 Angela Covert Lawrence and Utan – Photo By: Cealy Tetley
 Russian rider Liubov Kochetova will round-up the top 3, taking third place on Wilford 2, ahead of American Derek Braun.
About International Bromont
International Bromont promises an unforgettable 2013 edition with five FEI events, the return of the Royal Canin Challenge (in collaboration with the Club d'agilité de la Montérégie), two Speed Derbies and a Hunter Derby. For more information on the programme, visit our site at  www.internationalbromont.org.
International Bromont, hunter and jumping competition, presents its 38th edition at the Bromont Olympic Equestrian Park from July 11 to 14, 17 to 21 and 24 to 28. International Bromont would like to thank the Ministère de l'Éducation du Loisir et du Sport as well as the Ministère du Tourisme du Québec for their support. General admission: $10 per person and free for children under 12. Preferred admission: $25 a ticket.
Results – Grand Prix
1. Liubov Kochetova (RUS) / Aslan 0-0, 46.29
2. Angela Covert Lawrence (CAN) / Utan 0-0, 48.77
3. Liubov Kochetova (RUS) / Wilford 2 0-1, 55.66
4. Derek Braun (USA) / Lacarolus 0-4, 45.12
5. Lauren Patava (CAN) / Sly 0-4, 48.89
6. Ainsley Vince (CAN) / Darling 0-8, 44.30
7. Schuyler Riley (USA) / Waterloo 0-12, 47.42
8. Roberto Teran (COL) / Tam Tam Hero 4, 77.56
9. Keean White (CAN) / Pironella 4, 78.82
10. François Lamontagne (CAN) / Noveko's Rebelle 4, 80.71
11. Roberto Teran (COL) / Woklahoma 4, 82.80
12. Mac Cone (CAN) / Amor van de Rostal 4, 83.06
13. Elizabeth Gingras (CAN) / Avensis 4 4, 84.73
14. Derek Braun (USA) / Cyraneiky 4, 85.38
15. Jill Henselwood (CAN) / IV Ever 8, 79.75
Information:
Alexandra Hill, communications – International Bromont, T. 450-534-0787 | C. 450-525-2716 communications@internationalbromont.org