Calgary, Alberta – Overnight rain could not dampen the spirits of the competitors yesterday at Anderson Ranch for the second day of the Rocky Mountain Classic I tournament. Two hunters rings and three jumper rings, including the Grand Prix field, were all in full swing on a day that proved to be a little chillier than is normal for summertime in the Rocky Mountains.
International Course Designer Werner Deeg (GER) set a spectacular course in the always impressive Wood Automotive Group Grand Prix field. Everything set, the footing in prime condition and a field of 28 horse and rider combinations ready to take on the challenges in the $33,000 Valleyfield CSI2* 1.45m Modified Grand Prix.
At the conclusion of the first round, only 3 riders and horses had taken on all the questions asked and had answered them perfectly. With Jim Ifko and his mount Dublin Street, the final to go in the jump off ending up with the win in a hard fought jump off.
"The track was quite challenging, as there were only 3 clears today. It was a good test, but I think that it was a fair test. A lot of technical questions, a lot of half strides and decisions that the riders had to make. Combined with fairly stout oxers, so I thought it was quite a challenging course." said Jim.
"With only 3 in the jump off and knowing that you have to go clean in the jump off to win the class sometimes is a little more pressure knowing that you have to definitely put down a clean round." noted Jim. "So going into the jump off I just wanted to leave the fences up and put in a combination of efficiency and being clean."
Jim's mount Dublin Street is fairly new to this level of competition with only one previous competition at this height under his belt. But that lack of experience at the 1.40m height didn't show at all today to the packed crowd around the Grand Prix ring and Goby's Grill. "My horse really stepped up to the jump off. In the first round I think that he found it a little bit of a struggle, but when it came to the jump off he actually really stepped up and realized how big the fences were and heading to the last fence I knew that it was going to be a fantastic ride."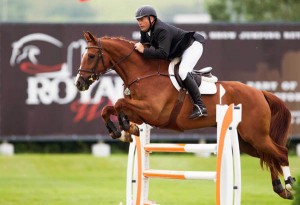 Jim flies over the final jump in the Jump Off in front of the Royal West Billboard!
Another challenger in the Grand Prix this afternoon was the talented Ellicia Edgar. She is just putting those final tack adjustments into place with her horse, which hopefully will see them in the jump off Saturday.
Ellicia's family own Valleyfield Farm, the wonderful sponsor of this event. "We were thrilled to be able to sponsor the class today, I think that it is very important to support local venues and riders and it is great publicity for our farm." stated Ellicia. "This is a great venue to be able to produce our horses, campaign our horses and showcase our horses for sale. So it is wonderful to be able to support that as well as get a little bit of advertising and publicity along with it."
A lot of positive changes happening at Valleyfield Farm and into the future. "We are having big year for our farm this year. We have decided to build an indoor arena and a second barn, which will keep me a little bit more local which will be quite nice for a change." noted Ellicia, on their operations. "We try really hard to breed top quality horses and produce them so that they are ready for the market and the horse shows when they are sold. Rocky Mountain Show Jumping is a great place to do that."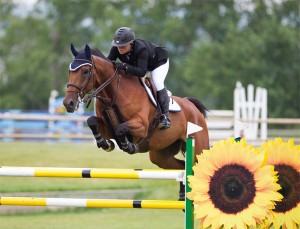 Ellicia Edgar of Valleyfield Farm competes herself in the International ranks of the sport!
"It was great to have Ellicia's family supporting the Grand Prix today. Ellicia is a great rider herself, she has done a super job with her horse here and she has stepped up to the FEI ranks and it has been a great pleasure to watch her progress this year. She is definitely going to be a threat in the future and certainly with her farm, she is going to produce some great horses, and we are all excited to see how they are going to turn out." reflected John Anderson, President of Rocky Mountain Show Jumping. "The class was fantastic, I was happy, the competitors all had fun the course designer got a great result and it was great to have my dad taking the salute today from his Ford Flex, he was having a good time himself."
Rocky Mountain Show Jumping hosts its tournaments at Anderson Ranch in Calgary's south end, a world-class facility featuring permanent stabling for 300 horses and a grass grand prix field complete with natural obstacles.  For more information on Rocky Mountain Show Jumping, please visit  www.rmshowjumping.com.
Competition continues Saturday, August 8, 2013 with the $33,000 CSI2* Grand Prix (Talent Squad Qualifier) 1.45m at the Rocky Mountain Classic I.
Photgraphs (may only be used in relation to this article. For a high-resolution copy contact media@dragonmediagroup.ca)