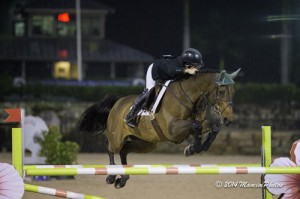 Kaitlin Campbell and Rocky W
Photo By Mancini Photos
Wellington, FL – November 26, 2014 – The Palm Beach International Equestrian Center (PBIEC) hosted the South Florida Hunter Jumper Association's (SFHJA) Annual Charity Horse Show on November 19-23, 2014, as a benefit for the A-T Children's Project, Danny & Ron's Rescue, Equestrian Aid Foundation, Pure Thoughts, Inc. Horse & Foal Rescue, Equine-Assisted Therapies of South Florida, and FAU Equestrian. The week featured a $35,000 Sweet Oak Farm Grand Prix on Saturday night with a win for Kaitlin Campbell and Rocky W.
Catsy Cruz of Mexico set the course for 47 entries in round one with five clear rounds to advance to the short course. Margie Engle and Elm Rock LLC's Bockmanns Lazio were first to jump-off and finished fifth with four faults in 34.61 seconds. Kevin Babington and Mark Q jumped next and had four faults in 34.37 second to finish fourth. Chris Ewanouski and Hampton Farms LLC's Orbetello jumped the first clear round in 34.01 seconds to finish third. Up next, Campbell and Rocky W set the winning time of 31.57 seconds. Lorcan Gallagher and Spy Coast Farm LLC's Diktator van de Boslandhoeve were last to go and settled for second with a time of 32.67 seconds.
On a rainy evening under the lights of the International Arena at PBIEC, Campbell trusted in her long partnership and experience with Rocky W to go for the win. She has had the 16-year-old KWPN gelding (Libero H x Corofino) since he was eight and knew that the atmosphere of the arena would play to her favor.
"There were only five clear, so it was difficult enough obviously to get that number," Campbell remarked on the course. "Going into the jump-off, I figured I was already getting a paycheck and I should just go for it at that point. He has shown in this ring under the lights a lot of times, and it always pumps him up a lot. He knows that it's jump-off time, and it is perfect for him."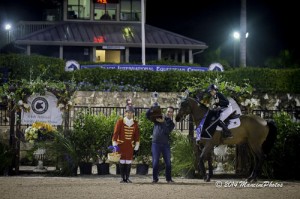 Kaitlin Campbell and Rocky W in their winning presentation
Photo By Mancini Photos
"He is just really quick across the ground, and he is really quick in the air," Campbell said of her time. "He doesn't spend too much time in the air. He knows exactly where his legs are and how to spend the least amount of time over the jumps."
"We have been showing at indoors the past few months, so it was different going to this big international ring," she added. "I think his stride definitely opened up, and I was able to leave some strides out."
Since graduating college in May 2014, Campbell has been working for Marigot Bay Farm, which has locations in Wellington as well as Lexington, KY. She will continue to compete at the 2015 Winter Equestrian Festival, which beings January 7 with 12 weeks of competition at PBIEC.

$35,000 Sweet Oak Farm Grand Prix
1 747 ROCKY W KAITLIN CAMPBELL KAITLIN CAMPBELL: 0/0/31.572
2 313 DIKTATOR VAN DE BOSLANDHOEVE LORCAN GALLAGHER SPY COAST FARM LLC: 0/0/32.670
3 357 ORBETELLO CHRIS EWANOUSKI HAMPTON FARMS LLC: 0/0/34.011
4 548 MARK Q KEVIN BABINGTON KEVIN BABINGTON: 0/4/34.370
5 102 BOCKMANNS LAZIO MARGIE ENGLE ELM ROCK LLC: 0/4/34.615
6 759 ANTARES PABLO BARRIOS PABLO BARRIOS: 4/70.754
7 345 SOLERINA SHANE SWEETNAM SPY COAST FARM LLC: 4/73.528
8 817 QUABELLE BLYTHE MARANO RIVERVIEW FARM LLC: 4/73.977
9 163 WIRMA BRIANNE GOUTAL REMARKABLE FARMS LP: 4/74.001
10 549 SHORAPUR KEVIN BABINGTON SHORAPUR LLC: 4/74.328
11 550 CORD 11 KEVIN BABINGTON MECO EQUESTRIAN LLC: 4/74.402
12 283 EVENING STAR HEATHER CARISTO-WILLIAMS HOLLY CARISTO: 4/75.096
SFHJA Charity Horse Show Highlights
The charity show also featured a $10,000 Welcome Stake, sponsored by Paul Tracey Farrier Services, with a one-two finish for Shane Sweetnam on Friday. Sweetnam and Spy Coast Farm LLC's Solerina took top prize. The rider finished second aboard Sweet Oak Farm's Echo D.
Sunday's $10,000 Palm Beach Aggregates/Siboney Ranch High Junior/Amateur-Owner Jumper Classic saw a win for Michelle Navarro-Grau aboard Yidam with Tina DiLandri and Highpoint Farm LLC's Juanita in second.
The $10,000 Adult Jumper Classic, sponsored by John and Monika Preston, was won by Lindsey Tomeu and Dogwood Hill LLC's Bonapart with Alicia Gamboa and WCEC LLC's Kyu in second. The $10,000 Adult Jumper Classic, also sponsored by John and Monika Preston, saw a win for Sheer Levitin aboard Nabuco du Theil. Katherine Johnson and Belle finished second.
In the $5,000 Oakland Ventures Low Amateur-Owner Jumper Classic, Danielle Torano jumped to victory riding Herault. Mireya Godoy and Rhea de l'Ici finished second. The $5,000 Oakland Ventures Low Junior Jumper Classic was won by Lucy Deslauriers and Hamlet with Spencer Smith and Artisan Farms LLC's Nevada in second.

Hunter competition was featured throughout the weekend as well and concluded with a $10,000 Summerfields Equine LLC USHJA National Hunter Derby on Sunday. The win went to San Francisco, owned by Glory Days Farms LLC and ridden by Jimmy Torano. The $5,000 RC Stables Junior/Amateur-Owner Hunter Classic saw a win for Cussini, owned by Lilly Halterman and ridden by Victoria Colvin. Peacock Ridge LLC's Trillville and Farah Rizvi won the $5,000 Sweet Oak Farm Pony Classic.
Competition at the Palm Beach International Equestrian Center continues withEquestrian Sport Productions' Holiday Horse Show Series beginning on Wednesday. The Holiday Series will host six shows from November 26 through January 4, serving as a precursor to the 2015 Winter Equestrian Festival.
The Holiday Series kicks off with the Holiday & Horses CSI-W 2* on November 26-30, 2014, featuring premier "AA" hunter and 5-star jumper classes. Jumper competition includes a FEI World Cup qualifier and two FEI World Ranking classes.
The week begins with the $34,000 Holiday and Horses Opener on Wednesday, Nov. 26. The $34,000 1.45m will be held on Friday, Nov. 28. The $50,000 FEI World Cup Grand Prix will be the the highlight event on Saturday evening, Nov. 29. Sunday, Nov. 30 will feature a $5,000 National Hunter Derby as well as a $10,000 Open Jumper Stake. Hunter champions will also be awarded throughout the week. For more information, please visit www.equestriansport.com.
Photos copyright Mancini Photos, www.manciniphotos.com. These photos may only be used in relation to this press release and with full photo credit.