They clinch their first derby victory in the Walgreens-sponsored event.
Traverse City, MI – July 15, 2013 – Caitlyn Shiels gave Kenya a pep talk before heading to the R.L. Polk Family Main Hunter Ring for the $2,500 USHJA National Hunter Derby, sponsored by Walgreens.
After collecting a bountiful array of ribbons during Horse Shows by the Bay Series II, Kenya had one more important outing on Sunday afternoon, July 14. "I told him, 'Today is our day. Let's do this,' " said Shiels. And, indeed, it was.
Michelle Durpetti's Kenya topped a field of 43 starters for the blue ribbon over last week's Derby winner Greg Crolick, who piloted Anne Hamilton's Shocktop to second and Adrienne Marciano's Grey Street to third.
"It was exciting," said Shiels. "The [first-round] course was really nice, and it was a good set up for him. There were a lot of nice options, and he rode fantastic. We did all the high options, and he was so fluid and with me today, and we were a really great team."
Kenya is a relatively new ride for Shiels, 30, of Sheffield, MA, who began working as an assistant trainer and professional rider at Gregory Franklin's Canterbury Farm in Hampshire, IL, in May. Her successful junior and young rider career, which included double-gold medals in show jumping at the 2004 North American Young Rider Championships, certainly contributed to her ability to ride well under pressure.
As the highest-scoring combination in the Classic Hunter Round, Shiels and Kenya returned last of the top 12 that qualified for the Handy Round. With Crolick leading the way with Shocktop, a winner this week in the High Pre-Green Hunter section, it would take another great score to clinch the win.
"Coming back was a little nerve-wracking. Especially since the trot jump was the first fence," said Shiels. "You're cantering around and coming to it, and it's a plain split rail. But he was on it today. He deserved this blue ribbon more than anything."
Owner Michelle Durpetti may have been more nervous than Shiels "The owner wasn't breathing," she said with a smile.
She credited Shiels, Franklin and the Canterbury Farm team for the victory.
"They do their homework," said Durpetti. "They prep the horse, and he's in a great program. He's confident, and when he's confident he goes like poetry in motion. He has a beautiful rhythm, and he's adorable to watch. Greg and Caitlyn work really hard with Greg on the ground and Caitlyn on the horse. They're a great team, and [Kenya's] a great addition. It's a trifecta."
Shiels was thrilled to collect her first USHJA National Derby win under the auspices of a new barn. "We've done a couple of really big shows together, and we're very much in sync now and it's very exciting," she said.
To watch Kenya and Sheils on the way to their Derby victory, please click here.<http://r20.rs6.net/tn.jsp?e=001mFF4p16SRVkaDjw1qBTik35TzOz9ms1HoO2x3Vo4b2lC-NHjL2h-kOSsLrJ0TxE1hBg8vuORnLh-jfAUccFjDLp2809MRLgaGzR7fhpb1BkNQStd6p876zt5fOJ3faRPQRy9xlv6Nzuqq1zWeBN8wvPSEOsMUf78PiafJVm0Y38=>
Durpetti, of Chicago, IL, is also an important part of the team, and she guided Kenya to consistent ribbons this week in the 3'6″ Amateur-Owner Hunter section. He also earned top ribbons in the 3'6″ Performance Hunter section with Shiels.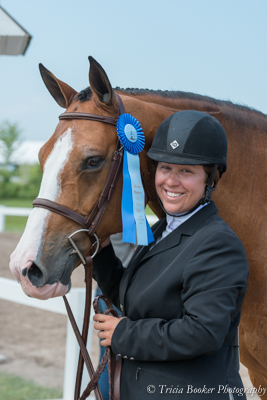 "We did great this week, with ribbons in every class," said Durpetti. "The amateurs are a tough division. This is my first year back doing the 3'6″, so the fact that I'm coming out still breathing is super, but he takes great care of me. With me, he's a teacher. He allows me to make mistakes, which is super."
Durpetti has owned Kenya, a 10-year-old warmblood, for 1½ years and purchased him from Patty Stovel in Ocala. FL. Although he and Stovel have won Hunter Prix classes on the HITS circuits, this is Kenya's first USHJA Derby victory.
"His show name is Kenya, but his barn name is Pork Chop, and that really, in my opinion, perfectly describes who he is," said Durpetti. "He's a little bit of an overgrown pony.
"He knew he won today," she added. "He was kind of strutting back to the barn. He was a good Pork Chop today."
Follow the action during Horse Shows by the Bay Series III, July 17-21. Competition will be held in all five rings, with the Grand Prix Ring and R.L. Polk Family Main Hunter Ring streaming live thanks to ShowNet LLC and this week's free streaming partner, Alltech Equine TV. They're bringing the action right to your screen every day, beginning at 8 a.m. Go to www.horseshowsbythebay.com<http://r20.rs6.net/tn.jsp?e=001mFF4p16SRVnvbwustEP1F6VSirOMXBD03zc6AKOXpQaDYmhPxl_B3xV9ITupdwldAHvnxc9KtcFSBcIIenlNriSycy23kE2HdT4bA9DK4Db-iDs64avS5R30hI-a02k2> and click on "Watch It Live."
For full show results, please visit www.horseshowing.com.<http://r20.rs6.net/tn.jsp?e=001mFF4p16SRVkWJWHpGPdbHyJT9Jbr2oR7Vl5tYQr3Zh-bb5LRQZiPj2frKF4OOfCXyhPBCEVbsTdgZKSj9CGjORmABM8w7eA8ii5dH6DNDqxJTHDUKjZNo2FRg58pSLMbhAWzEDJwAsI=>
For daily updates and photos, please visit the Horse Shows by the Bay Facebook Page<http://r20.rs6.net/tn.jsp?e=001mFF4p16SRVmoLFac-FgO4eJkp_S_jx-Li68T1z78YmEt65SonuUIspbzk1lOSoaJxayN6iWddVcvodROozUQ-1Af2yBH4Chr3_OPbPUnavMr4JcQGuZMSNd2GatfYAqdxeDhUKdJSGo=>.
For more information, schedules, directions, or to Watch It Live, please visit www.horseshowsbythebay.com.<http://r20.rs6.net/tn.jsp?e=001mFF4p16SRVnvbwustEP1F6VSirOMXBD03zc6AKOXpQaDYmhPxl_B3xV9ITupdwldAHvnxc9KtcFSBcIIenlNriSycy23kE2HdT4bA9DK4Db-iDs64avS5R30hI-a02k2>
Horse Shows by the Bay – Flintfields Horse Park – 6535 Bates Road – Williamsburg, MI 49690