San Juan Capistrano, CA – Until the final entry in the $77,300 CSI2* San Juan Capistrano International Grand Prix, presented by Walter Oil & Gas Corporation, on Saturday, May 13, it appeared as though Conor Swail was on his way to a clean sweep of the entire CSI2* division offered at the San Juan Capistrano International in California.
That was until Keri Potter and Bisou blazed across the finish. The pair stopped the clock in 38.26 seconds for the win while Swail and Vital Chance de la Roque, owned by Mannon Farm, finished in second with a time of 39.70 seconds. Finishing in third was the USA's Michael Williamson aboard Granito Noordenhoek, owned by Stal Thijssen B.V.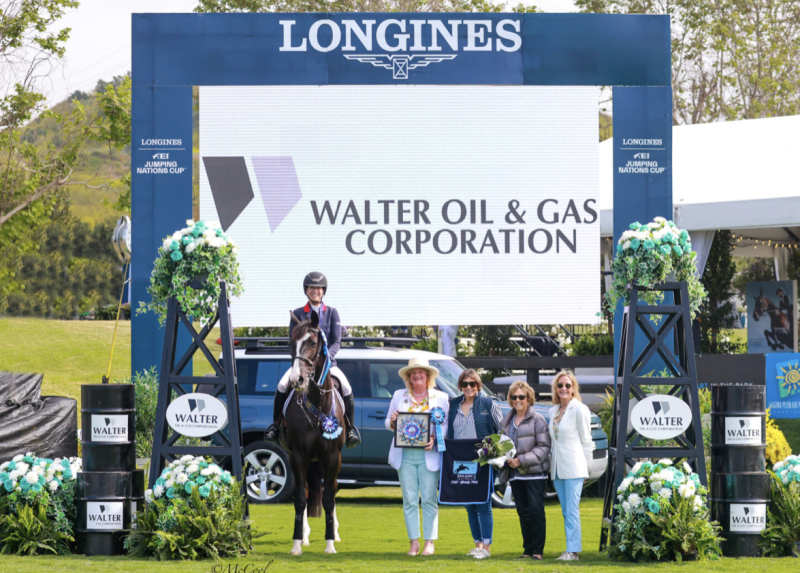 Keri Potter and Bisou were joined in their winning presentation by Orange County Supervisor Katrina Foley (pictured far left). Photo by McCool Photography
"The win was awesome today!" said Potter, who hails from Del Mar, CA. "Having Conor Swail in front having won basically every class this week in the 2* division, I was kind of determined that I wanted to beat him today!"
Potter and Swail were two of five entries from the 25-horse starting field that navigated the first-round, Leopoldo Palacios-designed course without fault. From there, Swail was the second rider to return for the short course, while Potter was the final rider to jump.
As she and Bisou made their way around the jump-off track, they stayed consistently just a tick ahead of Swail's pace, giving the crowd a thrilling finale to the day's competition as they flew over the final fence for the win.
Matias Fernandez Cuevas Captures CSIO5* Win for Chile 
Chile's Matias Fernandez Cuevas and Emotion des Truffiers led the CHF35,000 CSIO5* Speed, presented by South Coast Plaza, from beginning to end on Saturday, May 13, at the San Juan Capistrano International.
The duo was the first of 16 entries to take on Leopoldo Palacios' speed track, and they laid down a time of 60.62 seconds that would prove uncatchable. Coming the closest –with a time of 62.25 seconds – was Canada's Sean Jobin aboard Coquelicot Heuvelland Z, owned by Foxridge Farms Stables. Fellow Canadian Beth Underhill rounded out the top three with a time of 64.32 seconds riding Jack, owned by Thaisa Erwin.
Senior Director of Tourism for South Coast Plaza Brian Chuan presented Matias Fernandez Cuevas and Emotion des Truffiers as the winners of the CHF35,000 CSIO5* Speed, presented by South Coast Plaza. Photo by McCool Photography
"It's amazing!" said Cuevas of his win and the competition throughout the week in California. "For a rider, this experience is amazing – riding with the best riders in the world. I learn a lot, and it's an amazing atmosphere and fun to be here."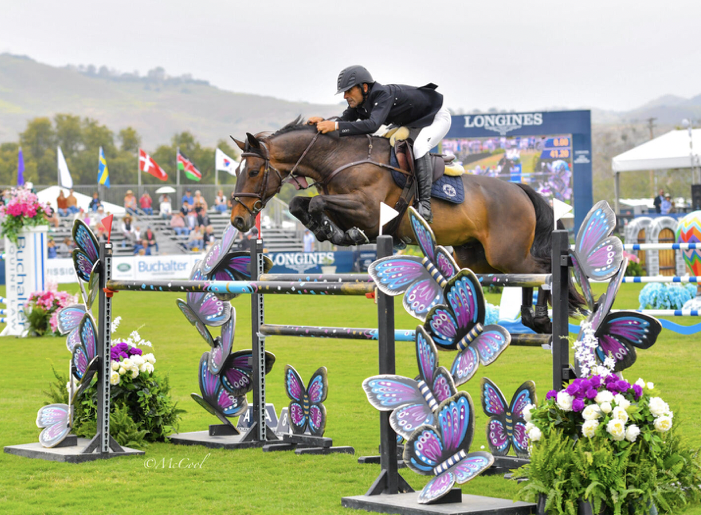 Cuevas continued, "For my horse, [the course] was pretty comfortable, so I was confident. I went into the ring number one, so I stuck with my plan, and it worked [well]!"
Cuevas has only been partnered with the 9-year-old Selle Français gelding, owned by L&L Equine Investments LLC, for the past year, but they have meshed well in that time.
Matias Fernandez Cuevas and Emotion des Truffiers. Photo by McCool Photography
Cover photo: Keri Potter and Bisou. Photo by McCool Photography