Parker, CO- July 13, 2013 – Brazilian course designer Anderson Lima built what appeared to be a straightforward course for the $40,000 Holiday Inn of Parker Grand Prix for Summer in the Rockies V, considered the peak week of the summer series at the Colorado Horse Park. But the course was tougher than appearances let on.
"I decided to do a more technical course than a really big course, which meant they had their work cut out for them," said Lima. "The time was quite a challenge, too. John Pearce was the first to ride the course on one of his young horses (Son of a Gun) and he rode very forward with a really good rhythm."
The time allowed was tight. Some of the first few horse and rider combinations fell victim to time faults, like Alex Grenato and Page Tredennick's Mullaghdrin Rado, who were second in the order. The pair was clean but one second over the time allowed. The riders later in the order learned that it was necessary to be forward.
"We stuck with the time allowed," said Lima. "It is a tough decision when you have the second horse with the time fault. You need to present some challenge and sometimes time makes the challenge better, not just big jumps, tough distances. I used that in the Welcome on Thursday and I did that today."
"I was glad they didn't adjust the time allowed," said Steve Schaefer, who finished second. "It was great that the judge did that early on. It was definitely the right move. It made the class more challenging and it was the right thing to do."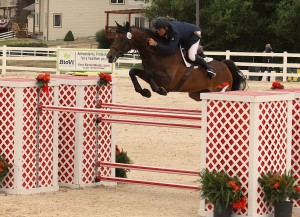 Steve Schaefer and Caribe
"Time allowed was tight, but it is always something I think about, so it ended up being not so much of a factor for us," said Caitlin Hope, who earned the third place prize with Kathleen Hope's Total Touch. "Going to the last two jumps, Diane (Carney, Hope's trainer) said, 'Time.' But it ended up being not too bad for me because I was thinking about it from jump one to jump two, rather than waiting until the end of the course to try to make up time."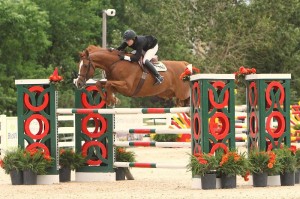 Caitlin Hope and Total Touch
"I really enjoyed his courses this week," said Kristen VanderVeen, who earned the victory gallop aboard Bull Run's Eternal.. "They're set a little on the forward step, which has been great, because I try not to ride backwards. They come across simple but it's almost the simple that people complicate, like you take it for granted a little bit. I thought he did a really great job. There were enough clean to make it interesting but never so many that it was a foot race. It is great that they are setting to standards here."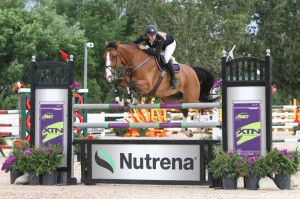 Kristen VanderVeen and Bull Run's Eternal
A total of 34 horse and rider combinations took on Lima's course with the goal to return for the jump-off round. Karen Cudmore and Blair Cudmore's Ceonto were the first to have a clear round within the time allowed, immediately followed by Chris Killiam and AEM Enterprise's Black Diamond.
Eight rounds later, John Pearce and Johnny B Good, owned by Forest View Farms, were fault-free, followed by Schaefer and his own Caribe and then amateur Hope and Total Touch. Bryn Sadler and Bon Giorno, owned by Showcase 81 LLC were next to go clear, and Welcome Stake winners Granato and Page Tredennick's Zenith Dance were clear as well. The third to last in the order, VanderVeen and Bull Run's Eternal, and the last to go, Cudmore and Shea, joined the group headed to the short course.
Schaefer and Caribe delivered the first double clear effort with their jump-off round timing in at 37.518 to give them the lead. Next, Hope and Total Touch produced another clear round over the short track in 38.728 to claim second place. Sadler and Bon Giorno also were double clear with a slower time of 41.608. VanderVeen then piloted Bull Run's Eternal flawlessly through the jump-off, stopping the timer at 36.812 to win the class. Schaefer moved to second place and Hope to third.
"I am really happy with the number we got in the end," said Lima. "I'm really happy with Kristen (VanderVeen). The first time I was here three years ago, she won the grand prix."
"I was very proud of my horse," said Hope.  "We had a really consistent week so I was really glad that I was second and third in the two big classes at the show."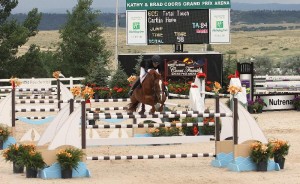 Hope and Total Touch
"I thought she did a super job," said Hope's trainer, Diane Carney. "Obviously to jump around the first track clean was excellent, as easily and rub-free as she did. And in the jump-off I thought she was exceptional. The mark of a really good match in a good horse and a really good rider is, when things aren't going great, it still works out great. I think that speaks to Caitie Hope and this horse, Total Touch. Even when it is not great, they know how to get out of trouble and the two of them figured it out. She did a great job and we love the results."
"The course was good, appropriately challenging in a lot of ways," said Schaefer. "There was a bogey jump but riders started to figure it out near the end of the class, so we ended up with a fantastic jump-off – fast riders all. It was a good class and a great course. It was fun that the crowd was into it – they were cheering for everybody."
Schaefer imported Caribe from Argentina as a 4-year-old and brought him along.
"Years ago I showed at the Colorado Horse Park, when I was coaching the VanderVeens," said Schaefer, who is from Maple Park, near Chicago. "We came a couple of years in a row when Kristen was doing the low junior jumpers. We had a great time and always enjoyed it but just haven't been able to make it back. But I came here with my clients and we're having a great time. It is fantastic- the footing is fabulous, the management is great. We couldn't be happier with the whole experience."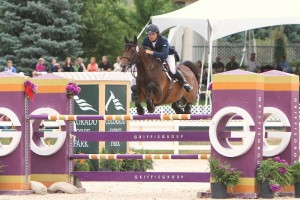 Schaefer and Caribe
"I started riding with Steve Schaefer when I was 8 years old until I was 15 or 16," said VanderVeen, who is now 24 and a professional. "He taught us a lot."
Bull Run's Eternal has been a consistent winner for VanderVeen.
"He has been such a blessing," she said. "When I got him in the fall, he was a completely different ride for me. I am used to smaller, hot horses, with not as much scope. He is very conventional, very scopey and very careful. There's nothing tricky about him. So now that I have it together with him, it is like a different sport. He's jumped every grand prix clean. He's been first twice and second and I had two time faults in the other one. The other two Welcomes he also jumped double clean in both of those and was first and third."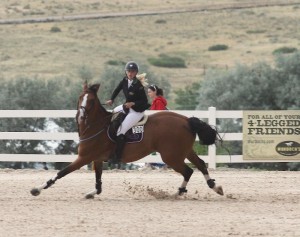 VanderVeen and Bull Run's Eternal
VanderVeen rides with the Christian symbol of the fish embroidered on her show coat sleeves and Romans 8 and Psalms 139 embroidered on the back hem.
"For me faith has been a big part of my life and you just don't get a lot of it in the horse show world," she said. "I have always been a little quiet about it. I realized that there are people who share in my beliefs. So I put it on my jacket. It has been what has shaped my life since I grew up, and it is how I live my life and how I do my horse business. I want to keep it honest, do honest deals. As a person, I'd like to live that way. That is how we name the horses – Eternal is a Christian reference."
"I actually did not have a great week," VanderVeen shared. "The Welcome went terrible- I didn't get past jump three. In the Speed Derby I had a blip at jump two and I thought, 'I don't know where this is going.' Before I went in the ring for the Grand Prix, my warm-up was not fantastic. I prayed as I went into the ring, 'Lord, if this goes well, it is all you today, because we are not on our A-game.' It was so cute when I came out and I told Chelsea (Babcock, VanderVeen's student). She laughed and said, 'When you were walking in the ring, I did the exact same thing.' It is so great that we can share that together."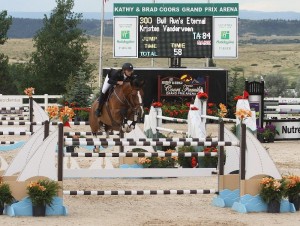 VanderVeen and Bull Run's Eternal
Although VanderVeen had a tough week, it ended on a high note with the victory in the $40,000 Holiday Inn of Parker Grand Prix. In addition, horses she has sold are performing well.
"I had a horse win the Child/Adults that I sold," she said. " I had one that was second in the Low Child /Adults, one that won the WIHS another one earlier in the week- it has just been great. I feel we have been blessed here. It is fun to see the business growing. We try to represent the horses fairly so they work out."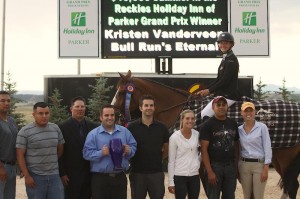 58. $40,000 HOLIDAY INN of Parker Grand Prix
1/300/Bull Run's Eternal/Bull Run Jumpers One LLC/Kristen VanderVeen
2/560/Caribe/Steve Schaefer/Steve Schaefer
3/605/Total Touch/Kathleen Hope/Caitlin Hope
4/104/Bon Giorno/Showcase 81, LLC/Bryn Sadler
5/792/Black Diamond/AEM Enterprises, LLC/Kris Killam
6/145/Zenith Dance/Page Tredennick/Alex Granato
7/602/Ceonto/Blair Cudmore/Karen Cudmore
8/142/Johnny B Good/Forest View Farm/John Pearce
9/601/Shea/Blair Cudmore/Karen Cudmore
10/146/Mullaghdrin Rado/Page Tredennick/Alex Granato
11/140/Chianto/Forest View Farm/John Pearce
12/574/Rival/Raven Ridge Farm/Kim Barone
Photos by Carrie Wirth and Mary Adelaide Brakenridge
The Colorado Horse Park Summer in the Rockies Fast Facts
What: Summer in the Rockies AA-Rated Hunter Jumper Show Series
Event Dates:
Summer in the Rockies I June 5-9, 2013
Summer in the Rockies II June 12-16, 2013
Summer in the Rockies III June 19-23, 2013
Summer in the Rockies IV July 3-7, 2013
Summer in the Rockies V July 10-14, 2013
Summer in the Rockies VI July 17-21, 2013
Prize List:
Click here for an online version of the prize list. For a hard copy of the prize list, please e-mail prizelist@cohorsepark.com with your name, address and phone number and specify which prize list you would like (spring/fall or summer).
Entries:
Mail to The Colorado Horse Park, 7522 South Pinery Drive, Parker, CO 80134 or fax to (303) 841-7879. Opening date for Stall Reservations: April 1, 2013. Closing date May 20, 2013.
Contact Information:
Pat Boyle, Show Manager                          (847) 274-6834
Brian Curry, Show Manager                        (303) 918-2908
Show Office                                                 (303) 841-7461
Show Office Fax                                          (303) 841-1419
Colorado Horse Park Main Office                (303) 841-5550
Colorado Horse Park Main Office Fax         (303) 841-7879
Tentative Schedule:
Wed – Sun: Show starts daily at 8 a.m. unless otherwise noted
Directions:
Address:7375 E Bayou Gulch Rd, Parker, CO 80134
From North: I-25S exit Ridgegate Parkway – go east under the freeway.  Ridgegate Parkway to S. Chambers Road, approx 3 miles (Traffic light) – turn right/south onto Chambers Road. At end of Chambers Road turn left/east onto Hess Road.  Hess Road to Parker Road/Hwy 83 – turn right/south onto Hwy 83 approx 4 miles to Bayou Gulch Road. (Traffic light). Follow signs to Colorado Horse Park.
From South: I-25N, exit Founder's Parkway.  Founder's Parkway to Highway 86, approx 4 miles (traffic light). Turn east/left onto Hwy. 86 to Franktown/Hwy 83. At Franktown go north on 83 approx. 7 mi. to Bayou Gulch Rd. (Traffic light), turn right/east onto Bayou Gulch Rd. Follow signs to Colorado Horse Park.
About the Colorado Horse Park
Celebrating its 20th Anniversary, the Colorado Horse Park was founded by visionary Helen Krieble who acknowledged the need for a high-volume horse show and horse boarding facility to serve Colorado.  The Colorado Horse Park welcomes more than 75,000 visitors per year and hosts over 40 competitions annually.  CHP features a derby arena designed by Olympic-designer Linda Allen and a cross-country course designed by Olympic Gold Medalist David O'Connor and eventing super-star James Atkinson. There are 300 permanent stalls with capacity for more than 1,000 stalls.
The picturesque property, located only minutes from the town of Parker, hosts international equestrian events in multiple disciplines. Visitors enjoy the beautiful Colorado Rocky Mountain surroundings and access to miles of trails and open space.  The Colorado Horse Park is committed to supporting equestrian education and amateur athletics, preserving open space, fundraising for local charities and supporting the community.
Sponsors:
Animo
http://theanimoexperience.com/ 
Bessemer Trust
Cherry Creek Insurance Group
Comfort Suites Castle Rock
www.comfortsuites.com/hotel-castle_rock-colorado-CO154
Days Inn Castle Rock
www.daysinn.com/hotels/colorado/castle-rock/days-inn-suites-castle-rock/hotel-overview 
Equine Sport Solutions
http://www.equinesportsolutions.com/ 
KBC Foundation
Guaranty Bank
Hampton Inn Parker
hamptoninn3.hilton.com/en/hotels/colorado/hampton-inn-and-suites-parker-DENPAHX/index.html 
Hertz
Hilton Garden Inn
Holiday Inn
http://www.holidayinn.com/hotels/us/en/parker/denpr/hoteldetail 
Horse Connection
http://www.horseconnection.com/ 
Littleton Equine Medical Center
http://www.littletonequine.com/ 
Murdoch's Home and Ranch Supply
Nutrena
Parker Adventist Hospital
Platinum Performance
http://www.platinumperformance.com/select/ 
Sidelines
Super 8
www.super8.com/hotels/colorado/parker/super-8-parker-se-denver-area/hotel-overview 
Suzy Sweitzer/Remax Alliance
Trappers
Weathertech
Griffis Residential
http://www.griffisresidential.com 
Wells Fargo Advisors
https://www.wellsfargoadvisors.com/ 
Media Contact:
Phelps Media Group, Inc.
12012 South Shore Boulevard
Wellington, FL 33414
561-753-3389 (phone)
561-753-3386 (fax)