Wellington, FL – April 6, 2013 – Lars Petersen (DEN) and Mariett emerged victorious from Saturday night's FEI Grand Prix Freestyle 5*. The class was showcased under the lights of The Stadium at the Palm Beach International Equestrian Center (PBIEC) during the Adequan Global Dressage Festival (AGDF) Wellington 5*, presented by Diamante Farms. Second place went to Steffen Peters and Legolas 92, and Tina Konyot rode Calecto V to third place.
Judges for the class were: Lilo Fore at E, Axel Steiner at H, Stephen Clarke at C, Raphael Saleh at M, and Peter Holler at B.
A whopping $84,000 in prize money was awarded for the evening's class. The high-stakes competition attracted a substantial amount of very enthusiastic spectators.
Watch an interview with Lars Petersen! http://www.youtube.com/watch?v=p-ie2W7d8YA&feature=youtu.be
Devon Kane, of Diamante Farms, was on hand to express her gratitude to the evening's exhibitors and their supporters. "You put on a fantastic show and the spectators and turnout for tonight really spoke for the quality of the competition. Thank you all very much, to your sponsors and your owners and to the horses. We all know that this facility is going to flourish and get better and better, and you all coming and supporting it means everything to us," Kane expressed.
Allyn Mann, representing GDF title sponsor Adequan, described the spectacular evening as everything he could have envisioned. "I think [tonight] lived up to everything we hoped it would be and I really want to thank each of the riders for making the effort to be here and for putting on a world-class event tonight," Mann remarked.
CEO of Equestrian Sport Productions Mark Bellissimo thanked Adequan for their phenomenal support for the AGDF and was thrilled to be able to offer top competition and prize money to competitors. "We're proud to have Adequan here and they deserve a lot of the credit for stepping up and supporting the sport," Bellissomo stated.
As final scores were verified for the night, a thrilling reining versus dressage exhibition was performed by Rick Steed and Susan Dutta. Steed and his Quarter Horse gelding High Dollar put on a high-speed demonstration of their best reining slides and spins, followed by Dutta and her Oldenburg gelding Currency DC performing high-level dressage movements.
Petersen and Mariett topped the class with an astounding score of 78.450%, a personal best for the pair. Steffen Peters (USA) and Legolas weren't far behind with a 78.100% that put them in second place. The top three was rounded out by Tina Konyot and Calecto V with a score of 77.050%.
Petersen was elated with Mariett's continued progress as she wrapped up a winning weekend at the AGDF. "I was very happy with Mariett tonight. The overall rideability of the mare is just getting better and better and that's why I'm getting all the difficult movements, so I'm very happy about all of that," Petersen described.
"What I'm actually most happy about is through my tests there are a lot of transitions," Petersen continued. "We go half pass-passage-piaffe-extensions-half pass and for a trainer, you like when all those transitions are smooth. This is one of the best tests I've had on her."
Petersen was especially happy to have a 5* victory under his belt with the fifteen-year-old Danish Warmblood mare, who is owned by Marcia Pepper. "It means a lot because this is her first year in the Grand Prix. She has been getting better and better every show," he said.
Peters described his second place finish with Legolas as their best freestyle yet despite some early missteps. "It took him just ten seconds to sink in. The first five seconds were a bit tricky and then he really settled down smoothly," Peters described.
"The connection has never been better in a freestyle and that really tells me everything about him. When he's soft and loose, then I can ride him a bit more and this is exactly the feeling I wanted to take to Europe. Tehnically, it wasn't our best freestyle, but for suppleness and relaxation it certainly was our best freestyle," Peters continued.
While the atmosphere of The Stadium at night had Legolas a little on edge, Peters had nothing but praise for the venue. "It's not just the arena, it's everything. The warm-up is great. The horses get used to the atmosphere that's actually in the ring. The footing is phenomenal, the stalls are great. This is one of my favorite places in the world to show, there's no doubt. This is my first time here and you can count on me coming back," Peters remarked.
Third place finisher Konyot echoed Peters' sentiments. "The atmosphere is spectacular here. It's something we've all hoped for and wished for – to have an actual show facility that's like an international venue. It is a spectacular place for the spectators, for the riders, for the horses. The people that organize it, the people that support us and are behind it, give it a positive, wonderful feeling," Konyot commented.
Konyot acknowledged Calecto V started to tire towards the end of their performance, but was overall very pleased with how he did. "I was very happy with my horse. He had very good feeling and very good power. At the beginning of my test, I felt very, very solid. At the ending, he was a little bit tired, but overall I had a very good feeling about my ride and my horse is always there for me," Konyot explained.
The evening's competition concluded with Heather Blitz (USA) and Paragon, the last pair to perform. Blitz and Paragon rode out technical difficulties with their music, which Blitz good-naturedly acknowledged did not make a difference in their ride. Blitz and Paragon went on to finish in fourth place with a score 75.100%.
Final Results: FEI Grand Prix Freestyle 5* presented by Diamante Farms
Rider, Country, Horse: Judge E%, Judge H%, Judge C%, Judge M%, Judge B%, Total%
1 Lars Petersen, DEN, Mariett: 81.125%, 79.000%, 78.000%, 75.000%, 79.125%, 78.450%
2 Steffen Peters, USA, Legolas 92: 80.375%, 76.750%, 77.125%, 77.500%, 78.750%, 78.100%
3 Tina Konyot, USA, Calecto V: 78.125%, 75.625%, 79.125%, 76.000%, 76.375%, 77.050%,
4 Heather Blitz, USA, Paragon: 75.500%, 74.625%, 77.125%, 72.250%, 76.000%, 75.100%
5 Shelly Francis, USA, Doktor: 73.500%, 73.625%, 74.375%, 73.250%, 73.00%, 73.550%
6 Ashley Holzer, CAN, Breaking Dawn: 71.250%, 70.125%, 75.500%, 73.625%, 72.265%, 72.265%
7 Jacqueline M. Brooks, CAN, D Niro: 72.375%, 69.250%, 71.750%, 69.625%, 71.125%, 70.825%
8 David Marcus, CAN, Don Kontes: 71.875%, 68.750%, 72.250%, 70.625%, 69.375%, 70.575%
Shelly Francis and Danilo Continue Win Streak in FEI Intermediare-I Presented by Peacock Ridge
Shelly Francis (USA) and Danilo had another successful day at the Wellington CDI 5* presented by Diamante Farm. The pair finished in first place in the FEI Intermediare-I, presented by Peacock Ridge, with a score of 71.368%. Francis and Danilo were the only pair to break 70% in another highly competitive class. Brittany Fraser (CAN) and All In had another second place finish with an overall score of 68.816%. Spain's Carlos Munoz and Klouseau finished just behind Fraser with a 68.316%.
Judges for the class were: Cesar Torrente at E, Raphael Saleh at H, Peter Holler at C, Bo Ahman at M, and Axel Steiner at B.
Francis, of Loxahatchee, FL, was thrilled to have another winning round with Danilo, a nine-year-old Hanoverian gelding owned by Patricia Stempel. "I was overall really happy with him. I felt like I had him a little bit steadier than yesterday, but I didn't have as much expression as I did yesterday. But it's better to have it a little more fluid, I think. Sometimes if they have so much expression and they lose the rhythm somewhere, it shows up more. He was really good. He's a sweet horse," Francis commented.
Although Danilo's show career only began in earnest in March, he's shown remarkable talent that Francis is eager to harness. Owner Stempel originally picked him out for her to show, but as Francis rode him more, his potential for greatness revealed itself.
"She's enjoying watching him compete very much. She likes watching him show and wants him to go to his full potential. She's a really good owner that way," Francis acknowledged.
"It was a little unexpected for me that he turned out to be such a nice horse to show. I guess there would really be no reason why not. I just didn't know he had that little extra spark in there," Francis continued.
Danilo's ability to adapt to the showing environment is yet another of the gelding's winning qualities. "When he went in for the Prix St. Georges [on Friday], he had not been in the [International Arena] at all and he handled it beautifully. There are lots of things to look at and he'd look a little bit, but he didn't do anything crazy. He would wait for me to tell him where to go, which is a very good quality," Francis described.
"He's got really good potential for the Grand Prix and I'll believe he'll move up next year. If he's anything like he is now, which I'm sure he will, he'll be just as solid with it. Right away, he gives you that feeling," Francis continued. "He'll do really well. He does his ones, his piaffe, passage. He's nine years old, so next year when he'll be turning ten, he'll be ready. It's very exciting to have two Grand Prix horses."
The other Grand Prix mount Francis was referring to was Doktor, who made his Grand Prix debut this winter to much success. "It wasn't done deliberately to have this string, but it just stepped into place with these horses. All of a sudden they're so good to show and they're good international prospects, so I feel very lucky," Francis remarked.
Francis reveled in having such excellent horses at this point in her career. "I'll just go out gangbusters!" Francis laughed. "I'm not getting any younger so I'm going to keep going until I can't do it anymore!"
Competition for the Wellington CDI 5* of the AGDF concludes Sunday at The Stadium with the FEI Grand Prix Special 5* at 9:00 am. The FEI Intermediare-I Freestyle will follow at 11:15 am.
Final Results: FEI Intermediare-I presented by Peacock Ridge
Rider, Country, Horse: Judge E%, Judge H%, Judge C%, Judge M%, Judge B%, Total%
1 Shelly Francis, USA, Danilo: 71.184%, 69.737%, 74.342%, 68.026%, 73.553%, 71.368%
2 Brittany Fraser, CAN, All In: 70.132%, 68.158%, 67.368%, 70.921%, 67.500%, 68.816%
3 Carlos Munoz, ESP, Klouseau: 68.553%, 68.864%, 69.342%, 67.500%, 67.500%, 68.316%
4 Kevin Kohmann, GER, Zephyr: 66.842%, 67.368%, 69.737%, 67.237%, 67.105%, 67.658%
5 George Williams, USA, Cleopatra: 67.105%, 67.105%, 68.816%, 65.921%, 68.289%, 67.447%
6 Marco Bernal, COL, Farewell IV: 66.447%, 66.579%, 66.368%, 65.263%, 65.658%, 66.063%
Small Tour Competitors Showcased in a Big Way on Saturday
Canadian and American riders dominated the rest of the classes hosted at The Stadium at PBIEC on Saturday afternoon. Canada's Evi Strasser collected the first place prize aboard Renaissance Tyme with a score of 65.521% in the FEI Grand Prix Special first thing Friday morning.
Junior and Young Rider classes were also well contested, with the FEI Junior Individual class seeing six entries. Lindsay Holleger (USA) and Friedensfurst earned a score of 66.579% to propel them into first place.
The top prize for the FEI Young Rider Individual was awarded to Madison Lawson (CAN) and McGuire with a score of 63.184%.
Melanie Doughty (USA) and Command Performance took home the blue ribbon in the FEI Pony Individual class. The pair scored a 55.634%.
Katharina Stumpf was victorious in Friday's Grand Prix Freestyle on Friday afternoon. She scored a 61.875% aboard For My Love.
For full results and more information, please visit www.globaldressagefestival.com.
Photo Credit: Photos © SusanJStickle.com. These photos may be used only in relation to this press release and must include photo credit.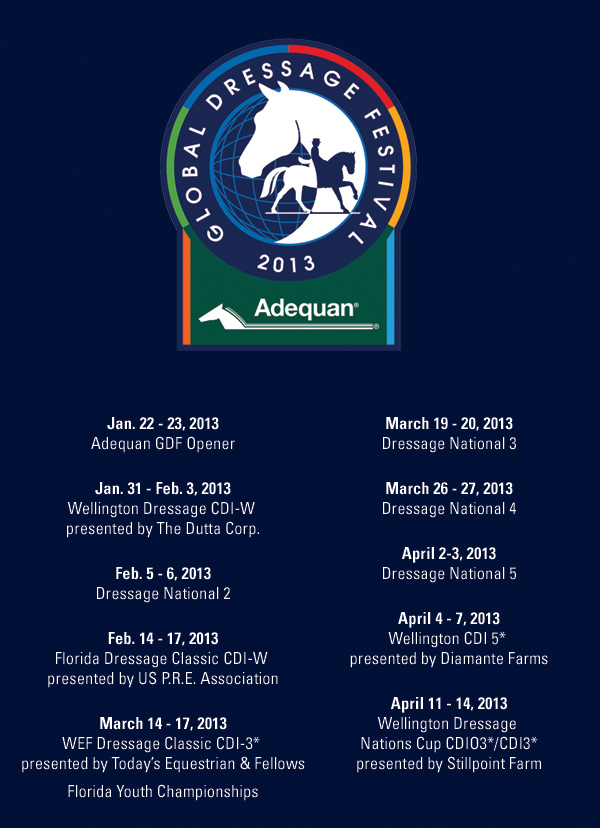 About the Adequan Global Dressage Festival:
The Adequan Global Dressage Festival (GDF) is one of the world's largest international and national dressage circuits featuring five CDIs, including a 5*, the first non-championship CDIO Nations' Cup in the Western Hemisphere, and nine U.S. national events.The Adequan GDF is offering more than $275,000 in prize money for the five international competitions making it one of the richest circuits in the world. In addition to the CDIs with national competitions, the Adequan GDF will feature six separate national shows to be held at the Stadium section of the Palm Beach International Equestrian Center (PBIEC) show grounds. The Adequan GDF encompasses almost 60 acres of the former Palm Beach Polo Grounds. The facility includes the Van Kampen covered arena (made possible by Kimberly and Frederic Boyer and family) and four outdoor arenas with world class footing, 200 permanent stalls, and a VIP seating area for the International Arena fully catered for relaxing and having an enjoyable experience.
First Founding Sponsors: Matt Varney, Chris and Rob Desino, Wellington Equestrian Realty; William Pearson and Janet Richardson-Pearson, Chesapeake Dressage Institute of Annapolis, MD; Devon and Terri Kane, Diamante Farm; Joe and Gaye Scarpa, Magnolia Farm; Tuny Page and Family, Stillpoint Farm; and Kimberly and Frederic Boyer, United States P.R.E. Association
Founding Sponsors: Ashley Holzer and Diane Fellows, Today's Equestrian; Bethany Peslar, Everglades Dressage; Betsy Juliano, Havensafe Farm; Carol and Rebecca Cohen, Two Swans Farm LLC; Janne Rumbough, MTICA Farm; Mike & Roz Collins; Suhail and PJ Rizvi, Peacock Ridge; and Tim and Susie Dutta, The Dutta Corp.
Corporate Sponsors
Brown Distributing, Champion Equine Insurance, Charles Owen, Chronicle of the Horse, Custom Saddlery, Der Dau, Dever Golf Carts, Equestrian Services International (ESI), Elite Equestrian Magazine, European Dressage Connection, Everglades Farm Equipment, Gold Coast Feed & Supply, Horse Of Course, Horseware Ireland, Interagro Lusitanos, Moet Hennessy USA, Nespresso USA, Paddock Cakes, Palm Beach Equine Clinic, Pennfield, Piaffe Performance, Premier Equestrian, Ritz-Carlton, Palm Beach, Rolex, Sanctuary at PBIEC, Show Chic, Sidelines Magazine, World Equestrian Brands
Please visit
www.globaldressagefestival.com
www.equestriansport.com
or call 561-793-5867 for more information.
Adequan Global Dressage Festival is located at
13500 South Shore Blvd, Wellington, Florida 33414