DEVON, Pa.—Following a hugely successful and popular inauguration last year, the Devon Fall Classic, featuring an all-jumper show with boutique shopping, music, delicious food and rides and games, will be held Sept. 12-15 at the Devon show grounds on Route 30.
Laura Chapot of Neshanic Station, N.J., who won the $25,000 Devon Fall Classic Grand Prix last year on Umberto and also placed third on Zealous, is bringing both back this year in defense of her title.
In addition, Chapot also has Shooting Star and Quointreau un Prince as possible entries for the Saturday evening class, which last year drew a huge, standing room only crowd of enthusiastic spectators.
The Devon Fall Classic has added an Open Speed Stake Friday evening, and Chapot is bringing her speedy Bradberry for that class.
At the Devon Horse Show and Country Fair in May, Bradberry won the $10,000 Open Hit and Hurry speed class for the fourth consecutive year, so he is bound to be the favorite Friday evening at the Fall Classic.
The Fall Classic is an all-jumper show, with classes for open, young, children's, adult amateur and pony jumpers, but it is much, much more than a horse show.
What A Good Dog is putting on a Top Dog Contest at 11 a.m. on Saturday, with prizes for the Best Costume and a Talent competition.
There will be Pony Rides on Saturday from 1 to 5 p.m. and on Sunday from 11 a.m. to 3 p.m.
But it was the festivities in the Fall Festival area adjacent to the Dixon Oval that made for such enthusiastic approval during the Fall Classic's first year.
And these festivities will be bigger and better than ever this year.
Numerous bands, ranging from acoustic to country and rock, will perform Thursday evening until 9 p.m. and Friday evening from 6 to 11, live on the Sycamore Stage.
PO Box 865        Benefiting the Devon Horse Show and Country Fair Foundation       610-964-0550 Phone
Devon, PA19333                                                www.devonhorseshow.org                          610-964-1608 Fax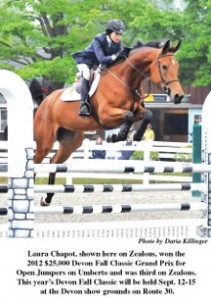 Music will be featured all day Saturday and throughout the evening until 11 p.m.,
and on Sunday bands will perform from 1 to 4 p.m.
The Ferris wheel, a well known symbol of the Devon Horse Show and Country Fair, visible from Route 30 as it overlooks the show grounds, will be back, there will be a carousel and various other rides and at least four games, with the traditional stuffed animals that everyone loves as prizes.
The Exhibitor's Lounge, with big, comfortable chairs and couches, closed circuit TV and light snacks, will be, as it was at the Devon Horse Show and Country Fair, located under the East 3 grandstand.
For heartier fare, visit the Fair area where all types of delicious foods can be found, ranging from award winning BBQ and upscale Italian market fare to funnel cakes, ice cream, baked goods, cupcakes, gourmet coffee and beer, wine and cheese.
There are over forty boutique vendors offering a wide variety of merchandise from equestrian goods, beautiful jewelry, antiques, art, many different types of clothing and accessories to treats for dogs and pet photography.
National Penn Investors Trust Co. is the presenting sponsor of the Devon Fall Festival.
Entries close Monday, Sept. 2.
General admission is $5, Seniors 65 and older and children 12 and under are FREE.  Boxes seating six are still available for Friday and Saturday evenings. For ticket information, call Meg at 610-688-2554, contact meg@devonhorseshow.org   or visit www.devonhorseshow.org  Parking is free, on site