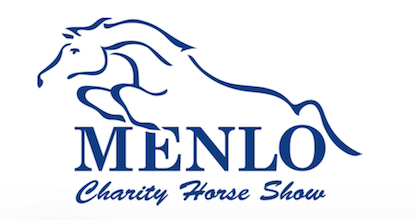 ATHERTON, CA – August 8, 2017
Lindsay Maxwell returns to Menlo Charity Horse Show for her second year, last year as a competitor, and this year with her own barn, Lindsay Maxwell Equestrian.
Lindsay has achieved success in show rings across the country both as an amateur rider and owner. In addition to training with Archie Cox, Lindsay has hired Jaime Taylor to manage and ride her horses as part of her show team.
Lindsay explained the reason behind the development of Lindsay Maxwell Equestrian, "This was frankly not an easy decision. Due to family health circumstances, it was necessary to relocate to the east coast very quickly last fall. We absolutely love California and especially our time with Archie, so we moved east with every hope that we would again be back on the west coast. Having Lindsay Maxwell Equestrian gives us the flexibility to be bi-coastal, allowing us to continue to grow and evolve with my favorite people. I am so grateful to be back on the west coast this summer. It has been a treat!
Jamie and Archie work incredibly well together. We recently hired Jamie as a rider and trainer working in conjunction with Archie, and she has exceeded expectations. She is an extremely talented rider who consistently brings out the best in my horses, and, as an additional bonus, is a wonderful person and representation of my program and values. Archie has really enjoyed working with her and constantly praises her for her "trainability" as a rider as well as her natural ability on a horse. I count myself very lucky to work with two of the best in this sport!" Lindsay continued.
Lindsay Maxwell Equestrian resides with Archie while showing in California. It is quite an undertaking to manage and plan competitions across the country. "Right now I do have horses on both coasts, but typically I keep the whole "herd" together (including my retired horse, Widget!). I am extremely fortunate to have a very talented team of individuals whom I trust implicitly with my horses. Right now, half of the team is in Lexington readying the horses for the Bluegrass Festival while the other half is here with me in Menlo. It is whirlwind, but I love every second of it!" Lindsay exclaimed. "Archie, Jamie, and the rest of my team try to determine a horse show schedule in advance for the year. Though the schedule inevitably changes, we look at factors such as venue, footing, points, location to name a few when making these decisions. Menlo is an easy choice because it checks every box: beautiful venue, lovely time of year, lush grass arenas, World Champion Hunter Rider show, two round classics, an international derby…I could go on and on! The showgrounds look outstanding this year, and the horses are all going beautifully."
After Menlo Charity Horse Show Lindsay and the Lindsay Maxwell Equestrian team head back East. "On Sunday, both myself and the horses will take a red eye to Lexington, Kentucky where we will compete at the Bluegrass Festival and USHJA International Derby Finals. We spend two weeks in Kentucky, and then the horses and humans get a well deserved break for most of September before we head to indoors." Lindsay explained.
In talking about the future goals for Lindsay Maxwell Equestrian, Lindsay continued, "At this moment in time, my plan is to count my blessings and continue to enjoy every moment of this wonderful ride (no pun intended). I am very proud of the successes my team has accomplished this year, and equally proud of everything we have been able to accomplish with the Lindsay Maxwell Charitable Fund. I hope to continue to support causes and events that help enable future generations to have opportunities to enjoy this incredible sport."
Archie Cox has known Lindsay since she was 15 years old. "I first met Lindsay and her mom at Harrisburg. We all came together to compete when Lindsay started riding in California a couple of years ago. She came to my barn and it was a rapid rise to success." Archie explained, "Now Lindsay has a jumper and is stepping into the jumper ring. However, she will continue to show in the Amateur Hunters and the International Hunter Derbies."
Archie also lives a bi-coastal life. "I have about 40 horses in training not including Lindsay's and I have a great staff headed up by Carlos Suriano who has been with me since I started my business 17 years ago. We have beautiful horses in top condition and he is ready to go 24/7. Karli Postel, Rick Federman and Jenny Ross give me the flexibility to travel to other horse shows helping customers like Lindsay and Hunter Siebel who don't stable with me full time. My team enables me to take a lot of liberties that help produce a winning and positive environment." Archie explained, "I get excited every time I walk to the in gate and they start painting the horses feet, taking the polo wraps off that adrenaline kicks in and we are ready to go."
Jaime Taylor is delighted to be the newest member of the Lindsay Maxwell Equestrian team. "It all started with a conversation with Archie to ride Technicolor, and it spun off from there into a full time position with Lindsay." Jaime explained, "Denise and I both manage the horses and everyone involved in their care. We have a really good group of people who excel at their jobs, looking after the horses as we travel across the country, which makes our jobs really easy. I really enjoy working day to day with the horses and I appreciate the wins come from that solid base. Wins are really about looking back at how we got there."
Archie and Jamie commented on their fondness of Menlo Charity Horse Show, and why they return year after year. "Menlo is a fantastic, dream-like horse show. It's recognized by USEF as a Heritage Competition and that is a huge community involvement, showing top of the sport hunters and jumpers. For 47 years the Chairman of the show has been Betsy Glikbarg, she does a fantastic job with sponsors from the community…. I'm a sponsor myself. It is an amazing group of volunteers who work together to put on a great horse show, benefiting the Vista Center for the Blind and Visually Impaired. Menlo has raised millions of dollars over the years, and we're proud to be a part of that." Archie explained. Jaime continued, "I have been coming to Menlo since I was little, and although I can't make it every year, whenever there is an opportunity I jump at it. To go somewhere different, see new jumps, grass rings, and provide new experiences for the horses makes a show more exciting for me. Menlo's fun parties, prizes, ribbons etc. make this show so special for me. We just love it here."
Menlo Charity Horse Show running through August 13 at Menlo Circus Club, Atherton, CA.
https://www.facebook.com/MenloCharityHorseShow/
https://www.instagram.com/menlocharityhorseshow/