Wellington, FL – February 2, 2013 – The 2013 Adequan Global Dressage Festival (AGDF) carried on today with the third day of competition of the Wellington Dressage CDI-W presented by The Dutta Corp. This morning's classes featured the FEI Grand Prix Special and the FEI Intermediare 1.
Judges for the FEI Grand Prix Special were Janet Foy (USA) at E, Lorraine MacDonald (CAN) at H, Sandy Phillips (GBR) at C, Wojek Markowski (POL) at M, and Jennie Loriston Clark (GBR) at B. Judges for the FEI Intermediare 1 were Anne Gribbons (USA) at E, Wojek Markowski (POL) at H, Lorraine MacDonald (CAN) at C, Jennie Loriston Clark (GBR) at M, and Sandy Phillips (GBR) at B.
Winning the $10,000 FEI Grand Prix Special was Lisa Wilcox (USA) riding Horses Unlimited's Pikko del Cerro HU (Pik L x Rohdiamant). The 10-year-old dark bay Hanoverian stallion and his rider received a score of 71.583%. Being the youngest amongst his competitors this morning, Wilcox was quite proud of Pikko. She conveyed, "He is a very fast learner. I've enjoyed developing him through the Prix St. Georges, then the Grand Prix and now the Internationals in what I like to call the 'Adult Grand Prix'. He just amazes me, how quick he's stepping up and catching on."
Wilcox continued, "The year he spent developing in the Grand Prix was really good for him. It allowed him to learn what I call the 'Freshman courses' and now he can go onto his sophomore year with self-assurance. He knows the work. Although there is a little different choreography and a little longer test, he's confident."
In evaluating the test, Wilcox felt, "It was much more fluid than last week. This is the second time he's done it. I was very happy to have improved on the transitions. He's also catching on, I can tell, and understanding the test."
Wilcox and Pikko were third in Thursday's FEI Grand Prix. Ecstatically she declared, "I was thrilled to have placed third. I was competing against the five-star riders from last week and I'm just doing the three-star stuff, so I'm very pleased with that placing. I am very honored to be in their midst and finish that close!"
This morning also saw another win for Sonia Zugel (IRL) riding her mount, Ungaro (Weltmeyer II x Wendekreis) in the $5,000 FEI Intermediare I. The pair also won yesterday's FEI Prix St. Georges. Zugel and her 16-year-old BWP bay gelding scored 64.395% for the win.
In the FEI Junior Individual class, Naima Moreira-Laliberte posted the highest score of 67.053% for victory with Diamond (Donnerhall x Werther).
Tomorrow concludes the Wellington CDI-W presented by The Dutta Corp. The featured class tomorrow is the $6,000 FEI Intermediare Freestyle. For full results, please CLICK HERE and for more information on the AGDF, please visitwww.globaldressagefestival.com.
Final Results: FEI Grand Prix Special sponsored by The Dutta Corp.
Pikko del Cerro HU, Lisa Wilcox (USA): E: 70.833%, H: 70.104%, C: 70.417%, M: 71.875%, B: 74.688%, Total: 71.583%
Paganini, Cheryl Meisner (CAN): E: 68.958%, H: 67.396%, C: 66.979%, M: 66.458%, B: 69.583%, Total: 67.875%
Currency DC, Susan Dutta (USA): E: 65.313%, H: 66.979%, C: 66.354%, M: 69.375%, B: 65.938%, Total: 66.792%
Jewel's Adelante, Elaine Cordia-Van Reese (USA): E: 65.625%, H: 68.646%, C: 66.458%, M: 66.563%, B: 66.146%, Total: 66.688%
Unico G, Anna Marek (USA): E: 64.271%, H: 62.708%, C: 65.000%, M: 61.771%, B: 63.125%, Total: 63.375%
Eminence, Lindsay Kellock (CAN): E: 58.542%, H: 63.229%, C: 67.083%, M: 61.042%, B: 63.125%, Total: 62.604%
Photo Credit: Photos © SusanJStickle.com. These photos may be used only in relation to this press release and must include photo credit.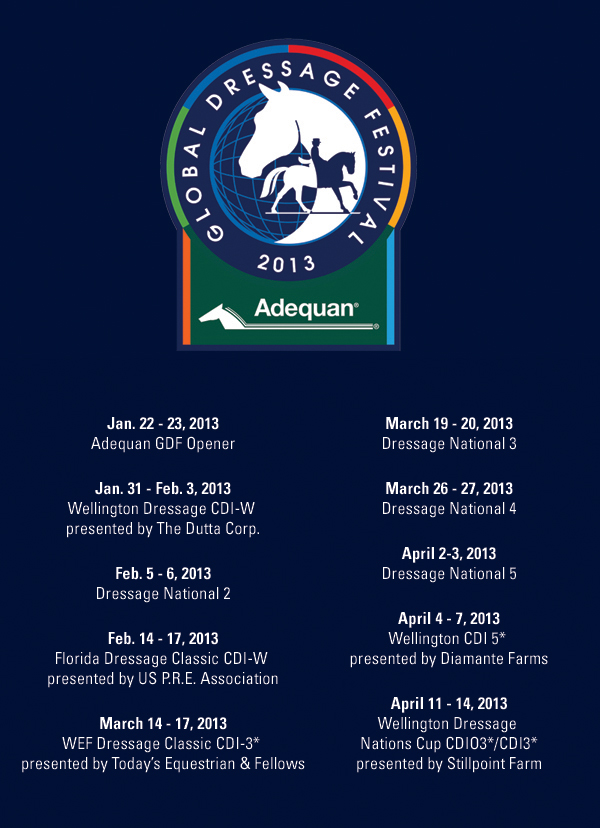 About the Adequan Global Dressage Festival:
The Adequan Global Dressage Festival (GDF) is one of the world's largest international and national dressage circuits featuring five CDIs, including a 5*, the first non-championship CDIO Nations' Cup in the Western Hemisphere, and nine U.S. national events.The Adequan GDF is offering more than $275,000 in prize money for the five international competitions making it one of the richest circuits in the world. In addition to the CDIs with national competitions, the Adequan GDF will feature six separate national shows to be held at the Stadium section of the Palm Beach International Equestrian Center (PBIEC) show grounds.  The Adequan GDF encompasses almost 60 acres of the former Palm Beach Polo Grounds. The facility includes the Van Kampen covered arena (made possible by Kimberly and Frederic Boyer and family) and four outdoor arenas with world class footing, 200 permanent stalls, and a VIP seating area for the International Arena fully catered for relaxing and having an enjoyable experience.

First Founding Sponsors:
 Matt Varney, Chris and Rob Desino, Wellington Equestrian Realty; William Pearson and Janet Richardson-Pearson, Chesapeake Dressage Institute of Annapolis, MD; Devon and Terri Kane, Diamante Farm; Joe and Gaye Scarpa, Magnolia Farm; Tuny Page and Family, Stillpoint Farm; and Kimberly and Frederic Boyer, United States P.R.E. Association
Founding Sponsors: Ashley Holzer and Diane Fellows, Today's Equestrian; Bethany Peslar, Everglades Dressage; Betsy Juliano, Havensafe Farm; Carol and Rebecca Cohen, Two Swans Farm LLC; Janne Rumbough, MTICA Farm; Mike & Roz Collins; Suhail and PJ Rizvi, Peacock Ridge; and Tim and Susie Dutta, The Dutta Corp.
Corporate Sponsors
Brown Distributing, Champion Equine Insurance, Charles Owen, Chronicle of the Horse, Custom Saddlery, Der Dau, Dever Golf Carts, Equestrian Services International (ESI), Elite Equestrian Magazine, European Dressage Connection, Everglades Farm Equipment, Gold Coast Feed & Supply, Horse Of Course, Horseware Ireland, Interagro Lusitanos, Moet Hennessy USA, Nespresso USA, Paddock Cakes, Palm Beach Equine Clinic, Pennfield, Piaffe Performance, Premier Equestrian, Ritz-Carlton, Palm Beach, Rolex, Sanctuary at PBIEC, Show Chic, Sidelines Magazine, World Equestrian Brands.
Please visit
www.globaldressagefestival.com
or call  561-793-5867 for more information.
Adequan Global Dressage Festival is located at
13500 South Shore Blvd, Wellington, Florida 33414