Aiken, SC – She'll take three, please! Lexington, Kentucky-based Liz Halliday-Sharp took home a third win in the 2023 $50,000 Grand-Prix Eventing at Bruce's Field, presented by Taylor Harris Insurance Services. Halliday-Sharp collected the come-from-behind victory on Deborah Palmer's and Ocala Horse Properties' Miks Master C (Mighty Magic – Qui Luma CBF) on a final score of 24.6. She previously won Grand-Prix Eventing in 2019 (Fernhill By Night) and 2020 (Deniro Z).
"I actually didn't try and hang around too much on him," Halliday-Sharp commented. "And I thought, 'jeez, the time's a lot tighter than it has been in previous years'. But I did look after [Miks Master C] a little more. I didn't take any big risks. I just wanted him to have a nice time. And I feel like we ticked that box."
Having only been partnered with the 11-year-old Swedish Warmblood gelding bred in the U.S. by Laurie Cameron for just under a year, Halliday-Sharp says she's still learning the quirks of Miks Master C. She's expressed how thrilled she is throughout the weekend with how he's come along in terms of strength and rideability since she took the ride.
"He was really, really with me and I had a super, super round," she said. " I was really thrilled with them."
Halliday-Sharp says she plans to take Miks Master C to the Land Rover Kentucky Three-Day Event in April, where she will contest the gelding's first CCI5*.
The optimum time proved to be difficult to obtain – Liz Halliday-Sharp turned in the only two clear rounds inside the time, one with Miks Master C and one with The Monster Partnership's Cooley Quicksilver, who is aimed for the CCI5* at Luhmühlen in Germany later this year.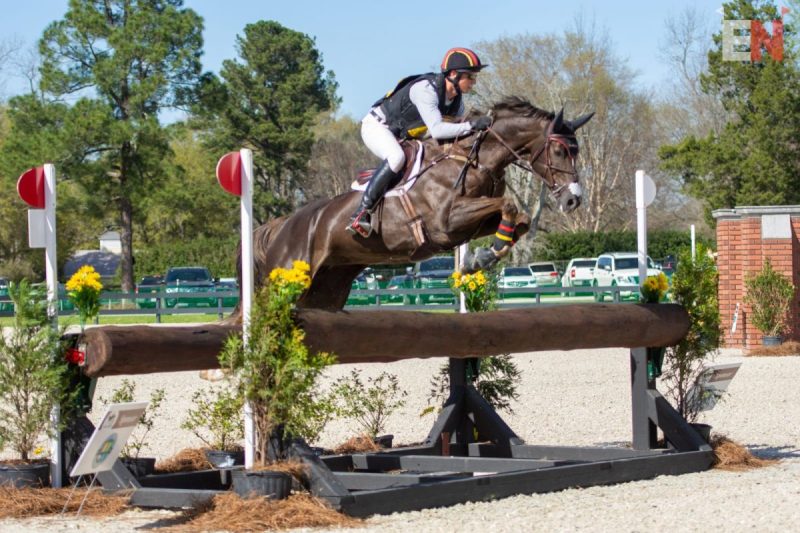 Second in the division were early leaders Doug Payne and Starr Witness (Chello III VDL – Carmen), owned by Laurie McRee, Catherine Winter, and Doug Payne, who added 5 seconds of time over the optimum to collect 2.0 time penalties. This put the pair on a final score of 25.9, proving the rail lowered in Friday's show jumping to be costly. The 12-year-old KWPN mare is being aimed at the upcoming 2023 Pan American Games in Santiago, Chile this fall, which would be a second trip to the Pan American Games – she was previously fourth individually for the gold medal-winning Team USA at the 2019 Pan American Games in Peru.
"I've got to thank Catherine Winter, Laurie McRee, and then Jess [Payne] also, who were partners with Starr Witness," Payne commented. "Without their help, I wouldn't have the wonderful opportunity to have her with us. She was exceptional, really. [She] couldn't have given more and couldn't have tried harder. I think our last run was Kentucky last spring, so…she was wonderful. Time for her is a little bit harder, so I knew it was going to be a challenge, but she gave everything she could have. Just could have used that rail yesterday."
Third in the 2023 Grand-Prix Eventing Festival are Boyd Martin and the Annie Goodwin Syndicate's Fedarman B (Eurocommerce Washington – Paulien B), the winners of this event in 2022. Martin was tasked with climbing the ranks following dressage, which saw him slot into sixth early on. He then moved up to third thanks to a double clear show jumping round Friday afternoon. Two seconds' worth of time penalties meant Martin wouldn't climb into second overall, but a podium finish was still significant.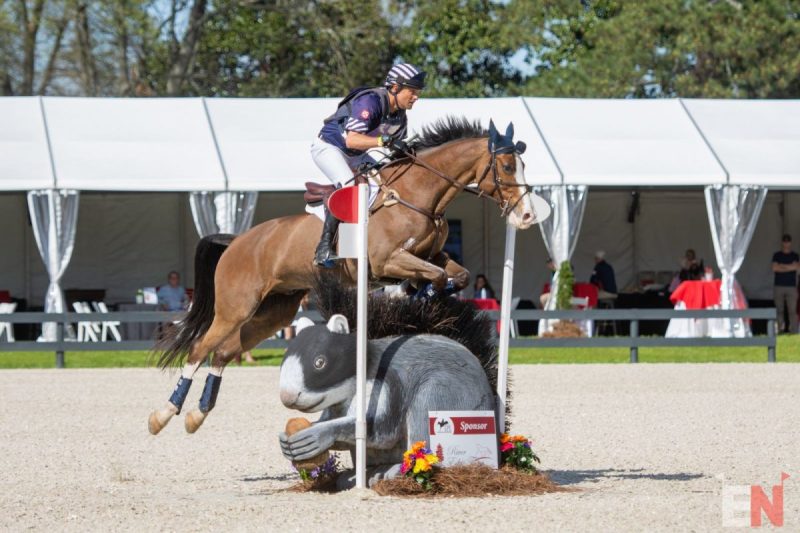 "I thought it was a fantastic day for the sport," Martin said. "I really feel like the top six or seven or eight horses this weekend were some of the best horse and rider combinations in the country, so it was really the cream of the crop having a crack at the end. I had good rides on [Tsetserleg] and [Fedarman B], couldn't quite get the time – it's pretty tight here, you've got to really chance a few fences and gallop a lot of jumps out of stride. To be honest, I was very pleased with both my guys. It's early in the season and they haven't done much, so that was a good ride, good round for them, and very, very exciting at the end."
Martin rides in honor of Annie Goodwin, who passed away in 2022 in a riding accident. Her family and friends, many of whom are local to the Aiken area, were on site this week. "I mean, it's bittersweet obviously," Martin reflected. "Annie's parents and friends and family are in this area, and a lot of connections to [Fedarman B], people that used to work for Annie, there's a lady here that helped start him off as a three-year-old – and all these people that were connected to this horse and to Annie. I think they love to come to this event and cheer 'Bruno' on, and it's just, for me, an honor and privilege to ride Bruno. I really feel like we're starting to gel. I'm very, very proud to ride him and continue all of Annie's work. In years to come, he has the opportunity to be a championship horse, and what a fantastic honor it would be to just keep going the way we are now, sort of like a living memento for all of Annie's work. It's a real privilege."
Full individual scores can be found here.
Winning the Ride for Charity team competition benefiting local nonprofit organizations is Team Orange, made up of Liz Halliday-Sharp and Miks Master C, Sydney Elliott and QC Diamantaire, Shannon Lilley and Ideal HX, and Woods Baughman and C'est la Vie 135. Team Orange competed to benefit the Aiken County Pony Club, and the win means a purse of $2,500 will be donated to the organization, in addition to further donations supplied by fan voting. Second in the team competition was Team Blue (Phillip Dutton and Z, Will Faudree and Pfun, Amanda Beale Clement and Carlson 119, Erin Kanara and Campground), receiving $1,500 to benefit Great Oak Equine Assisted Programs in addition to fan donations. Third was Team Purple (Boyd Martin and Fedarman B + Tsetserleg, Sarah Kuhn and Mr. Cash van de Start, Ryan Wood and Cooley Flight), whose efforts will send a $1,000 donation to Tri-Development Center.
Full team scores can be found here.
Several special awards were handed out at the conclusion of the competition:
Annie Goodwin Sportsmanship Award
Presented by Peter Goodwin
Will Faudree
Top Rookie, presented by Susan Benson of Somerset Equestrian Trading
Shannon Lilley
High Point Thoroughbred, presented by Rebecca Newell
Campground (Erin Kanara)
Triple Crown Best Turn Out Award
Presented by Kristen Galvan and Amy Hebert
Grace Harris and Sallie Johnson (Phillip Dutton)
Leading Lady Rider
Presented by Elisabeth Harpham of Ruby Throated Sparrow
Liz Halliday-Sharp
Top Young Rider
Presented by Susan Benson of Somerset Equestrian Trading
Amanda Beale Clement
Many thanks to the presenting sponsor of this year's Grand-Prix Eventing Festival, Taylor Harris Insurance Services, as well as to all sponsors, supporters, spectators, officials, and volunteers who help to make these events possible. The team at Aiken Horse Park looks forward to welcoming you back in 2024.
Media Contacts:
Sally Spickard – sally@eventingnation.com
Shelby Allen – shelby@eventingnation.com
Aiken Horse Park Contact:
Kate Boggan – kate@aikenhorsepark.org